While word-of-mouth marketing can have a significant impact on brand image, YouGov announced brand advocacy rankings 2017 and the rankings show that Rolex's customers are the strongest advocates of any brand in Hong Kong.
In the 2017 rankings, Rolex comes out on top, with a score of 66.6. Another luxury fashion brand, Cartier, comes in at eighth. Airline brands also make up a large proportion of the top 10, with Emirates in second place with a score of 58 and Singapore Airlines coming in at number 4.
Other travel brands with high levels of customer advocacy include Four Seasons Hotels and Resorts (at number 6).
Elsewhere in the top 10, another brand with heavy emphasis on the consumer – Uniqlo – comes fifth (with a score of 53.4). There are also two insurance brands in the list – Manulife is seventh (with a score of 52.1), while Prudential comes in at number 9 (on 51.4).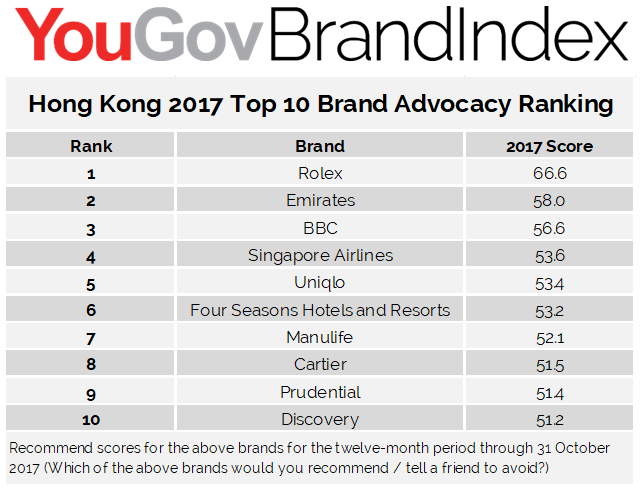 Looking at the best improvers ranking, brands can also evaluate whether they are doing a better job in winning customers' mindshare.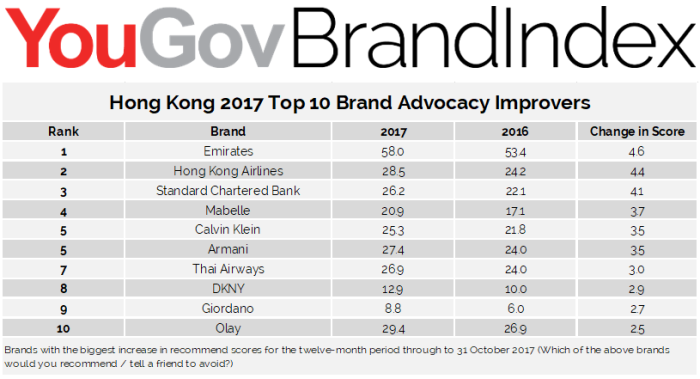 YouGov BrandIndex brand advocacy rankings are calculated by measuring "recommend scores" among each brand's customers for the 12-month period through October 2017. Recommend scores for the brands are measured by asking, "Would you recommend the brand to a friend or family member, or would you recommend that a friend or family member avoid the brand?" Scores are calculated by subtracting the negative responses from the positive responses.
Ervin Ha, head of data products, said, "A recommendation from friends or family is one of the strongest votes of confidence it is possible to give to a brand. While some more traditional format brands continue to carry favour with consumers, the success of digital brands suggests that the conversation is changing,"
"Consumers are increasingly making recommendations based on the service they receive that go beyond the traditional format experience. While the product helps to shape a brand, the latest YouGov BrandIndex brand advocacy rankings suggest that a focus on experience will help brands to go that extra mile and secure not just the custom but a recommendation from consumers."
(Photo courtesy: iStock)