This post is sponsored by Isentia.
The average amount of plastic waste Singapore produces amounts up to 822,000 tonnes a year. Since 2007, there have been various initiatives by non-government organisations to curb the usage of plastic bags such as the "Bring Your Own" campaign to encourage shoppers to bring their own bags. The response to these campaigns has not been ideal.
In the past couple of years, various eateries and brands have started doing away with the use of plastic straws to do their part in conserving the environment. Online stores selling artisan metal and bamboo have also surfaced this year, such as Seastainable Co and The Sustainability Project.
Sentiment analysis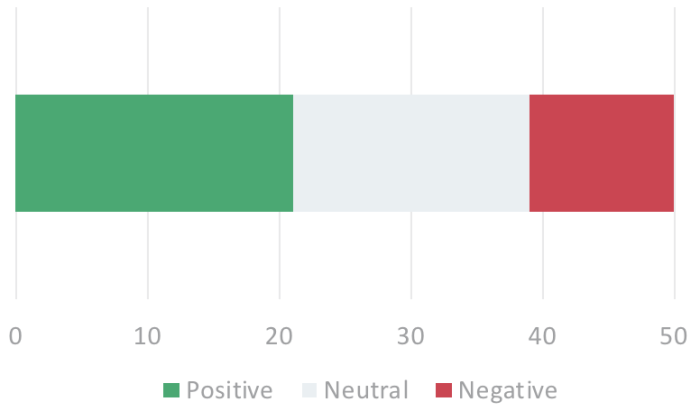 The sentiment towards the shift to reusable straws has been 42% positive, with many supporting the initiative of doing away with plastic straws in their drinks. Some also noted that one may not be used to going straw-less, but encouraged that eventually everyone would get used to it.


Meanwhile, 22% of netizens expressed negative sentiment and were unsupportive in doing away with straws. Some netizens mentioned that straws were used to protect teeth from acidic drinks, indicating a need for authorities and brands to further educate consumers to overcome the knowledge gap.


Hopping onto the "brandwagon"
Swedish furniture giant IKEA has vowed to stop selling single-use plastic products such as straws by January 1, 2020. McDonald's is replacing plastic straws with paper ones in its UK and Ireland restaurants. Koufu has similarly launched a campaign to advocate the use of paper straws at Singapore Management University.
KFC has also hopped on the trend and announced that to reduce single-use plastic, it will no longer provide plastic caps and straws with drinks at its 84 outlets in Singapore starting June 20, 2018. The announcement as reported by Channel NewsAsia and The Straits Times attracted a total of about 7,000 engagements on their Facebook pages in less than 24 hours.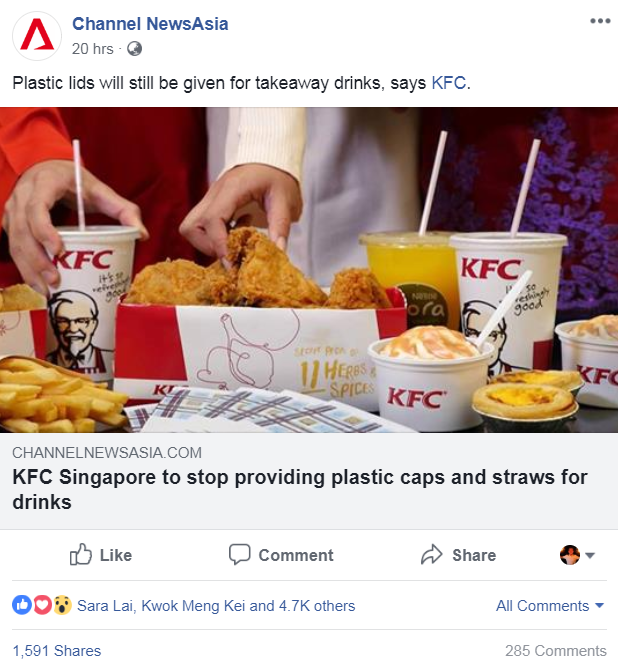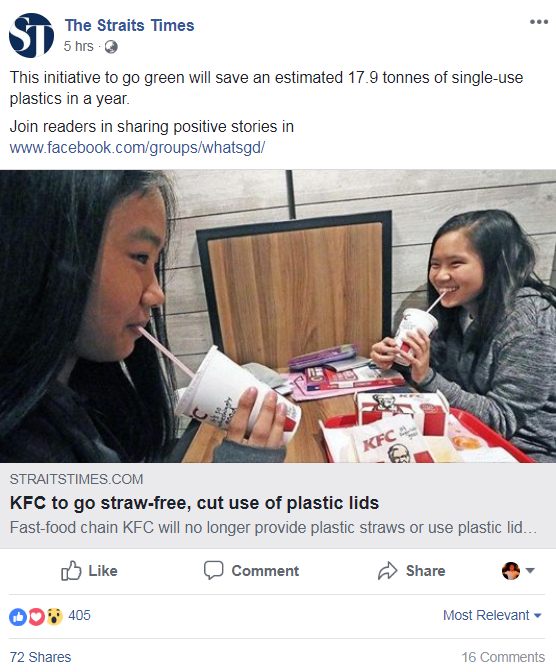 There were positive comments about how other fast-food chains should follow KFC's lead and that this decision to go "plastic-free" had prompted one netizen to eat KFC which shows how a greener decision could play a part in impacting the bottom line of a business.


However, there were also netizens who felt that instead of doing away with straws entirely, KFC should implement alternatives in the interest of consumers. A business decision to be greener could backfire if there is insufficient communications strategies and alternatives.


Voices for re-usability
In June, there was a sudden spike in Instagram posts relating to reusable straws which could be attributed to the media's attention on the topic and influencers stepping up and voicing their stance on this matter.
Jamie Yeo and Julie Tan with a combined following of 367,000 both posted about reusable straws on their Instagram accounts during June.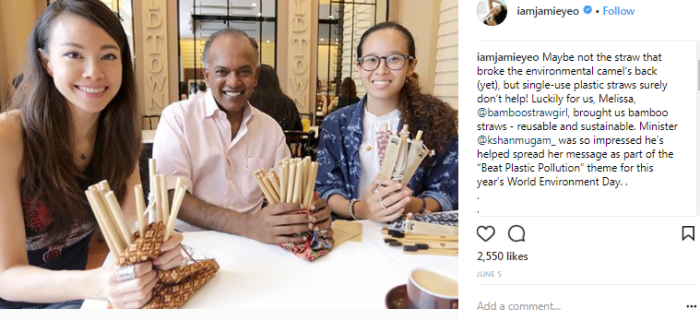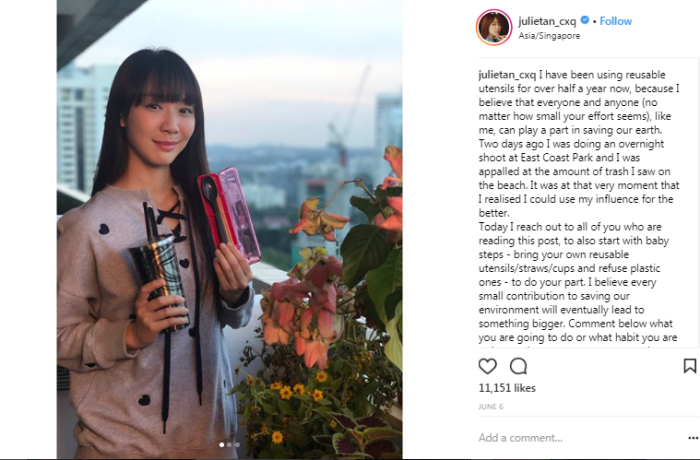 The Instagram posts generated 13,769 engagements with positive comments that prompted action from followers. Based on the trends observed, there will be more social media conversations surrounding reusable straws in the next few weeks. With influencers voicing their opinion, their followers might be prompted to act, thus creating a ripple effect.
To sum it up, brands could also assist consumers to adapt by providing alternatives such as paper straws and make reusable straws widely available and convenient to use. A little step could go a long way in creating a sustainable future for the next generation.