This post is sponsored by Bravo Eventz.
As we move into the digital age where everything is accessible at the tip of your fingers, offline marketing is no longer enough to cover the vast consumer base. A topline marketing strategy integrates both offline and online campaigns to attract a wider audience.
Mobile-driven travellers are all about the cheap deals and packages because travelling is expensive and who does not like a good deal. There is the well-known Matta fair as well as event activations in shopping malls can able to increase brand awareness but there is still the lack of engagement from the younger crowd who lean towards last minute-booking or travel spontaneously.
Problem
How to make the offline campaign more engaging to everyone?
By combining an offline travel fair with their online app, Klook was able to create an interactive platform that is fun for all ages.
Common travel fairs cater more towards the older generation where they prefer all the information on brochures and posters. Booths with hard selling salespeople can cause passersby to avoid the space altogether, in turn, losing the potential buyers.
Solution
To solve this problem, Klook has redesigned the regular travel fair to be a mobile-led, community-powered travel festival involving games, freebies, sharing sessions and online purchasing through the app. Interactive and insta-worthy booths such as Hong Kong Disneyland, Universal Studios Japan, Ocean Park Hong Kong, Sunway Lagoon, Harukas 300, Malaysia Airlines and even Kidzania were made for participants to get a taste of what would be the real travel experience; drawing their interest in purchasing tickets for the real attraction - To win prizes via the lucky draw.
For users who are new to the app, there were the "Ask Klook" booths where the Klook travel experts were stationed to help users with any queries regarding Klook or travels in general.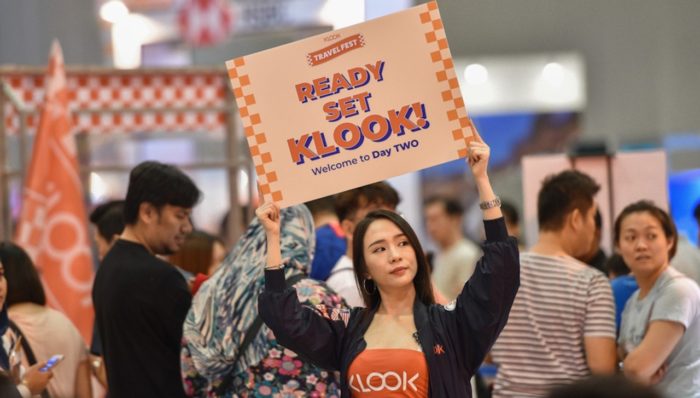 Objective
The focus of the Klook campaign was to enrich the consumer experience offline, help app users navigate the app and increase Klook app users.
Execution
The campaign starts more than one month prior to the event date with the ticket booking sales. This Bravo Events production is further hyped up with a sneak peak of the travel festival, media review and engaging influencer travel journey sponsored by Klook.
Event-exclusive buy one, free one, and 50% off deals which popped up on the main screen.
Book and collect travel passes on the spot through the app.
Insider tip sessions with influencers.
Lucky draw sessions.
Free tote with travel essentials such as Uniqlo heat tech, reusable metal straws and fisheye phone camera lenses.
Results
The Klook Travel Festival saw over 20,000 attendees which led to an increase in 250% mobile app downloads in just two days. Through the event's exclusive deals, participants were able to save a total of RM1 million and booked more than 22,000 travel activities and services via the app. Klook also received an average rating of 4.2 out of 5.
There were 22 merchants from theme parks, tours and travel essentials that participated in the festival as well as 17 influencers and celebrities who shared their travel stories with their fans. And, the destination that made up 60% of the travel bookings: Japan.