Self-order kiosks "is just not working in Hong Kong", Jardine Restaurant Group's regional IT & digital director Ravel Lai told Marketing.
"Hong Kong people still prefer ordering with the cashier rather than at self-order kiosks, and the inconvenient ordering process is here to blame." Lai explained. "For example, which category should you look for when you want to order an apple pie? The search takes time, and Hong Kong people just don't have it."
Yet with more choices made available in the market by digital commerce and mobile apps, Alan Chan (pictured), CEO of KFC Hong Kong, Jardine Restaurant Group, said the fast-food brand see the need to transform the conventional fast food operational model to enhance the customer experience.
Long queues during peak hours is also a problem yet to be solved.
Looking for a resolution, the brand yesterday launched a world-first food ordering system, Kolonel Fast Connect, in KFC's Admiralty branch. Through the food-ordering machine, customers can first make a HK$50 prepayment through VisapayWave, Andriod Payor Apple pay, then place Cantonese or English orders on a OLED screen by talking or doing motions. The screen looks transparent when left idle.
The brand invested over HK$5 million and spent six months on developing the system, including its designs, prototypes and user experience.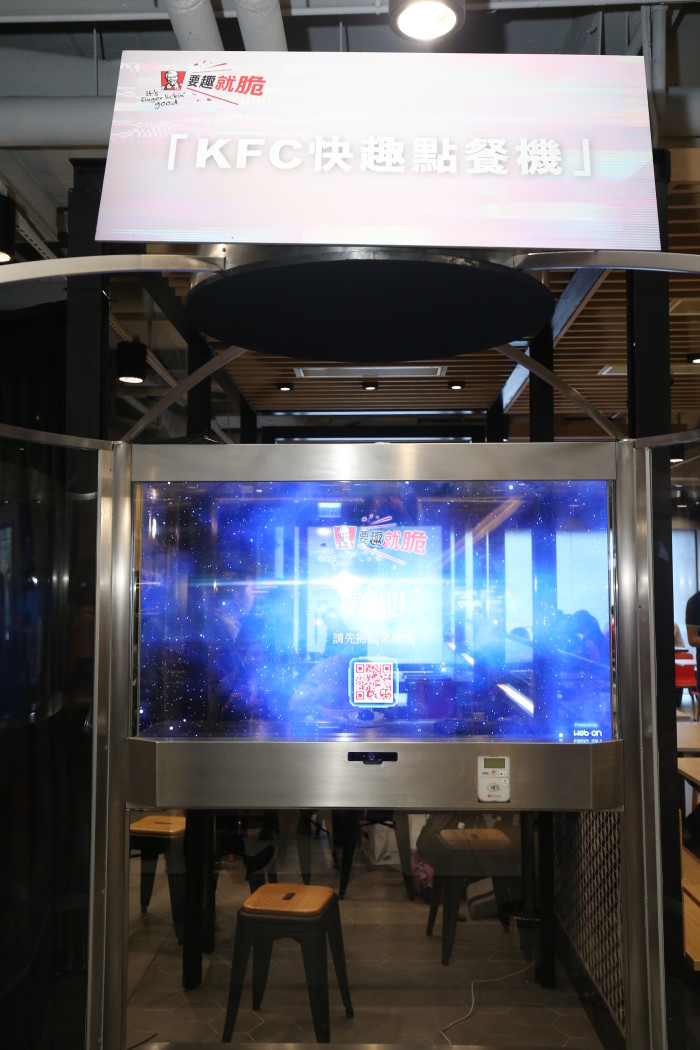 The food-ordering machine, said Lai, is "much smarter" than a self-order kiosks, as it does not need the customers to search for the food themselves, but places orders automatically when customers simply ask the machine for their desired items, with an 80% success rate. "While it is harder for a system to understand Cantonese compared to English, we insisted on developing a Cantonese recognition system because the majority of our customers are Cantonese-speaking locals," he explained.
The machine is also equipped with big data analysis that can personalise its services to KFC members, he added.
To support the new food-ordering system, Admiralty branch is now refurbished with only one cashier counter left, and more space for the pick-up counter. No employees are replaced by the machine, and cashiers were re-allocated to support the pick-up counter, Lai said.
He added that the Admiralty branch serves as an excellent starting point, as its customers are mostly white collar workers that are tech-savvy enough to pick up the new ordering method. Lai said they are looking to introduce the machine to its Kwun Tong APM  or Shatin stores based on the market reaction.
The brand has also introduced a new food-ordering app that enables customers to place orders on their mobile once they sign up to become a KFC member. Chan said they expect 200,000+ app downloads in the first six months and around 400,000 members by the end of 2017, plus a 5% revenue growth during rush hours and a payback period of less than 12 months.