TV, broadcast or terrestrial, used to be a black box sitting in our living room.
TV shows or programs were screened at fixed times and consumers were forced to watch advertisements multiple times during a one-hour show.
While TV stations and producers received data and feedback on their shows from third party measurement companies like Nielsen, this was based only on a small sample size of their total viewers.
With the limited data available, TV stations would decide on content and programming for the following season. Most broadcasters today still follow this process. Cable TV allowed consumers to have more flexibility and choose when to watch their favourite programs, but they are still limited by what their service providers decide to offer.
Today, with the arrival of online or digital TV, the television industry has undergone a dramatic shift. Digital TV includes any channel or screen that delivers video content to the consumer, online or OTT (over-the-top). The number of digital TV screens is multiplying quickly, given the wide array of digital devices out there. If TV was one of the best inventions in the 20th century, then digital TV should make it to the top of the list in the 21st century. Quoting Seth Shapiro, OTT is the new black now.   
So what are the factors contributing to this shift to digital?
Connectivity is cheaper, better and faster!
Home broadband access globally has become more widely accessible, and cheaper too. With that, the number of connected households has increased, and thus consumers' access to internet and online video content. 4G networks by mobile operators have also become more widely available, cheaper and faster, especially unlimited data plans.
The total number of broadband subscribers in Asia Pacific region (fixed and mobile combined) grew from 830 million in 2013 to 1.19 billion in 2014 (43% YoY growth), and is expected to reach 2.395 billion by 2020 (a 12.4% CAYR), according to Media Partners Asia. In Singapore, fixed broadband penetration of household as at Q2 2015 is already at 106%, as reported by the Infocomm Development Authority of Singapore (IDA).
Wired broadband access speed is also much faster today, with >100 mbps packages accounting for more than half the subscriptions in Singapore (diagram 1).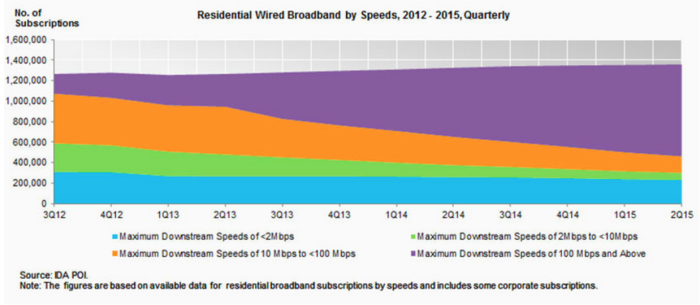 Mobile, mobile and mobile
There has been an explosive growth in the number of mobile devices and tablets. As of October 2014, there were more mobile devices than people in this world, according to digital analysts at GSMA Intelligence. The percentage of smartphones shipped, amongst mobile devices have also increased over the years. According to IDA, Singapore's mobile phone penetration was 148% at the end of 2014, and there are 4.18 million 3G mobile subscriptions.
Changing habits – anytime, anywhere access to online content
The mobile device is an indispensable item for most people today. The massive amount of content available online is also driving this trend. Gone are the days when you have to rack your brains to remember something – it's all about asking Doctor Google now.
From recipes to home-fix-its to using software, you have access to an amazing amount of content online today. The younger generation or millennials are on their mobile devices all the time. Toddlers start watching YouTube videos and cartoons on their parents' tablets and are attached to their mobile devices as they grow older.
As almost everyone owns a mobile and is getting connected all day, the desire to access information and content anytime, anywhere is much stronger.
Declining revenue from traditional TV & new competition in market
With the increasing number of mobile devices and online content available, consumers now have the option of choosing what they want to watch and when they watch it. They are no longer constrained by the programs and timings of traditional TV. Broadcasters and operators need to evolve and offer online TV, or risk declining revenue, and losing out on a new revenue stream.
At the same time, players like Netflix and Hulu have entered the market with an innovative offering, already capturing a significant share of the online TV audience. In Singapore, there are service providers offering VPN services that essentially allow Singapore-based consumers to subscribe to OTT services like Netflix, etc.
As a result of the trends above, digital or online TV today offers not only TV programs, dramas and movies, but also compelling content across sports (Australian Open live streaming, Cricket World Cup to Super Bowl), music and other live programming (fashion shows, corporate launch events, etc). The opportunities are simply tremendous.
Ultimately, the consumer wins because they have lots of options for what they want to watch, they can pay for what they want, and get personalised content. They also have the choice of watching it when and where they want to. Operators and content owners have to offer compelling content to compete for the consumer's dollar today.
What are the implications for the ad industry?
Ad agencies and marketers have to expand their digital media offerings and strategy to include video as a key component. It is a critical part of the consumer's experience with any brand or product, and can be really engaging if created and deployed appropriately.
There are opportunities for personalisation and targeting, as well as to experiment with new content and products. With today's sophisticated video solutions, marketers are also able to get video analytics and data into what and how consumers are watching online TV. Using this data marketers can leverage video to drive business goals (engagement and loyalty) and results (i.e. purchases).
Looking into a crystal ball for the future of TV  
The industry could continue to evolve dramatically, but the future of TV will definitely be online, with a large majority watching on mobile. There should be personalised options for the consumers, perhaps even a choice of subscription options (ad-funded subscription, ad-free subscription, transactional and sponsored content). Who knows what else will be coming.
We will be watching, for sure!
(Read also: 3 key drivers of the online video market)
This author is Mongchee Chang, head of marketing, Ooyala and active member of the IAB Singapore's Video Committee. This article is the second in a four-part series on the state of digital video in Asia Pacific by the IAB Singapore's Video Committee.
(Photo courtesy: Shutterstock)