Two women kneel on the ground and attempt to remove caps from water bottles positioned between two men's thighs with their mouths.
Strange though it may sound, this is not a scene in an adult movie, but a video reportedly taken at an annual dinner held by the instant messaging department of the Chinese internet giant Tencent.
The sexually suggestive footage first appeared on Miaopai, a Chinese video sharing platform similar to Vine. The video quickly went viral and ignited criticism and discussions across social media.
Displeased netizens raged that it was "shameful", "disgusting" and "disrespectful to women".
Tencent then issued an official statement on Chinese social media site Zhihu to apologise, condemning the inappropriateness of the game and vowing to "reinforce management and oversight so something like this will not happen again".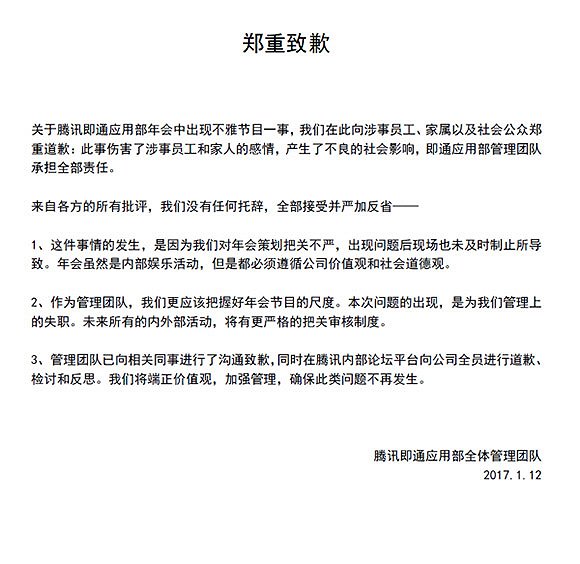 An executive in charge of the social network games department also posted an internal apology on Tencent's Weibo account, saying:


"As department head, I sincerely apologise, especially to the female colleagues who felt uncomfortable or offended. We will tackle this problem head-on and correct our values, and we want to say sorry to our female colleagues. The annual party is a department activity, and represents the company's image; we've lapsed in our oversight of the party games, and have caused much inconvenience. The various opinions, suggestions and criticisms by everyone have been taken into account, and I can only hope that you can stop circulating the video to protect our colleagues' privacy."
A human resources manager posted later, announcing demerit points for the employees involved, and reminding other departments to "keep to company values and culture, and reinforce management and oversight so something like this will not happen again."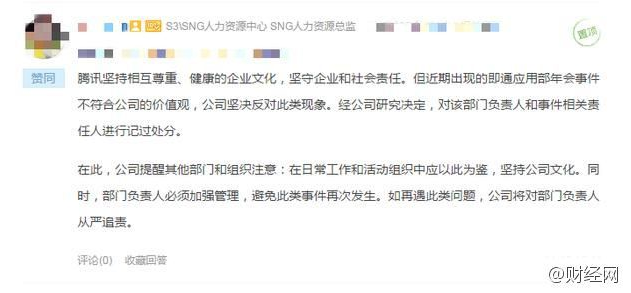 However, netizens criticised that the tech company censored their posts by deleting their videos on Weibo.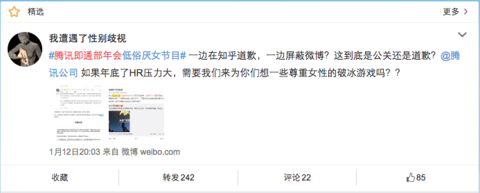 IveExperiencedSexism accuses Tencent: "While you (Tencent) apologise on Zhihu, you censor Weibo... is this PR or a sincere apology? @Tencent if you guys feel stressed at the end of the year, do you need us to think up of some non-sexist ice-breakers?"
An anonymous user claimed to be a former Tencent employee also posted that "it's a long-standing tradition" and outlined previous acts of sexism at Tencent.


"As a former Tencent employee, this isn't surprising - it's a long-standing tradition. At a games division annual party three years ago, there was another lurid game where colleagues had to kiss each other through a piece of tissue; a female colleague refused, but was pressured into doing it. I feel embarrassed that I worked at Tencent, and I hope the executives can reflect and stop the sexist behaviour from happening again."