With over a hundred million people using mobile phones as their primary communication device, the telegram has finally outlived its usefulness in the Philippines after over a century.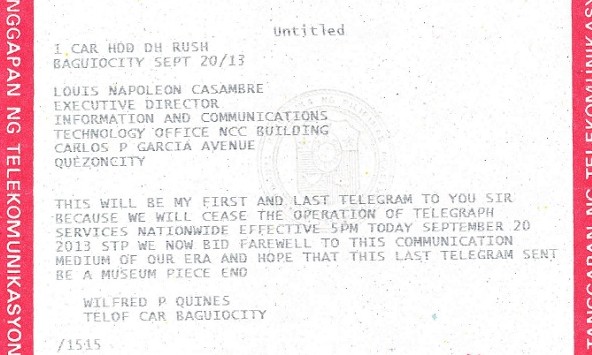 Last month, the Information and Communications Technology Office sent its final telegram, as beeps and pauses have rapidly been replaced by buzzes of an incoming text, e-mail doorbells and most recently, tweets.
The telegram era formally actually ended in June this year after India closed the world's last major commercial telegram service after 160 years.  An AFP report said the state operator sent 600,000 telegrams a day at its peak in 1985 but has dropped to a dismal 5,000 before it was shut down.
In the Philippines, the first telegraph line was opened in 1873 between Manila and island of Corregidor and got connected the United States after 20 years. As an emerging social media and technology hub in Southeast Asia, the service has been too slow in the digital age.
PHOTO: Newsbytes.ph