Electronic payment is making its way to taxi rides. Mastercard and HKTaxi, a local taxi-hailing app, have partnered up to roll out mobile payment services to taxi passengers in Hong Kong, providing a faster and more secure alternative to cash payments.
Claiming to have more than 45,000 registered drivers and 1.2 million downloads, the app HKTaxi has added an in-app credit card payment service with Mastercard and passengers can pay for the ride using the app on their mobile devices. This can save passengers from all embarrassment of frantically looking for cash or the fear of not having enough money at the end of the ride.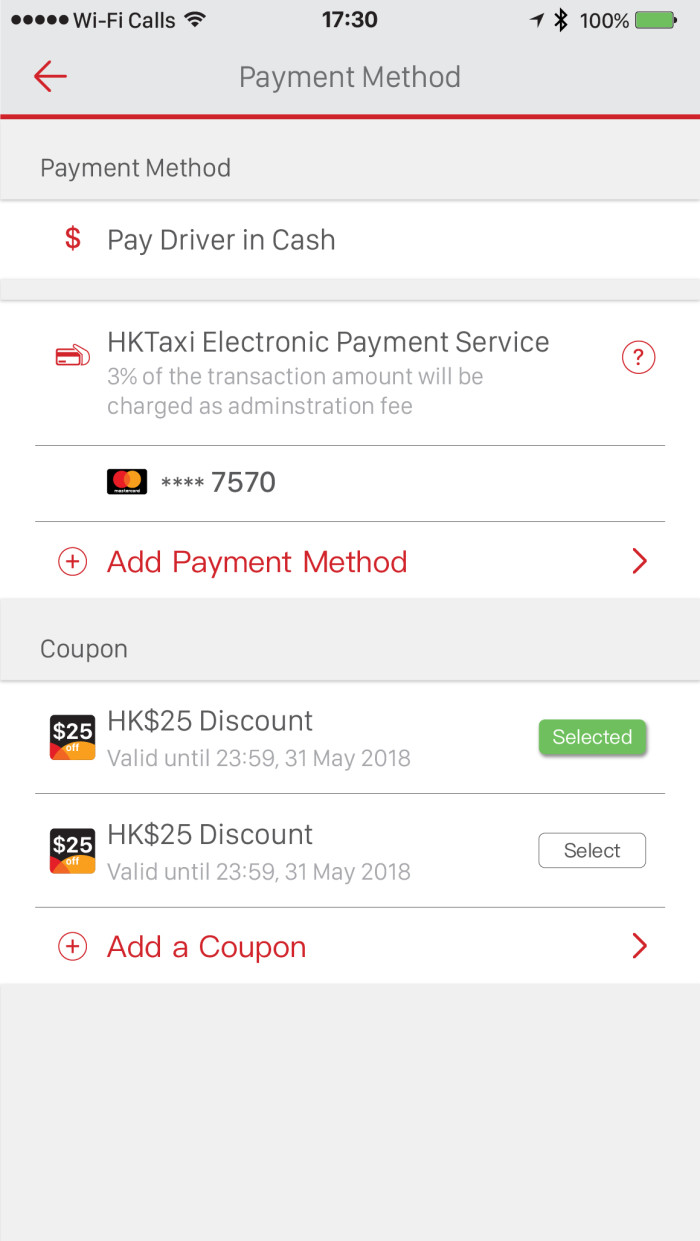 Mobile payment is a ubiquitous sight in Hong Kong. Customers simply wave their phones to make a purchase at a retail outlet, pay for the bus ride or place an order for their meals. A survey conducted by Mastercard last year about online shopping suggests that mobile payments continue to grow in Hong Kong, with 44.3% of respondents having used their mobile phones for transactions in past year. Convenience and the growing prevalence of apps are the two major reasons that have been driving the trend.
Helena Chen, managing director of Hong Kong and Macau at Mastercard, hopes that the app will bring an impact to the local taxi landscape. "We believe that the simple, secure and smart in-app payment service Mastercard provides to Hong Kong people through HKTaxi is a significant step forward," said Chen.
The app also makes taxi drivers' lives easier as they no longer need to prepare a large amount of change, nor worry about receiving counterfeit banknotes.
Prior to the partnership, HKTaxi had served more than 20 million orders since its launch back in 2013. Kay Lui, co-founder of HKTaxi, said, "We are also happy to partner with Mastercard in giving both taxi drivers and riders a hassle-free alternative to cash payments, making their taxi journeys seamless and convenient."
However, similar to every other e-payment platform available on the market, the app raises concerns over privacy and security despite the convenience that it brings. In response, Mastercard explains that all transactions through the app are protected by multiple layers of security measures. These measures include account authentication and data protection.
From now until 31 May, app users can get two HK$25 HKTaxi coupons after adding Mastercard as their payment card for the first time. They can also redeem a HK$50 coupon by hailing a taxi to the airport between 23 March and 6 April.