Just like many other industries, the advertising world is not spared the cruel fact that some clients just do not pay on time.  On her Facebook post, Wendy Hah who previously was from an ad agency and has since moved on to the client side in the beauty industry, revealed the dark side of what some of her friends in the agency line are facing.
"I feel so sorry for all my creative friends sometimes, especially those who came out on their own to start their own businesses, either as a creative agency or a photography house," she said. In the post she slammed the likes of ION Orchard and accused them of not paying up for "big campaigns."
When contacted by Marketing, Hah said:
"When I was working in a small local agency we had to work really hard and at the end of the day, I felt like a loan shark having to chase my clients for the dollars they owed us. There is an overall lack of integrity in the industry. Now on the client side, I ensure we are paying our agencies on time."
Meanwhile, ION Orchard declined to respond to Hah's claims at the time of writing.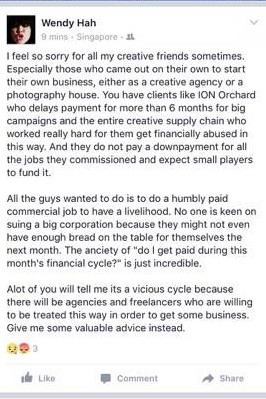 Local agencies have their say

The answer- there really is no hard and fast rule for an agency to ensure the problem doesn't arise. Clients not paying up is especially tougher on the smaller players as most of the times, taking legal action is not possibly due to the fees it can lead to.
One local independent agency lead, speaking to Marketing under anonymity, said clients not paying on time are a recurring phenomenon. How she deals with it is by building a constant stream of communication and also gaining the contacts of the finance and procurement departments.
Background checks from previous agencies they worked with, she added, is a must. In her experience however, this is more so an occurrence for the private clients than government ones.
"After a few warnings they usually pay up. We wish 4As would do more to regulate and throw their support behind the independent agencies but even this has been waning. A couple of years ago 4As stopped publishing rate cards on how much agencies could afford to charge clients on projects and so some agencies could afford to go lower and lower on pricing," she said. This led to a whole new problem of reverse pitching.
In response, the 4As said the association has always regarded business and professional relationships between members and their clients as important.
"However, credit management has not been an issue that members have brought up to us in recent times. In this context, I would urge agencies to be careful when accepting jobs on credit given today's environment of slowing global economies," Bernard Chan, CEO,  Association of Accredited Advertising Agents Singapore said.
He reiterated that the Association may not be in a position to champion certain issues on fees as this is now the purview of the Competition Commission of Singapore (CCS) under the Competition Act (2004).
Another independent agency head who preferred to remain anonymous said there really is no certainty except "to collect 100% upfront." He added that his agency tries to do so "as much as possible especially when a client is suspected to have payment issues."
How do you tackle the issue?
Leon Lai, regional managing director of Southeast Asia at GOVT said the agency always asks for the client's finance team on the billing cycles and the client payment terms before taking on a job as cashflow is important.  However, he has had instances where the company was forced to issue late fee invoices before to a client who owed them for a prolonged period of time as their last resort.
According to Lai, his long list of excuses include: "Sorry my financial controller is on long leave" and even:
The cheque is on my managing director's desk but I don't know why he hasn't signed it yet.
"For retainer clients, it's easy because it's usually a fixed payment date so we don't have any problems with that. In addition, we emphasise to our clients on our own internal finance's discipline. All terms & conditions are on our cost estimates and invoices," he added. Usually, said Lai, if a client does forget to pay, the company will extend the credit term for another 30 days.
"We understand sometimes the procurement and layers are sometimes multi in nature. More often than not, a simple, honest conversation with the client finance team is enough for us, as we get to understand their problems in processing our payment as well," he said.
Pat Law, founder of Goodstuph added the agency should do its part and due diligence on new clients before taking them on.
"If there is third-party costs involved, it's important to request for partial payment upfront. Whether a client is a bad paymaster or not is not relative to the size of the organisation," said Law.
But it isn't all bad
"The best paymasters I've encountered are government entities. Save for one or two clients who take up to two years to pay up, or conveniently change their credit terms without getting our agreement, we have been very lucky with our clients otherwise," Law said.
Patrick Low, founder and creative partner at Goodfellas Consultancy is one of the exceptions who have been lucky with clients' payment. He said: "Since 2009 when I founded the company, we're fortunate to have all the clients paying on time."
Their biggest clients include the likes of Marigold, IDA, CIMB and University of Technology and Design in Singapore.
"If, in cases, they really miss it, we'll send them a reminder. But there must be a reason why they don't pay on time and this requires some understanding for the relationship to work out smoothly," he said. Low added that the agency exercises client screening process and a lot of times, mutual trust is important when it comes to agreeing with credit terms between both parties.