Before the digital revolution, marketers focused on creating compelling ads, producing television commercials, and perhaps come up with some killer creatives or taglines.
The role of the modern-day marketer however, has evolved to becoming increasingly demanding and complex. Aside from keeping abreast of the latest technological trends, we are now crunching statistics, targeting individuals versus the masses, and trying to navigate through thousands of channels to reach their target audience.
While this sounds more than a little overwhelming, the digital revolution has helped produced a rich spectrum of 'big data' from all kinds of sources e.g. mobile, web, social media, search information – all of which can be potentially harvested to derive better insights and more clarity into today's consumers than ever before.
What does smart data mean for marketers?
According to Smart Insights, "Big data" refers to massive volumes of structured and unstructured data collected and stored from a range of sources. Typically, this data set is too large to be analysed using traditional statistical analysis and can be overwhelming when trying to extract actionable information. Smart data on the other hand is big data with context, where that context is aligned to business needs and objectives.
Hence, in order to implement and deploy "Smart Data" strategies, data integration needs to come first so that marketers can be able to properly assess, optimise and leverage the data to drive their competitive edge with more accurate and precise targeting.
What's the challenge in data integration for marketers today?
Marketers face several problems when trying to incorporate data from multiple sources in order to craft a usable set of action plans for their business needs.
For instance, traditional and digital media offer marketers different data sets or metrics at different time points during cross-channel integration. This makes it problematic for them to synergise the findings during the marketing process.
Another key concern is also the ability to combine data that is not similar in structure or source and to do so quickly and at reasonable cost aka achieving scalability while at the same time, manage and control data quality and hygiene.
With all these problems in mind, what will be the best way to go about navigating the maze?
Garick Kea, general manager of Isentia Singapore, has this to advise – first and foremost, think of an action plan on how you intend to utilise the findings from multiple data sources. Otherwise, organisations run the risk of suffering from "analysis paralysis" whereby no resolution is reached and prior research initiatives are left sitting on the shelf without ever being implemented.
Simplify the data integration process
Start small. Look into immediate sources of data that the organisation can easily collect on their owned assets
For one of our clients, Isentia looked at comparing the social media traction generated by the brand's campaign vs its campaign microsite activity – former collected by our social listening tool 1-Social, and the latter utilising Google Analytics.
Based on the findings, it became apparent that while a significant portion, about 43%, of the earned media traction came from Twitter, only about 2.77% made up the microsite's traffic by Twitter. Hence, client brand was able to immediately recognise and action upon the potential communication gap that existed in order to optimise microsite traffic.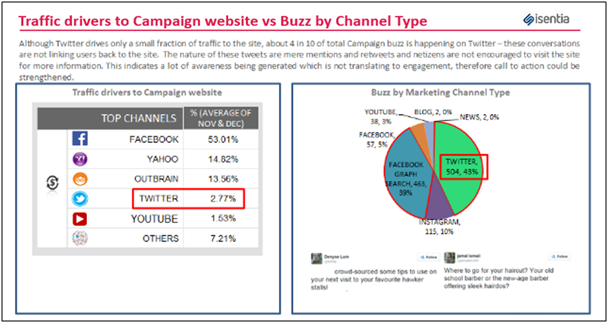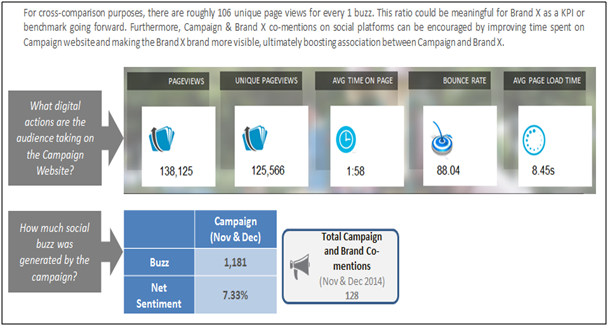 Connect the dots.
Most consumer brands developed their respective CRM systems where they are able to track the demographics and transactional activity of individual customers. However, outside of this CRM ecosystem, brands cannot determine if their digital initiatives had any consequential impact on the buying behaviour of individual customers and vice versa – rendering their promotional activities less targeted. Hence, Isentia worked with Memberson, an organisation specialising in providing CRM solutions to do Social CRM data integration.
By overlaying and adding a social dimension to CRM data, the proposition was developed with the aim of allowing brand marketers to understand their CRM customers' behaviour and how they interact with the brand's social assets. Ultimately, brands are now able to reward loyal fans and push out targeted Facebook invites or campaign advertorials.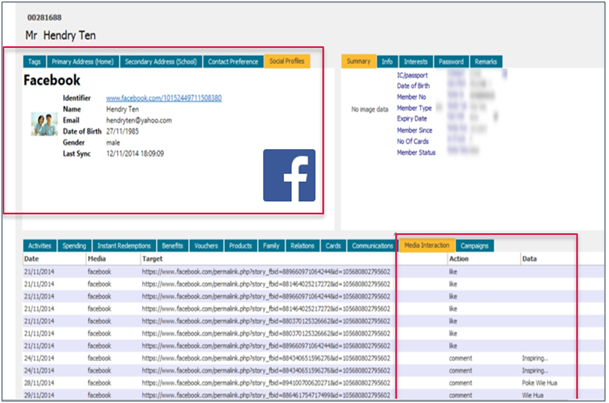 The writer is Teo Huishan, marketing executive, Isentia Brandtology Singapore. 
(Photo courtesy: Shutterstock)