For a second consecutive year A.S Watsons-backed supermarket group ParknShop is throwing its marketing might behind a growing stable of private label brands Best Buy and Select, as demand continues to grow.
With private label, or home brand, offerings nearing maturity in Hong Kong's supermarket sector, there's big money to be made and supermarkets are making a concerted effort to promote their private labels.`
Walk into any supermarket today and it's easy to see the strategy emerging. Home brands get the best shelf space, often at the expense of  leading grocery brands.
In 2012 ParknShop brand Select underwent a full rebrand from packaging to logo designs, in a bid to strengthen the label's presence on shelves and to enhance the overall perception of quality.
But are these gains coming at the expense of bigger supermarket brands?
Jessica To, marketing director of ParknShop Greater China, says no.
While she declined to reveal market share, the number of product offerings continues to expand.
"The own-brand line has also seen a large expansion of product range," she said.
"We don't want to upset national and local house brands and suppliers by overdoing our own labels. So keeping a balance is equally important."
Globally, the story of private labels is more advanced, with own-brand products accounting for approximately 16% of global FMCG dollars, according to a global survey from Nielsen.
James Russo, senior vice president of global consumer insights at Nielsen, said in the report that private label brands have a big advantage during tougher times.
As Hong Kong's inflation rate reaches an all time high, this may explain why the likes of ParknShop and Wellcome are boosting their private labels.
In 2012 the grocer created two TV commercials to highlight the brand's pledge to provide value for money. The second spot is currently airing on TV.
A 2012 Nielsen report shows private label holds 5% share of the market in Hong Kong, charting a slow growth in comparison to European countries.
Private dollar share by country: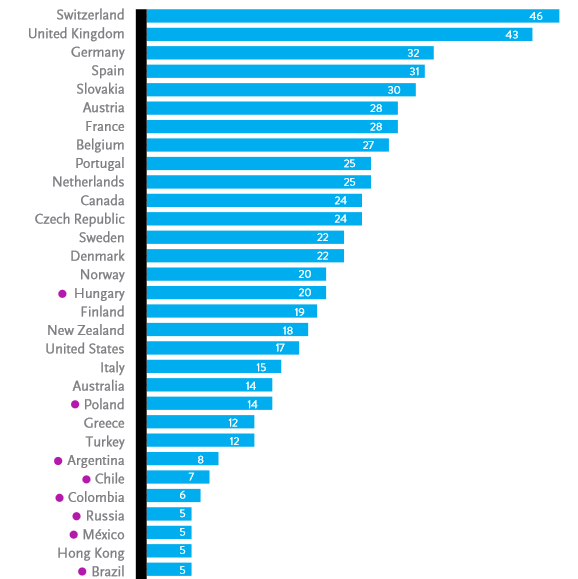 Source: Nielsen global inflation impact report October 2013
To said a focus on quality, a good in-store experience, marketing and a loyalty program, will help to boost the private label market.
"Consumers in Hong Kong are still brand-driven," she said. "Building a private label market would be a marathon. There's still a lot of room for private label market to grow in Hong Kong," she added.