As the World Cup nears, Sun Hung Kai Properties is launching a full-scale campaign across 11 of its shopping malls throughout June and July.
Fiona Chung, general manager of leasing at Sun Hung Kai Real Estate Agency, who oversees nine malls, estimates that the World Cup line-up of events from June 12 to July 13 alone will bring in HK$1.3 billion in sales revenue this year.
The nine shopping malls under the property giant include wtc more, East Point City, Park Central, Landmark North, Mikiki, Chelsea Heights, K-Point, Tuen Kam Centre and Grand Century Place.
Excluding Mikiki, which opened in 2011, the other eight malls are estimated to bring in HK$1.2 billion in sales revenue, representing a 104% increase from the World Cup campaign in 2010.
The budget of over HK$14 million for the nine malls represent 20% of the event and promotional budget for 2014.
Chung predicts that the events this year will bring 36.1 million visits, up from 24.14 million visits for the last World Cup campaign four years ago that ran across eight malls.
Events include live broadcast of 56 games, themed art installations, exhibitions, pop-up stores, fashion shows, Brazilian Samba dance performances, special designated areas for you to watch the game with your dog, lucky draws, gift redemption schemes, activities with celebrity footballers and a game tournament involving a cell phone and a big screen TV.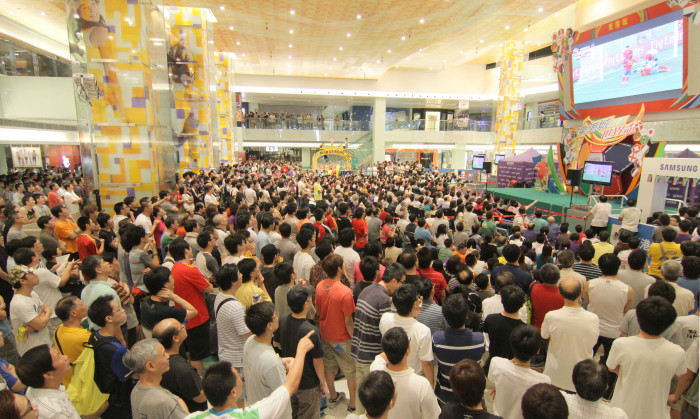 Chung says the four types of tenants who will benefit directly from the campaign are stores selling sports gear, electronic gadgets such as TVs, skincare and make-up products for men and women, health products, and supermarkets.
"For example, a lot of people would buy a new TV just for the World Cup and electronics stores often take this opportunity to offer discounts and organise roadshows two or three months before the World Cup," she said.
Those watching the live broadcasts may buy skincare and health products, or snacks from the supermarket to stay refreshed during the game.
"Stores selling other types of products are likely to benefit indirectly because when a consumer is on a shopping spree, once their utilitarian, hedonistic or experimental motivations for shopping have been stimulated, they are likely to spend more on other things as well."
The soft part of their advertising campaign, such as getting public relations staff to reach out to journalists to get feature stories on the World Cup events, have already begun.  Paid adverts will be launched next week.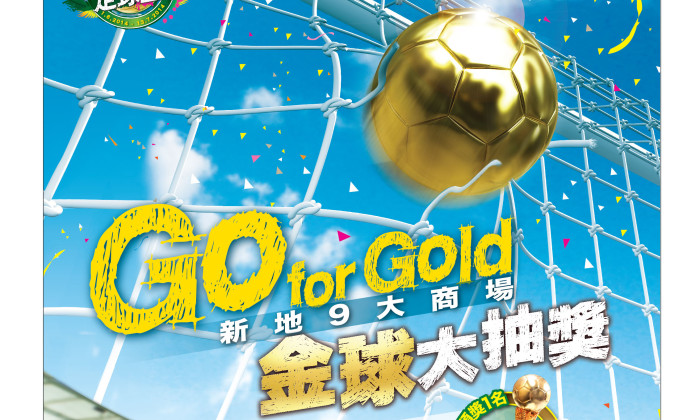 This will include newspaper ads promoting lucky draws, Facebook pages and contests, lifestyle, fashion and beauty magazines, newsletters and out-of-home ads. Some promotion will be done through shows, apps and magazine run by TVB, which East Point City is partnering with for the live broadcast.  As the events take place on a rolling basis, film footage of the events would be played on TV screens in eight of the malls.
East Point City's Facebook contest asks the general public to vote for which footballer should be the 11th player built by Nano Block artist Christopher Tan and to submit their reasons.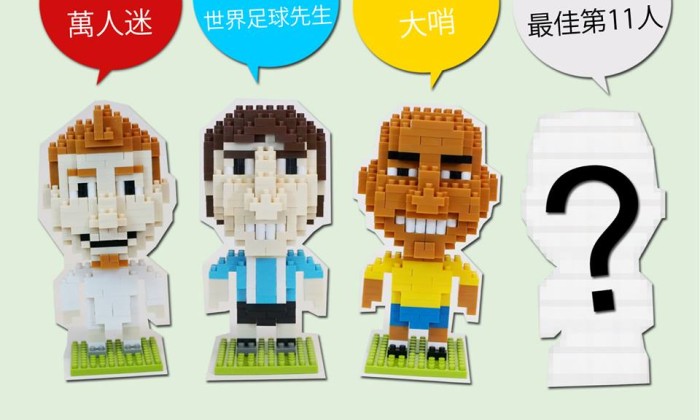 "The Facebook contest will create a lot of discussion and get people to share their reasons with their friends.  This will help us promote our events in advance.  Four other malls are planning to come up with their own Facebook contests based on different themes," said Chung.
She believes the events campaign as a whole will help expand the nine malls' customer base in the long run.
"Although on the surface, it looks like our events are just about the World Cup but the entire campaign contains elements to get our customers paying more attention to our malls," said Chung.
"For example, someone might not be a fan of a particular mall but after attending an event, say meeting a celebrity footballer, or buying merchandise from a pop-up store, they would realize that the mall fits their tastes.  So even customers who were not regulars can become regulars in the long run and memorable events will make them think of coming back."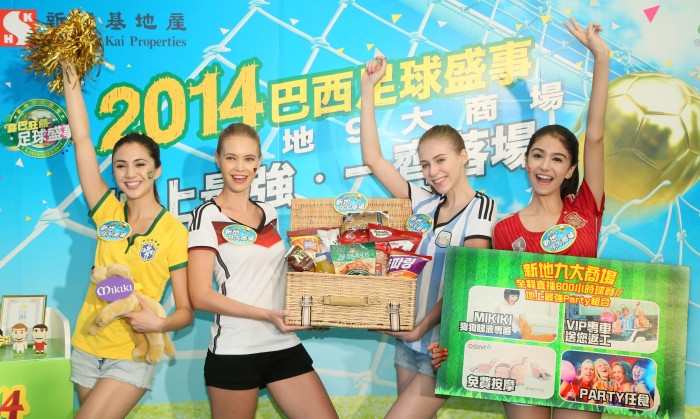 The way events are distributed between the different malls are also strategic.
Chung said, "Every one of our nine malls have their own unique market position.  We might do some events together, such as the gift redemption, lucky draw or live broadcast parties, but the malls organise their own events to support our campaign."
For example, she says because Landmark North customers lean towards more cultural activities, the mall invited a Brazilian paper sculptor to hold an art exhibition.
The bulk of the live broadcast parties will be held in five of the nine malls, namely Park Central, East Point City, wtc more, Mikiki and Landmark North because they have sizable atria.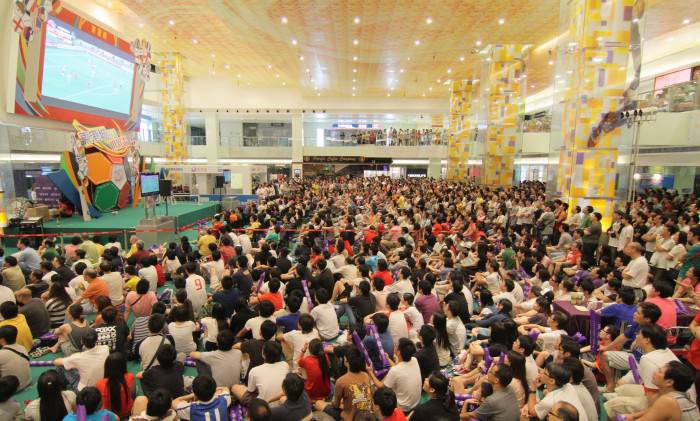 Chung says the times of the World Cup games this year, given that they are held in Brazil, is good for business.
"This is our third World Cup campaign. In 2006, it was mainly East Point City doing live broadcasts of games in collaboration with TVB. In 2010, eight of our malls organized events.  Because the games were usually at 7pm, midnight or 3 or 4am, back then, the regular customer who is not a die-hard fan would rather go home early and get some sleep," she said.
"This year, the games are usually after midnight. For fans who only watch football once every four years, this means the men can have dinner or go shopping with their girlfriends or wives and children, go home and get some sleep before coming out again before watching the game.  This creates a pretty good situation for us in terms of sales."
Other Sun Hung Kai shopping malls running World Cup events include V City in Tuen Mun and apm in Kwun Tong.
From June 10 to July 14, V City plans to create art installations, exhibitions of T-shirts signed by renowned footballers and other football collector's merchandise, performances of football-themed tricks, pop-up stores and broadcasts of all 64 World Cup games with free food and drink provided.
The capacity for the TV broadcasts at the Tuen Mun mall is 200 people.
Evelyn Suen, assistant general manager of leasing at Sun Hung Kai Real Estate Agency, who oversees V City, said, "Broadcasting free World Cup matches would increase our mall's popularity. After the World Cup, there would be follow-up promotional campaigns and a VIP Club loyalty programme to help keep customers visiting V city."
She adds that social media will be the focus of its ad campaign.
"World Cup is a hot topic, especially for young people. As a mall that mainly targets young local customers, V city would like to consolidate our image as a popular hang-out spot for young people in the New Territories West, by providing a World Cup experience for consumers," said Suen.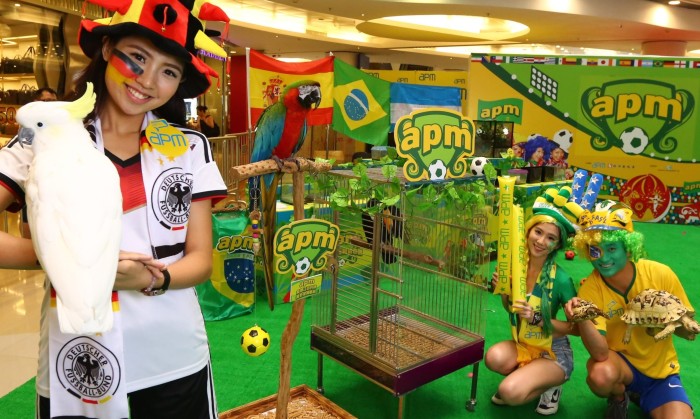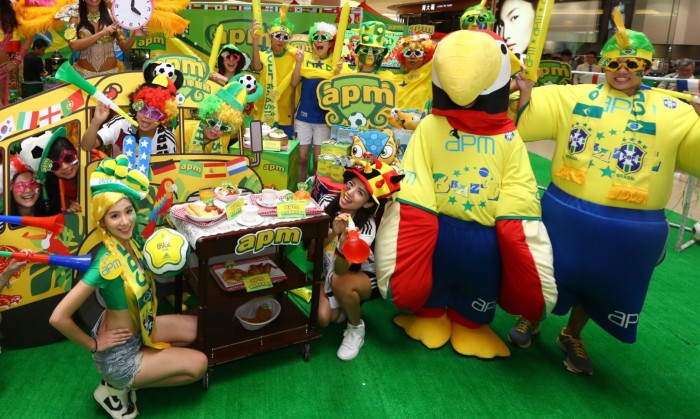 At apm, events include broadcasting the opening match and the finals, workshops run by former football player Ruud Gullit, an exhibition of rare Brazilian animals, football-themed marketplace, 3D football-themed AR game, gift redemption scheme and lucky draw.
Maureen Fung, general manager of leasing at Sun Hung Kai Real Estate Agency Limited, said, "For this World Cup campaign, our promotional budget has hit a new high of HK$8 million, up by 20% compared to the last World Cup. During the World Cup, from June 13 to July 14, we predict that we will get up to 9.5 million visits, which represents a 10% increase from four years ago."
"Compared to the last World Cup, we estimate that sports and electronics stores will increase sales by 20% respectively and that business for restaurants will go up by 15%."