The majority of Hong Kong consumers are less committed to their favourite retailers than ever, ICLP's latest research shows.
Partnering with an expert on relationship dynamics, professor Ron Rogge from the University of Rochester, the marketing agency surveyed 750 consumers in Hong Kong to rate their experiences with friends, loved ones, and brand relationships on seven core relationship criteria: recognition, rewards, reciprocity, reliability, respect, trust and communication.
The analysis then ranged brand and customer relationships into six categories, including "empty", "liking", "casual", "romantic", "compassionate", and "devoted" - the category in which devoted consumers are the most willing to share personal information, opinions and desires with their favourite brands, and are least likely to stray to competitors.
The research showed that only 1% of local consumers are "devoted" to their preferred retail brands.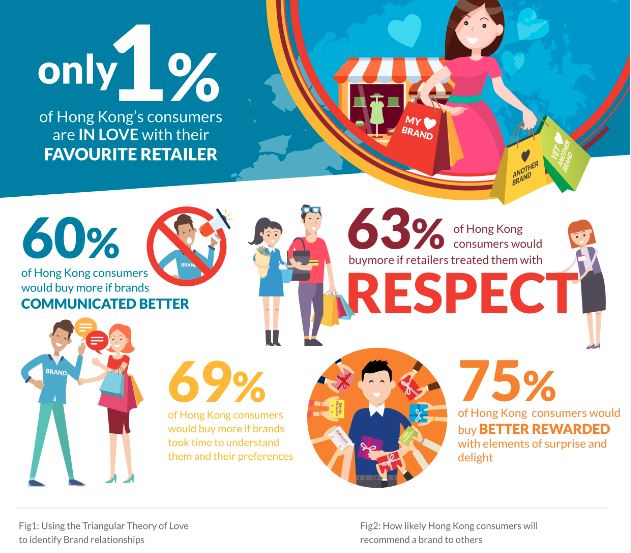 ICIP's general manager, Mary English, said the study highlighted that retailers should begin to truly understand the emotional factors that drive consumer loyalty.
"These days, brands are finding it difficult to connect with their customers in a meaningful way. Our study shows that consumers want the same from a brand as they do from their friends and loved ones," she said.
To encourage more "devoted" consumer groups across the customer base, brands are suggested to take several steps:
Take time to understand customers' needs
69% of those surveyed would buy more if retailers used their data to better understand shoppers individual needs and requirements.
Build respect and trust amongst consumers
63% would buy more if retailers treated them with more respect, and 55% would buy more if they trusted brands more. Trust is key to securing the commitment that exists in a "devoted" relationship.
Communication is also crucial
60% would buy more if brands better communicated with them. This highlights the importance of using better engagement strategies to create a reciprocal sense of passion.
Create stronger rewards programmes
According to the study, personalised rewards can drive customers towards a more "devoted" state.
Consumers in 'empty', 'liking' and 'casual' relationships may have lower expectations about reward programmes, but 75% of Hong Kong consumers would buy more if they were better rewarded. The survey results also suggest that loyalty programmes are more significant than traditional points-based reward programmes.
A survey released last month suggested that 48% of customers in Hong Kong see discounts on future purchases as highly important, while 42% said that they would spend more if they could get free delivery on a day of their choosing.
Read more: How to inspire loyalty in Hong Kong consumers, according to science