Undoubtedly, 2016 is a remarkable year for the TV industry in Hong Kong. As we can all recall - the oldest broadcaster, Asia Television Limited pull the plug, new free broadcaster ViuTV kicked off new services, and new players from over-the-top(OTT) services like Netflix and LeEco joined to disrupt Hong Kong's video landscape with new technologies.
With reports addressing to the tough situation that traditional TV stations facing (Read more: TVB's advertising revenue drops 9%), marketers cast doubt on the advertising values that free TV could bring. The answer is digital and free TV are no zero-sum game, according to Omnicom Media Group's latest online survey about local people's viewing habits.
In April, when ViuTV set its launch and LeEco aggressively rolled out campaigns, the agency surveyed 1,000 people online, aged 18-59 years old, on their video viewing habit in the past 7 days.
Results indicated that the weekly average time spent viewing video was 31 hours, with 18 of those hours on free TV versus 11 on digital platforms and just 3 on paid TV.
The top 3 platforms watched in the past 7 days were TVB(87%), ViuTV(74%) and Youtube(71%). Free TV dominates across video viewing platforms with 96% penetration, while 80% watched digital video platforms and 32% watched pay TV.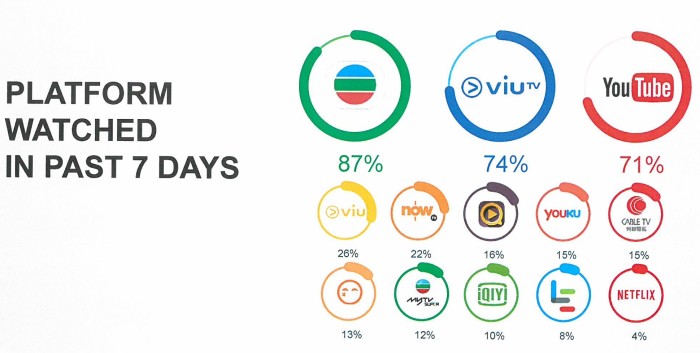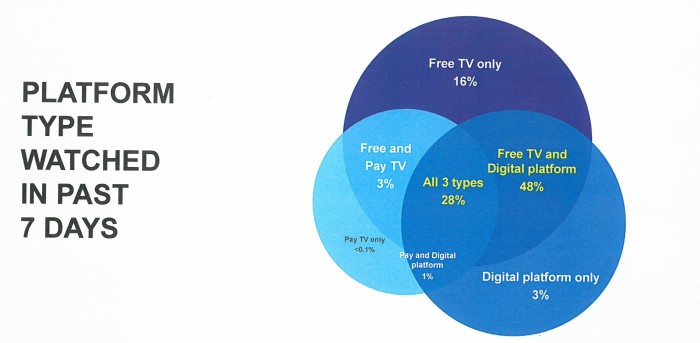 ViuTV became a spotlight in the survey as well, as many people were eager to know its performance. Although it was branded with a more innovative image, results revealed similar audience profiles across ViuTV and TVB. The average time spent per week on ViuTV was 5 hours, versus 11 hours on TVB.
"Viewers are consuming content on different platforms, digital is just one of them," commented Deric Wong, managing partner of strategy at OMD China and Hong Kong. "Free TV still has its significance."
Wong added digital vs. TV is no zero-sum game. Viewers are choosing the programmes to watch instead of particular platforms. As a result, TV and digital audiences are highly duplicated among all age groups.
He said a more sophisticated ecosystem would force marketers to move away from allocating their advertising budget by video platform. "Audience gain access to more programme choices, and advertisers have to channel their messages by programme nature."
"It is all about content," he added. "To tell a compelling brand story, this could mean creating multiple contents with multiple durations or even tailored messaging. Make sure contents are readily available and fast, and make it easy for audience to find."