2015 has seen two major tragedies so far for Singapore.
First, the death of its founding father Lee Kuan Yew, which saw an outpouring of grief from the nation and beyond. Second, more recently was the Mount Kinabalu earthquake that struck on 5 June, drawing a death count of 19, including 10 Singaporeans – seven pupils and two teachers from Tanjong Katong Primary, and an adventure guide.
It was several years ago that saw local politicians, such as, notably, Prime Minister Lee Hsien Loong first taking to social mediums such as Facebook and Instagram. But now, a majority of Singapore's ministers in the cabinet such as Dr Vivian Balakrishnan, Chan Chun Sing and more, are active on social media.
It looks like this move may have provided a powerful means of crisis management and humane communication for these types of moments.
Crisis communications
As the late Minister Mentor Lee approached his eventual passing, the internet went wild with false reports of his early death, creating mass confusion in the public sphere. This was only cleared up when an actual post from the prime minister's Facebook page was put up and went viral, confirming the actual death.
As for the recent Mount Kinabalu earthquake disaster, crisis communications efforts fell largely upon the Ministry of Education, as it was discovered most of the Singaporeans involved were students and school teachers.
While parents of students involved waited anxiously for news, as well as the press, the education minister's Facebook was regularly updated with posts on what he and the ministry were doing for rescue efforts, as well as constantly offering condolences.
Lim Le-Anne, executive director at Golin, said: "In crisis or disaster management this is probably one of the best ways to show authority figures taking a personal interest in the crisis and being fully invested in the final outcome.
"Social media platforms such as Facebook and Twitter, which are not reliant on any newsroom, offer 24/7 avenues for delivering up-to-the-minute updates which can speak louder and more humanely than any standard issue media statement."
Prantik Mazumdar, partner at Happy Marketer, said: "I think all of us were particularly moved by the manner in which PM Lee managed his social media communication during his father, MM Lee's demise – it was handled with a lot of sensitivity and gravity. I don't think many national leaders have been so open and engaging during such a trying period."
Ryan Lim, co-founder of digital consultancy QED, said the scalability of ministers' social media assets offered the different ministers and ministries a chance to react quickly as well as to amplify their grassroots work.
This was also taking the grassroots movement to a digital medium, where more young supporters tend to be, added Lim.
A human touch?
Meanwhile, in happier times, this pro-active social media strategy has offered leaders a voice in the midst of international and local events, as well as offering a more human touch.
For instance, during the recent SEA Games, politicians such as Teo Ser Luck and K. Shanmugam were seen supporting team Singapore. For example, this post by Teo congratulating boxer Mohamed Hanurdeen on Facebook:
In one moment that might have impressed techies, PM Lee shared a piece of code that he wrote for a Sudoku puzzle during the Founder's Forum:
Mazumdar said: "As a technopreneur, I was uber impressed not only by his coding skills, but his openness to share his work to inspire a generation and send home a message that coding as a skill set is critical for Singapore to be a smart nation."
Other examples of commenting on current affairs:
Sharing popular blogger Mr Brown's post:

On cabinet changes:
In other examples, PM Lee has also hosted live chats with netizens on Facebook, drawing more than 2,100 questions, according to The Straits Times.
"Several MPs have also conducted online town hall sessions with their constituents on Facebook. It shows that politicians recognise the importance of showing up in the online space and being present where the conversation is shaped," Golin's Lim said.
Drawbacks and slip ups

However, such a strategy has not emerged without some misses as well.
While some of the more senior politicians may be supported by PR teams, others may not be, speculate some industry players.
"The decision to directly engage on social media is not one to be taken lightly," Lim said.
"Once one has a presence, netizens expect 'always-on' engagement as well as some form of follow-up to their comments and feedback. The ability to manage and meet public expectations of the feedback or response cycle is also an important part of the process."
Then there is always the danger of putting up a post that irks the public.
One example was Teo Ser Luck's post after LKY's death: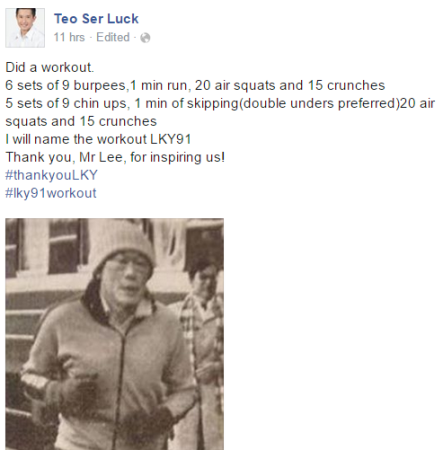 (Image of original post from Online Citizen)
This drew the ire of the public, who slammed Teo for an insensitive post. The post was later tweaked.
Another politician familiar to the social media space is Baey Yam Keng. While noted for being one of the more social-savvy ministers, Baey, also a former MD of network agency Hill+Knowlton, has seen his share of misses by the public for some of his posts, having to publicly apologise for some of them.
While he did not comment on questions from Marketing, Baey, in an earlier interview in 2013 said: "My own view is to ignore the trolls. I have my own objectives. Through my social media efforts, I want people to know what I think, what I do. If you don't buy it, that's fine. I believe most people are rational. I must have that confidence that people can discern, and have their eyes and ears to see, to assess, to make their own judgment. That is what I believe in."
He added that there was a need to "amplify the voice of the government in the internet space".
"I personally find it very useful for me to connect to people, have some influence over what people know and think, and advocate for certain causes. The government can also do that, although of course, it's on a much bigger scale," he said.
Golin's Lim said: "The bottom line is that there is no right or wrong answer on how to engage well and effectively on social media.
"It presents opportunities both ways. On a cautionary note, while the ability to engage citizens directly on social media may seem like a golden opportunity, a lack of social media chops or sensitivities may also cause long-term reputation damage and backlash.
"Long after a story has stopped making the headlines or dominating newsfeeds, its digital footprint still lingers online."
Sophisticated on social media?

In general, both Lim and Mazumdar feel that there has been a significant evolution in the local politicians' social media strategies since the last election, which was also considered a social media election.
"The last general election in 2011 was widely regarded as a 'social media' election as it was the first time in Singapore that political parties were allowed to use social media to reach out to voters. That set the tone for local political engagement going forward and we are seeing a more active use of social media for political ends," Lim said.
Added Mazumdar: "I remember penning down a blog post in 2012 after the last general election in Singapore as to how PAP is losing touch with the heartlanders.
"I believe that in the last three-odd years, through active social media communication and engagement, the government and the ministers have won back some of that lost love."
He opined that they use social media strategically to be transparent about sensitive issues and humanise the faces that run the nation.
"I think this has been a huge win for the government and I hope they continue to focus on it. Four years ago social media was a tool used by the opposition to shake up and attack the incumbent government, but thanks to ministers embracing the new-age communication phenomenon, today it has become their strength and ally," he said.
Marketing reached out to several ministers for comment, but some could not be reached or declined to comment.