The Singapore Tourism Board (STB) has launched a new public education campaign which brings back popular local Chinese drama serial, The Unbeatables, humorously dubbed to fit the campaign's message, which is "Don't Travel Blur, Travel Sure". The move is also ahead of the NATAS and Travel Revolution fairs this month.
The campaign features three re-dubbed snippets of the popular local drama serial, leveraging nostalgia and humour through the use of dramatic scenes from the show, which feature renowned veteran actors and actresses such as Li Nanxing and Zoe Tay.
These videos highlight the three steps that travellers should take to avoid unforeseen travel mishaps. This includes always buying travel insurance, checking if your travel agent is licensed and has the right licence via the TRUST website and reading through the terms and conditions of their purchases. Watch the videos here:
The campaign message is also supported by the new "Sunny the Sotong" mascot, all this in a bid to promote greater awareness among Singaporeans on the necessary precautions to take to protect themselves against unforeseen circumstances when booking their holiday.
"Sunny", a squid character, also known as "sotong" in Malay, represents the muddled or confused travellers the campaign targets, the statement added. In Singapore, the word "sotong" or "blur" is used to colloquially describe someone who is muddled or confused. However, unlike his brothers and sisters, the Sunny is said to be the smartest squid in the sea, with no-nonsense approach to taking travel precautions. The mascot will be used as the face of the campaign to remind consumers to "Don't Travel Blur, Travel Sure", and will be in all campaign creative materials.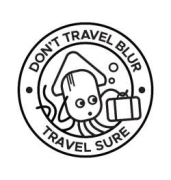 "By using an iconic local drama serial from the 90s and introducing a catchy message and relatable mascot, we hope to engage travellers of all ages and remind them of the importance of safeguarding themselves against unexpected situations," Ong Ling Lee, director, Travel Agents and Tourist Guides, STB, said.
This is not the first time STB has used nostalgia and redubbing to promote the importance of travel insurance. Early last year, it launched a hilarious campaign which featured snippets put together from Justice Bao episodes, dubbed over to drive home the campaign messaging. This was supported by the Consumers Association of Singapore (CASE)