The force has hit Singapore shores and Star Wars: The Force Awakens fans in Singapore could not be more excited. Whether you're a hardcore Rebel or an Empire henchman, let's see what's been going down on social media in the month leading up to this year's most highly anticipated movie.
Already, social media is abuzz with anticipation of Star Wars, whether it's seeing the droids or the Stormtroopers in action.
(Read also: LOOK Disney takes passengers on a Star Wars ride and LOOK Walt Disney transforms Changi Airport into Star Wars zone)
Based on conversations from 1 November to 14 December, Digimind Social's conversation clusters showed immense interest in the merchandise display at VivoCity, as well as the Battlefront game - good news for Star Wars retailers out there.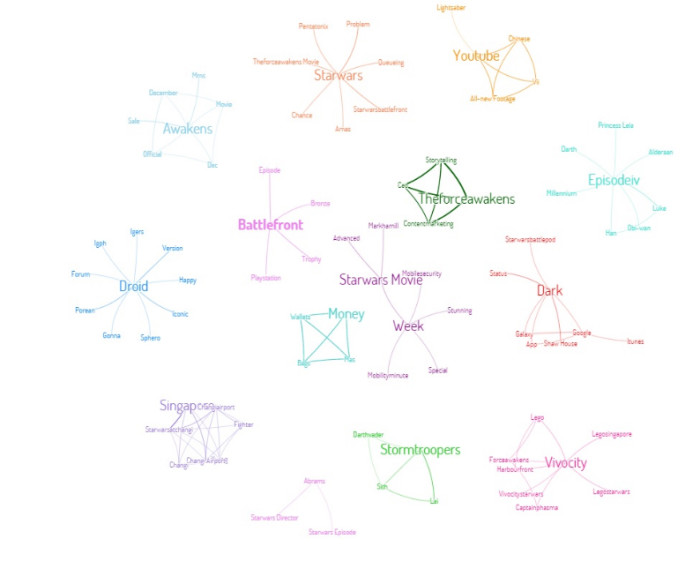 The top hashtags feature also showed the ongoing #starwarsatchangi campaign, which features a life-sized T-70 X-wing and TIE fighter, as well as character appearances at Changi Airport, among the top 10 Star Wars related hashtags in Singapore.

The Force awakens on social media
Conversations about the 7th installment of Star Wars spiked on 16 November, at more than half a thousand mentions. We suspected it had something to do with it being the day movie tickets went on sale.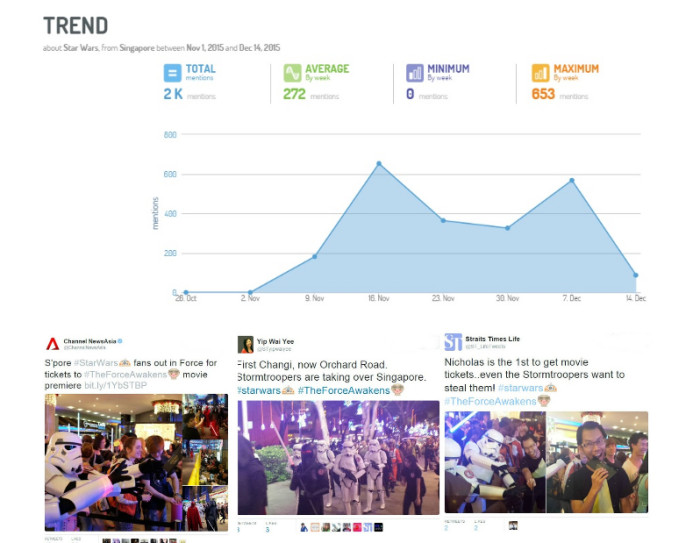 Who's ruling the galaxy on social media?
Out of the ensemble of characters, it was supervillain Darth Vader, droids R2-D2 and BB-8 and newcomer Kylo Ren that garnered the most traction online. Most of the conversations about Darth Vader were related to games and merchandise.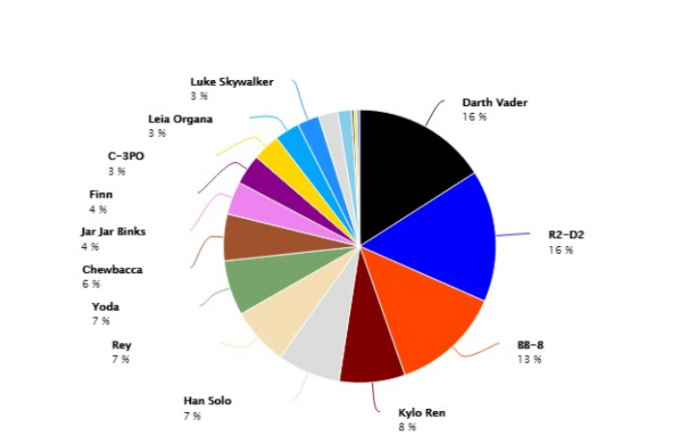 A new generation comes to the Force
While the Star Wars series has been around for decades, most of the conversations online belonged to the 18-25 age group. But it looks like this one belongs to the boys, with 71% of the conversations.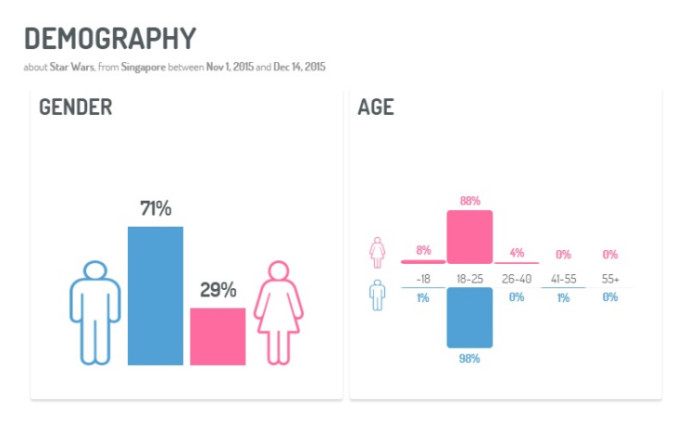 War continues in the online shopping arena
In the online shopping arena, there has been an­­­other type of lightsaber combat for a share of the SG$4 billion Retail Empire in Singapore.
Thousands of e-retailers such as ZALORA, Taobao, Expedia, Lazada, and Groupon have recently fought for sales on specific days known as the Retail Holidays. ShopBack has observed some interesting numerical movement this Star Wars season and has pitted it and has decided to pit the three Retail Holidays – Singles Day, Cyber Monday, and 12.12 against each other in an infographic.
Take a look on which day came out on top:

May the Force be with you!