Malaysians have witnessed a historic win in the 14th General Election (GE14), with Pakatan Harapan upsetting Barisan Nasional (BN) after 60 years in power. The election has caused plenty of online chatter in the lead up to polling day, and brands such as Grab even launched a voters' kit to encourage Malaysians to play their part in deciding the nation's future. Google Malaysia and Twitter even launched a new doodle and new emoji respectively to commemorate GE14.
The top three channels for mentions about GE14 were Twitter, Facebook and Instagram. "Najib", "Barisan Nasional" and "Pakatan Harapan" trended online on 7 and 8 May, while mentions about voting surpassed mentions regarding BN and Najib on 9 May. Among the list of trending topics around Malaysia's GE14 on 9 May included "Malaysiadecides", "Malaysiamemilih", "Future", "Inikalilah" and "PRU".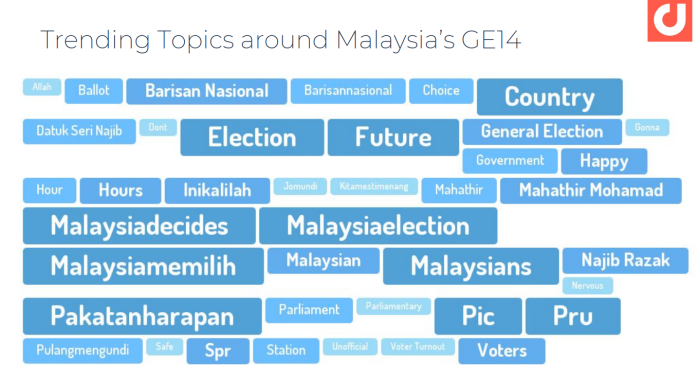 "PRU" had 1,861 online conversations surrounding the topic, while "PIC" had 58, and "Malaysiamemilih" had 526. Meanwhile, "Pakatan Harapan" and "Malaysians" had 403 and 366 conversations respectively, said the Digimind data.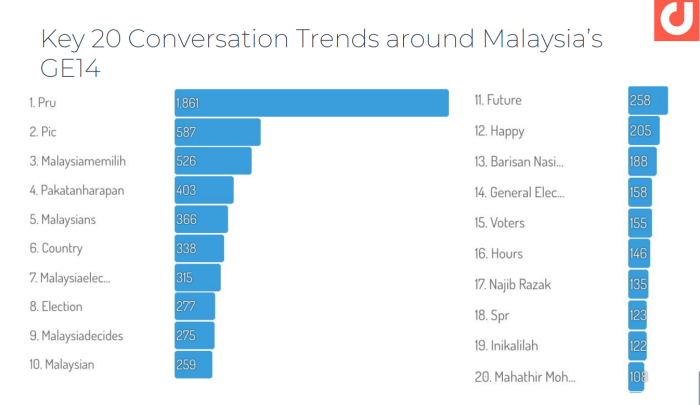 #GE14 came out as the top hashtag with over 5k online mentions, followed by #PRU14 with 2k mentions and #Malaysiamemilih with 718 mentions. According to Digimind, of the top 20 hashtags used on 9 May, majority of them were party-neutral and instead focused on encouraging fellow Malaysians to cast their votes. Pakatan Harapan's hashtag was used by netizens more than Barisan Nasional's, it said.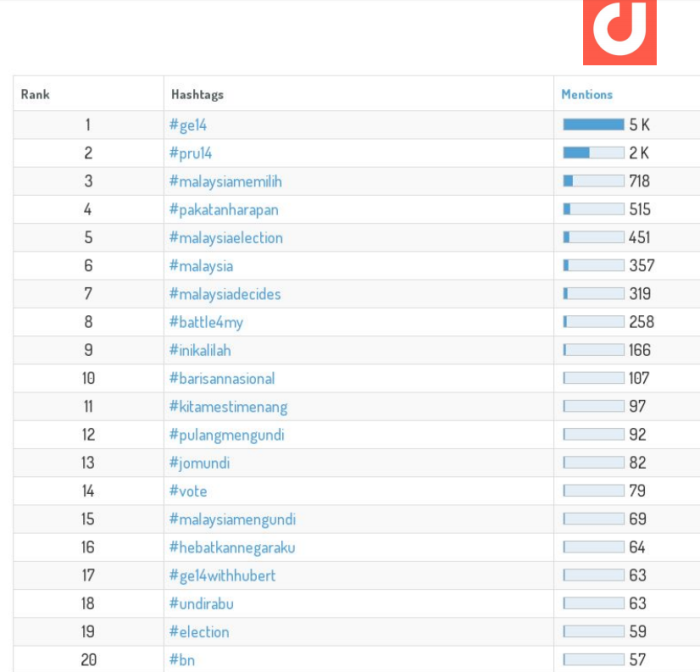 Besides hashtags, some emojis were also used by netizens to express patriotism and hope, such as the Malaysian flag, flexing bicep, praying hands and heart emojis (refer to main featured image at the top).
Campaigns by brands
In the week leading up to election day, several brands, mainly food and beverage (F&B) and convenience stores, have offered discounts and free meals or products to consumers which were publicised on social media. According to data from Digimind Social gathered on 9 May 2018, these include international brands such as FamilyMart, The Coffee Bean and Tea Leaf, Boost and Krispy Kreme.
Some brands, however, required customers to show their ink-stained finger as proof that they had voted, citing it as a "reward for voting" in a bid to entice consumers to head to the polls. Digimind said that by doing so, these brands effectively leveraged Malaysians' love for food and the significance of GE14 in safeguarding the nation's future, as well as portrayed themselves as a place for locals to gather and share solidarity after voting. This, therefore, elevates customer perception of the brands.
What was your favourite voting day campaign? Share with us at janicetan@marketing-interactive.com and rezwanam@marketing-interactive.com.
Read also:
Google flies the flag for Malaysian election with new doodle
Twitter unveils new emoji for 14th Malaysian General Election
MCMC to work with Twitter and Facebook to address election bot complaints
Twitter SEA MD: 'The media has been a good friend, and also not a good friend.'
Grab Malaysia offers discounted rides in conjunction with GE
20th Century Fox banks on election fever in MY to promote Deadpool movie
Grab gets users pumped up for the election with GE14 Voter's Kit
Bosch AA banks on election fever for new video featuring Kak Girl
ONE's #ForwardTogether campaign encourages youths to get more involved in voting