Here's one social media marketer that might be doing a big face palm.
Someone on the US Airways social media team made a big gaffe in communicating with a Twitter user over the company's account.
According to Daily news, it looks like the employee was supposed to ask the user for a review with this tweet:  "We welcome feedback, Elle. If your travel is complete, you can detail it here for review and follow-up."
Unfortunately it sent out a highly graphic tweet instead of a naked woman lying exposed on a bed with a toy plane between her legs.
(Photo courtesy: Daily News)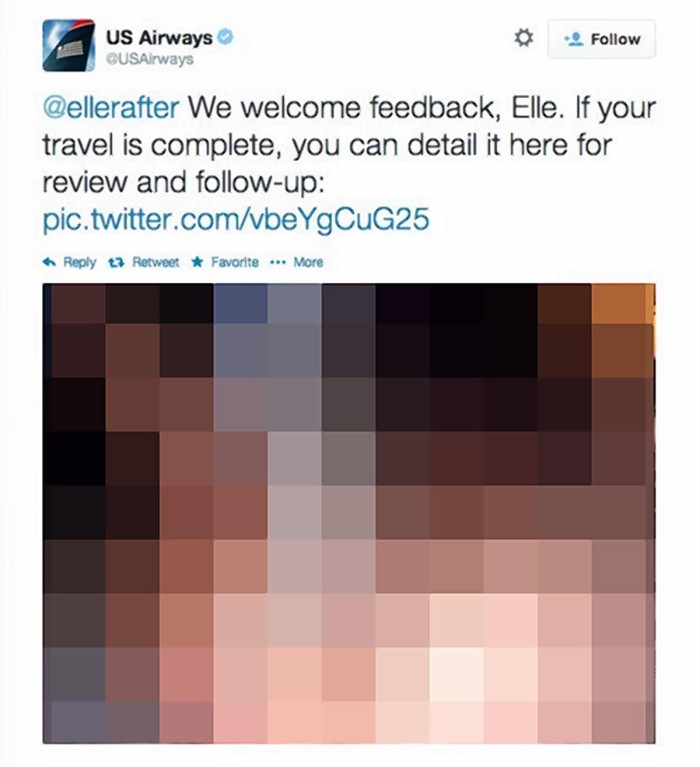 This was deleted soon after and replaced with an apology which read:
We apologize for an inappropriate image recently shared as a link in one of our responses. We've removed the tweet and are investigating.

— US Airways (@USAirways) April 14, 2014
Oops. In a time where social media calls for immediate attention, perhaps social media marketers in particular need to be even more careful of what they keep handy on their computer desktops.
Natasha Zhao, principal consultant of Blugrapes added that this was a lesson for all that while social media and especially a platform like Twitter is about real-time interaction, there should be internal processes within an organisation to screen published content and avoid such "boo boos", even though this may result in a slower response time.
"The content of what goes out on social should always be a priority over response times, because what goes out can't ever be retracted, " she added.