Digital connectivity is quickly becoming a part of everyday life for people all over the Asia-Pacific region, according to a new study on 'The State of Digital' in Asia Pacific in 2015' conducted by We Are Social in partnership with the Interactive Advertising Bureau (IAB) Southeast Asia (SEA), Singapore Chapter.
The report, entitled Digital, Social & Mobile in APAC in 2015, observes that uptake of digital, social and mobile technologies continue to gather pace, but also highlight the need for a lot yet to be done to make internet and mobile access easier in the region.
To help organisations understand and take full advantage of the opportunities these trends present, the study provides a comprehensive overview of activity across the region's 59 countries, as well as in-depth data and analysis for 30 of its key economies.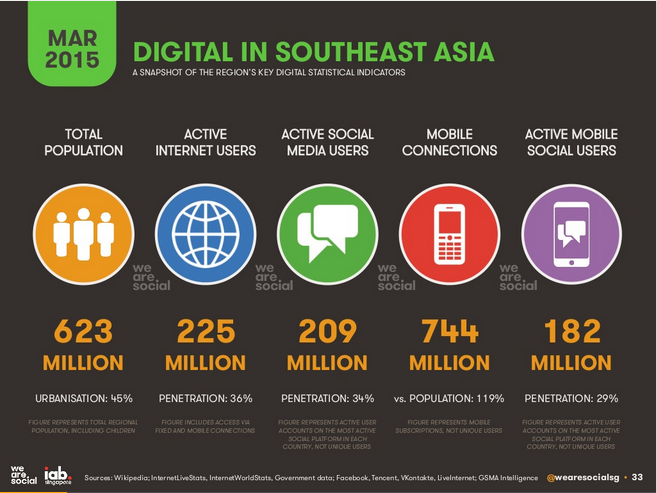 Commenting on this year's findings, Simon Kemp, Regional Managing Partner of We Are Social in Asia and the report's author, said:
"Digital connectivity around the Asia Pacific has surged in the past 12 months, and we're seeing accelerating growth throughout the region, much of it driven by mobile. Nearly half the region's population now owns a mobile phone, and as data plans become more accessible to people in developing nations, we are looking forward to seeing even more impressive numbers in 2015."
The study was put together by the team at We Are Social, in collaboration with the IAB Singapore's Measures and Standards Committee.
"Digital experiences are on the rise and it is becoming increasingly important for key stakeholders in the industry to better understand the landscape in our region, in order to keep up with consumer behaviour," said Miranda Dimopoulos, Executive Director, IAB (SEA) Singapore Chapter. "Our mission at the IAB is to work with the industry to increase capacity and build capability via our Training, Guidelines & Standards and Research initiatives in the region. We are delighted to partner with We Are Social on this initiative that gives a comprehensive overview of the impact and usage of technology."
Highlights from the 2015 study include:
Well over one-third of the region's population now uses the internet on a regular basis, and we expect the number of users around the region to exceed 1.5 billion sometime in Q3 2015.
More than one-quarter of the region's population used social media in the past 30 days too, with more than one billion people logging in to either Facebook or QZone in the past month.
Mobile usage continues its dramatic rise around the region, with the number of cellular connections in the region growing by more than 11% since last year's report (January 2014) to pass 3.7 billion. In terms of unique mobile users, we project that regional penetration will exceed 50% sometime in Q3 2015.
Kemp pointed out that there's still plenty of room to grow, however:
"Despite these impressive numbers, less than half of the region's population currently has access to the internet, and fewer still have access to fast broadband. The United Nations has already declared internet access a 'basic human right', so it is imperative that governments, businesses and other organisations around the region work together to improve digital connectivity around the region, and help to make universal internet access a reality."
[Image from Shutterstock]