In its boldest move yet, Snickers has rolled out a set of six out-of-home ads quoting different types of mistakes made by Hong Kong celebrities and political figures.
Launched last Saturday under the tagline "You're Not You When You're Hungry", the campaign uses six famous quotes that have been packaged into what it calls "hungry quotations" (肚餓語錄) which aim to stir laughter and spark creativity.
The campaign was developed by BBDO Hong Kong and Maxus Hong Kong.
"People make silly mistakes and do the wrong thing when they are hungry, including famous celebrities, news anchor and politicians," said Doreen Cheng, marketing director at MARS Hong Kong in an interview with Marketing.
"These faults usually become viral hits but most importantly, it's how impressive everyone remembers these 'slip of the tongue' and bloopers.
"We want to bring back those familiar faults done by famous people and tell the audience that famous 'slip ups', and mistakes are due to being hungry."
Here's a breakdown of the different executions:
Logical mistake (shouldn't use English in a Ancient Grammatical mistake Chinese drama) - "Please help me to CHECK if there's anyone who didn't pay the tax"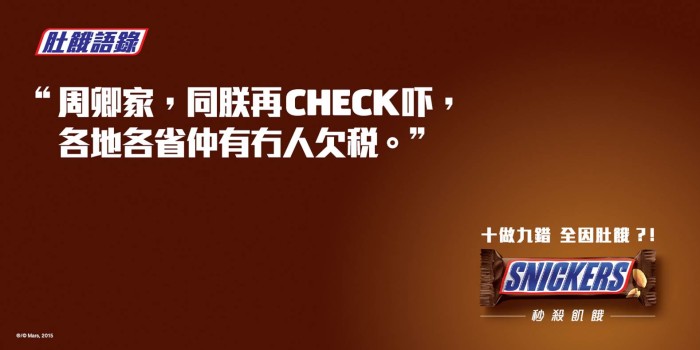 Grammatical mistake - "To protect the core value is the core of the core value"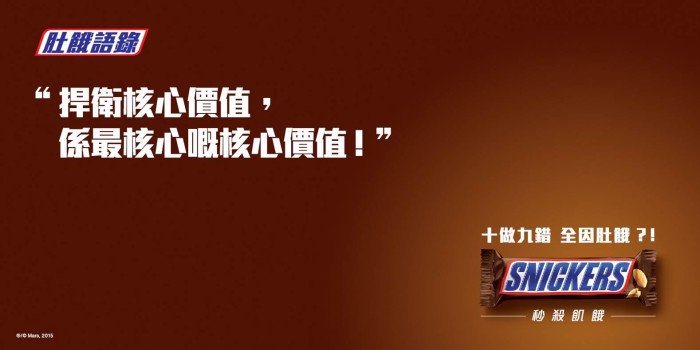 Typo mistake - "Rest in PEACE"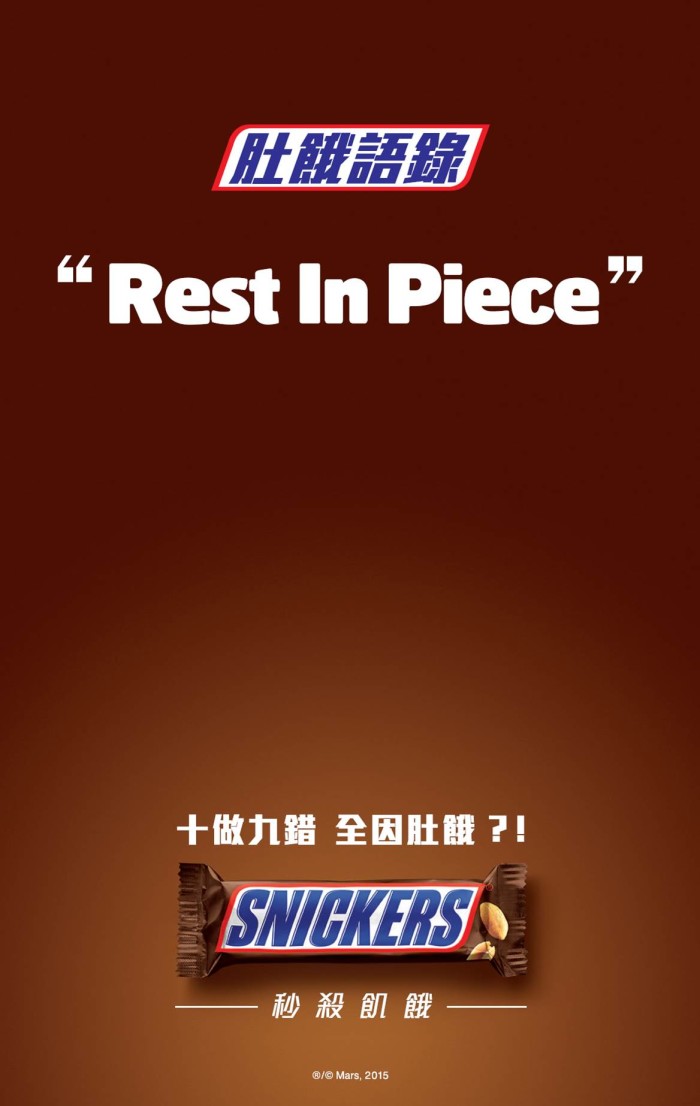 Pronunciation mistake - "Do you know how to write the word 'Shame'? SHAME! SHAME on you!"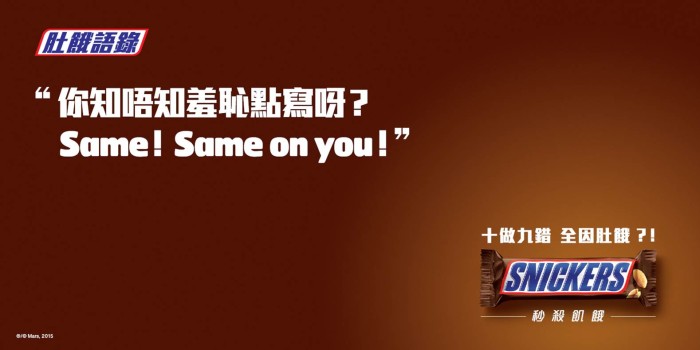 The punch line "Do you know the meaning of shame? Same! Same on you!" is a clever spin on what Chung Shu-kun (鍾樹根Tree Gun), chairman of Eastern District Council, said in a council meeting mispronouncing "Shame" to "Same".
Pronunciation mistake Typo mistake - "May I have your surname, Mr Chan?"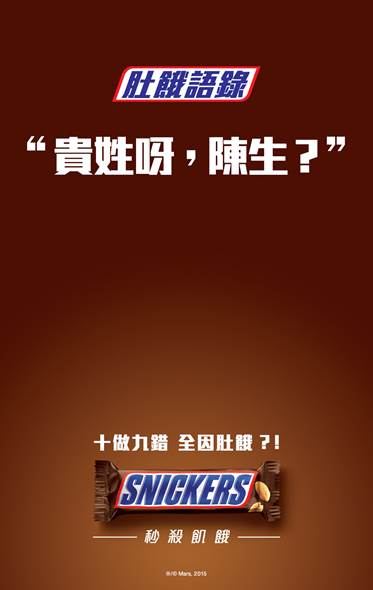 Pronunciation mistake Typo mistake - "Try my BEST"
This "Try Our Breast" version is an ironic take on Chan Hak-kan, a member of the Legislative Council of Hong Kong, and his inadequate English language proficiency shown in one of his TV interviews in 2008 mispronouncing "try my best" to "try my breast".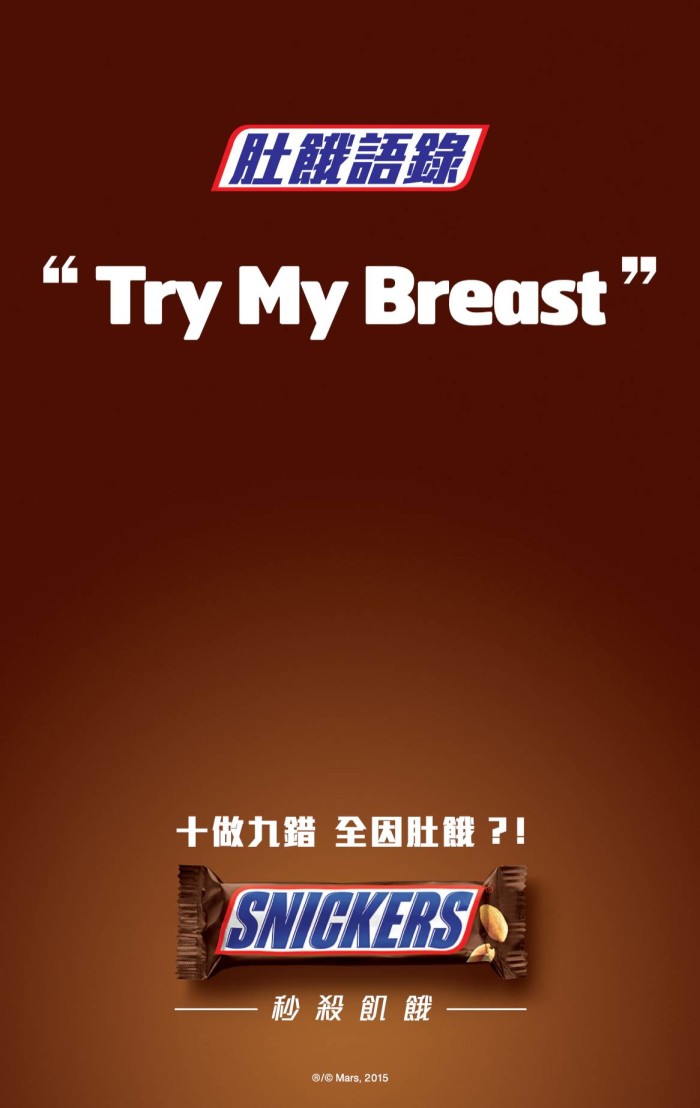 But this simple purpose has quickly turned into a mean for social media users to release their anger towards the current political environment.
Shortly after the launch, the ad has been hijacked and re-created in a provocative way that fills with sarcasm, with even modified profane words, targeting against politicians in particular.
[gallery link="file" ids="97836,97827,97828,97829,97830,97831,97832,97833,97834,97835"]
Interestingly, it was these creative derivative works circulating on social media these fews days that earned the company broad public support over its boldness and assertiveness in the ad approach.
Cheng said the viral impact was a happy surprise to the company.
"Everyone makes silly mistakes and does absentminded things when they are hungry, including celebrities and politicians. Our major objective with this campaign is to recall familiar miscues by famous people and to tell our audience that these kinds of slip ups can be caused by being hungry," she said.
Of the political take, Cheng said it was aimed to create a significant resonance among Hong Kong audiences.
"We know the general public loves local humour – especially when it relates to their daily lives or the latest hot topics. By incorporating local insights into our branding efforts, we have seen our audience enthusiastically embrace our creativity and show their support by purchasing our product.
"We believe the effectiveness of this communications strategy has strongly contributed to the success of our campaign."
The effectiveness of this campaign, she added, demonstrated a successful offline-to-online marketing experience.
"While we initially planned for a low-budget, outdoor campaign, it created a big buzz on social media. This is the power of viral media, and we are very happy to see that our audience can enjoy a laugh or a relaxing moment from our campaign."
Find more hilarious highjacks here: