Skechers has launched an ad campaign featuring its product line of Mr Men and Little Miss trainers by pairing the iconic cartoon characters with landmarks around the world.
Vincent Leung, president of Skechers in Hong Kong and South-east Asia, said, "Data from our stores around the world about the consumer behavior of those who purchase the Go Walk shoes has shown that many people use them as traveling shoes.  That's why we paired the Mr. Men and Little Miss characters with City Opera House, the Eiffel Tower, Big Ben and Sensoji in Tokyo."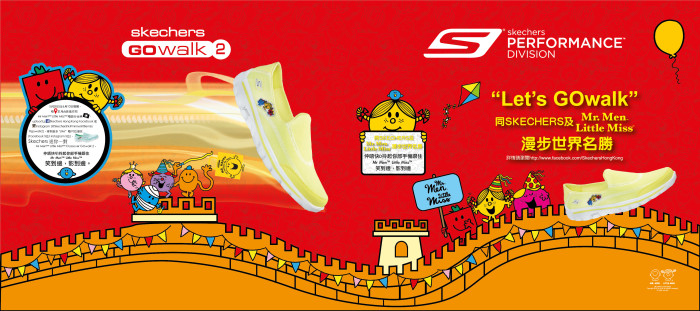 The sales figures for the Mr Men and Little Miss product line so far is more than double that of its last cross-over line featuring Chocolate Rain.
Leung adds that the increase in sales can be attributed to the fact that more of the brand's hero products were featured in the product line.
New in this year's campaign is the offering of tote bags and umbrellas. Leung said his marketing team initially thought of offering them as premium quasi-products on the side, but people were actually purchasing them separately or with other product lines.
The bright and vibrant colors of the cartoon helps bring a light and youthful image to the brand, yet the challenge is to make sure the product line can appeal to adults as well as children, since four of the five designs in the product line are targeted at grown-up men and women.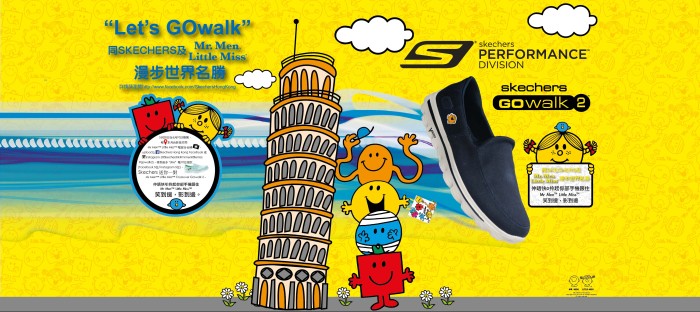 "We think people would find Mr. Men, Little Miss cute just like Hello Kitty is cute. We made sure we didn't do big monograms or characters on the shoes so that adults wouldn't think they were too childish," said Leung.
Prior to 2008, Skechers products in Hong Kong was retailed by a distributor in other stores, with no retail stores bearing the brand name. In 2008, the American brand formed a joint venture with two other companies, Luen Thai and Onwel, to run its own retail operations and distribution in Hong Kong.
"When we first took back the brand in 2008, our customers were too mature, so over the years, we have tried different things to appeal to young adults," said Leung.
A print ad campaign featuring ad visuals in newspapers, weekly magazines, in-store, on Facebook and Instagram will run until the end of this month.
In terms of out-of-home advertising, the brand had booked Admiralty MTR station.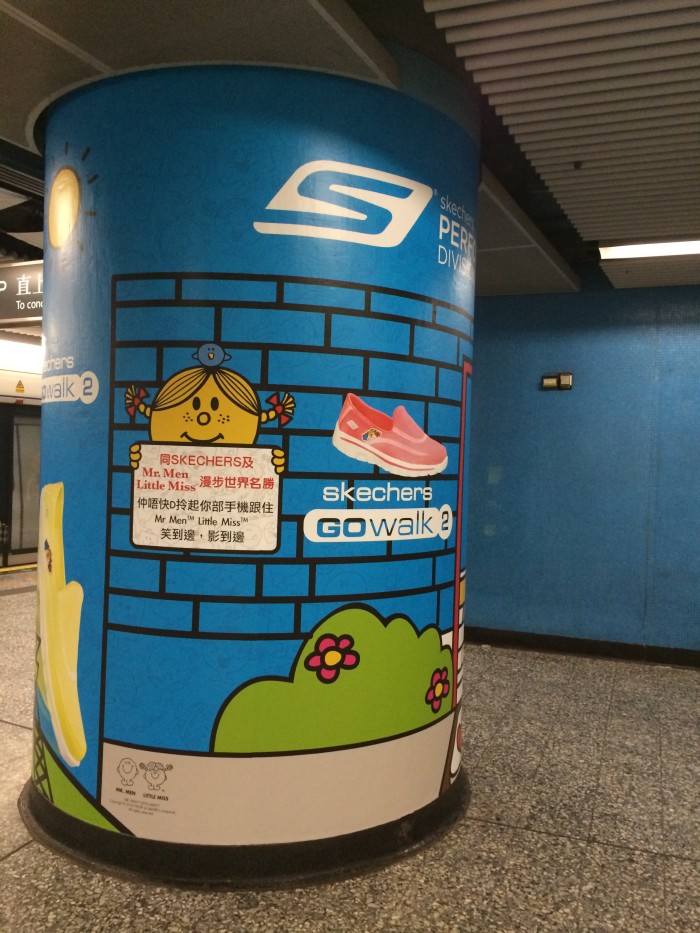 Leung said, "In the past, we have placed many ads on bus bodies and MTR stations, and while we are able to cover a wide range of locations, they don't really stand out.  This year, we wanted to take over the pillars in Admiralty MTR station in addition to getting wider coverage with bus bodies to maximize our reach and impact."
He added, "There are lots of people waiting for friends there and it's where working folks and tourists traveling from Hong Kong Island to Kowloon side would pass by."