In last year's second annual Adobe APAC Digital Marketing Performance Dashboard, a study released by the CMO Council in partnership with Adobe, it was found that since the Singapore audience prefers to be engaged socially and with compelling content, social optimisation has fast become a top priority for marketers.
The study saw a spike in interest in a digital content strategy among marketers in Asia Pacific, with 74% saying they were strengthening their digital marketing content strategy to integrate social engagement. This was a considerable leap forward compared with the 36% of marketers who were focused on content in 2012.
"What's interesting is that content strategy wasn't even on their radar last year (2012)," Hisamichi Kinomoto, VP of marketing, Japan and Asia Pacific at Adobe Systems, said in an interview with Marketing.
"This indicates the evolution of local marketers where they are no longer only focused on the channel, but rather how to effectively make use of the channel to engage with audiences."
Stephen Hamill, director of digital marketing cloud for Southeast Asia and Hong Kong at Adobe, says marketers are also starting to rethink their strategies on social media content marketing.
"Marketers are now looking at the type of content, phrasing of content, time of day and many other factors when pushing out content," he says, indicating marketers are getting more sophisticated in their content strategy.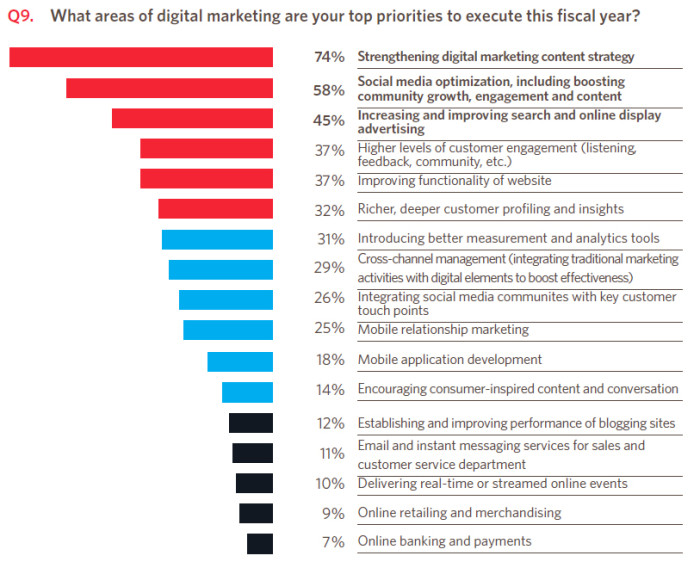 Confidence in digital
Currently when it comes to digital spend, only 14% of marketers in Asia Pacific and 17% in Singapore are spending on par with this global baseline. However, despite APAC digital spend still being below the global average, APAC marketers are gaining confidence in their digital abilities, said the study.
In 2013, 28% of marketers across APAC rated themselves as "highly evolved and a leader in their field". The number stood at 23% in 2012. In Singapore alone, 29% of marketers are confident in their abilities, placing them third behind India (42%) and Australia (37%).
"Next year (2014) 23% of APAC marketers and 22% in Singapore expect to increase their budgets to align with the global average," says Liz Miller, VP of marketing programmes and operations for the CMO Council.
However she is quick to point out that similar intentions were voiced in 2012.
"Marketers need to be able to build a strong positive business case for the investment, demonstrating return on investment. Without the right analytic technologies in place, it's hard to do this."
Miller also explains that to make a more robust business case, APAC marketers should provide additional insights around cost savings and performance improvement practices, which only a few are doing today.
Studies also found that while some countries are advancing with an increased focus on analytics and a competitive advantage leveraging big data, others are struggling with limited budgets and a lack of skill sets to implement analytics.
One area of challenge marketers in Singapore and across the region continue to face is in building teams with the right analytic skill sets. Many times, marketers feel they do not have employees with the right skills and expertise and continue to lack the budgets to hire skilled senior staff. They also have difficulty retaining staff. (See chart below).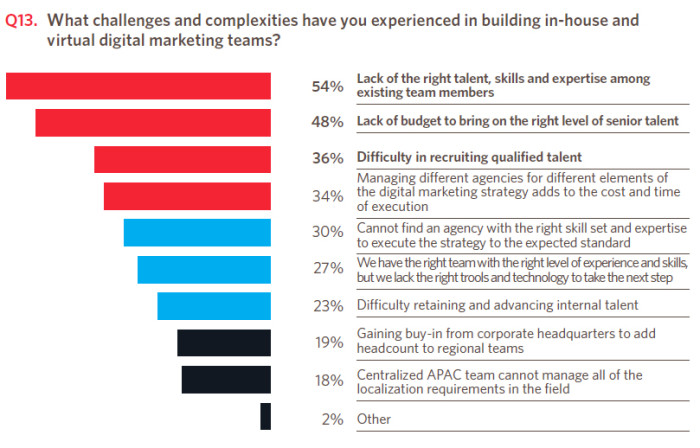 Agency reliance
Hence, they look to their agency partners. In 2013, 19% of marketers in Singapore say they are happy with their relationships with agencies as compared with 5% last year.
Kinomoto, however, says that looking to agencies to fill the skills gap is not proving to be a successful strategy because, "companies are using multiple agencies to manage different elements of the digital strategy: web campaigns, social media management and online advertising".
"This adds to the complexity and makes it harder to obtain an integrated view of results."
The study also found that both the 2012 and 2013 results continued to show remarkably low levels of satisfaction with digital agencies.
Only 12% of APAC marketers and 11% of Singapore marketers rate their agencies as excellent. The majority of marketers think they deliver mixed results and less than a quarter say the results are poor (APAC 19% and Singapore 13%).
"In our view, there is a clear opportunity for savvy APAC agencies to get ahead of the curve and invest in technologies and skills to provide deeper, richer performance metrics to clients who are unable to do it themselves," Kinomoto said.
Data is gaining traction
Several countries in the region are now using data as a key competitive differentiator and using analytic insights across the marketing life cycle. But the number remains low. Currently only 7% of Singaporean marketers are taking this approach as compared with 2% last year.
In terms of the skill sets to measure and analyse, marketers here feel they are steadily gaining ground, with 51% saying their ability to measure digital marketing investment is getting better. About 38% of marketers feel their digital marketing analysis expertise is improving, but acknowledge they still have some way to go.
"It is very positive, indeed, to see Singapore marketers realising the high potential of big data, and taking steps to get ahead of the game," Miller said.
The 2013 Adobe APAC Digital Marketing Performance Dashboard was compiled through qualitative interviews conducted via phone with 23 marketers throughout the region. An online quantitative survey was distributed to the APAC members of the CMO Council. A total of 276 marketers from Australia, Korea, China, India, Hong Kong, Singapore and other countries responded and completed the online survey.