With Lunar New Year less than a week away, it's the peak season for companies to pay employees their bonuses. However, in the wake of falling profits, long-standing Chinese media outlet Sing Tao News Corporation will cut its bonus to $3,000 due to a "deteriorating business environment".
An internal notice from the company reads that "The group faced a deteriorating business environment in 2016, resulting from a slowdown in the Hong Kong economy and competition from online media, while the print media industry is undergoing a structural change. In appreciation of the concerted efforts and dedicated work of all staff during these hard times, and as Chinese New Year is approaching, the company announces a 2016 fixed amount bonus to all staff."
"Full time employees who are on the group's January payroll will be entitled to the fixed amount bonus of HK$3000, which will be paid on 26 January, 2017."
Phone calls by Marketing to Sing Tao for comment went unanswered at the time of writing.
The notice is signed by Sing Tao News Corporation's CEO Siu Sai Wo.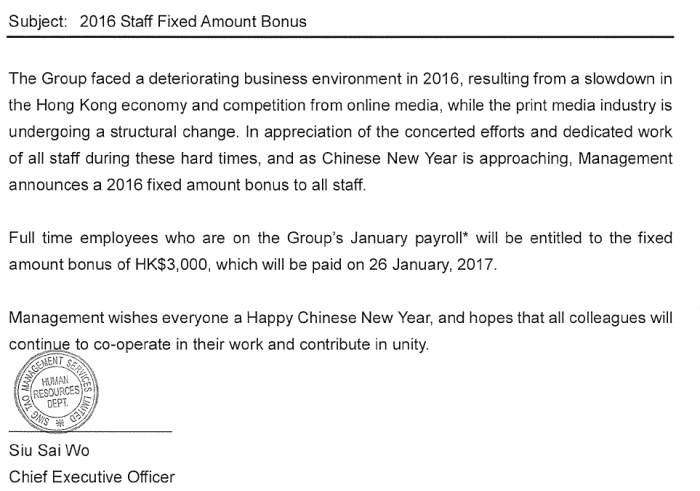 A Sing Tao employee told Marketing that they received 1-2 months salary bonus in previous years, and admitted disappointment about receiving $3,000 this time.
According to its interim report, Sing Tao News Corporation's 2016 first-half net profit slumped by 87.6% to HK$4.05 million from HK$32.7 million a year earlier.
Last month, the corporation's lifestyle magazine East Touch halted publication and went online only.
The magazine advertising market in Hong Kong continued to see a downturn in the first half of 2016. According to admanGo, advertising revenue declined by 31% year-on-year.
Meanwhile, TVB issued a profit warning in December, saying its earnings may shrink by as much as 65% this year compared to last due to poor advertising revenue.
(Photo: 123RF)