Flag carrier Malaysia Airlines (MAS) is a global airline and one of Southeast Asia's original air travel pioneers. But by 2011, the airline was facing strong headwinds: despite posting record revenues, Malaysia Airlines was also logging net losses of close to USD $1 billion (USD $800 million). Facing stiff competition from regional budget upstarts, Malaysia Airlines decided to turn the business around by re-aligning the sales distribution strategy with an emphasis towards expanding on-line direct to consumer selling.
The MAS team realised that they had to boost the number of seats sold direct to consumers to strategically compliment the traditionally important network of distributors and travel agents who sell the vast majority of its seats. Malaysia Airlines realized that to grow revenues while cutting costs, it had to acquire a greater share of consumers who choose to purchase their travel products on-line while they dreamed, researched, experience, and shared their plans to travel.
To do so, the team decided to beef up the search component of their marketing. Studies showed that over 2 billion people globally are using the internet to plan their travel, with search providing the primary gateway for carriers to understand and capture this intent. A study by IPSOS, Travelers Road to Decision 2012, found that 83% of travelers rely on search engines to plan travel. Other research pointed to a paradigm shift to online, too: data from Google showed an increase of more than 140% year on year in air travel queries on google.com.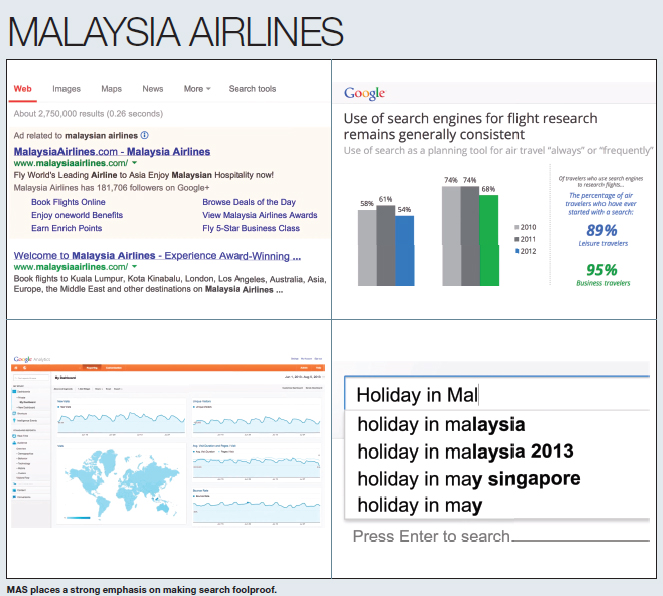 And MAS' own internal analysis showed that the average order value of visitors who came to the MAS website through Google search ads was up to 12% higher than other channels. MAS decided to overhaul their search engine marketing strategy with a view to targeting potential customers across the 5 stages of travel, in 3 ways:
(a) Reaching qualified users: they showed search ads to people searching Google for Malaysia Airlines and versions of their brand terms, ensuring that they covered misspellings and variants.
(b) Going upstream by investing strategically in destination and city pairing keywords: for example, "flights from KL to SG") as well as in other generic terms (honeymoon destinations, shopping etc) thereby dramatically increasing reach and entering the consideration set of customers when they were dreaming about their next holiday or researching fl ight options to their next holiday.
(c) Leveraging consumer insights gleaned from their search campaign in their other business and marketing efforts. For example, Malaysia Airlines noticed that users in India searched for information about luggage weight allowances more than consumers in other markets.
So when MAS decided to raise the weight limit on baggage, they ran ads highlighting the new allowances to searchers in India-- leading to higher conversions. MAS also used the data from their search campaigns to inform the messaging their print and outdoor campaigns, incorporating high-performing keywords into copy for display and even print ads as well.
Going in to the campaign, the team set some ambitious targets: they aimed to grow internet revenue by 15% year over year, while growing search engine market's contribution to internet revenue by 25% in the same time period. But the results outpaced even their ambitious goals: during the campaign, Internet revenue grew by 38.8%, nearly 2.5 times higher than the campaign target. Search engine marketing's
contribution to internet revenues grew by 76%, 3 times the target figure of 25%. And the airline was also able to realize significant savings in commissions and distribution costs as web bookings grew.
The combination of these meant that MAS was able to reduce its losses by 500%, from RM 2.5 billion in 2011 to RM 500 million in 2012.
In 2013, Malaysia Airlines increased their investment in search. The team decided to expand their search marketing efforts to include markets which weren't directly served by Malaysia Airlines flights, but which had consumers looking for flights between cities that were. They also looked towards boosting search volumes of high order value branded keywords. And they continued to test different search
strategies with an eye towards rapid feedback and innovation.
For 2014, with the wind at their back, Malaysia Airlines Malaysia Airlines is looking towards continuing to expand their investment in search.
This article is part of a six-part series from Marketing Magazine's Search 2.0 Master Report.

Download the full PDF of the report here.