On Monday, Scoot launched a plane, specially designed for SG50.
Named Maju-lah, the plane is painted with big red balloons featuring names of local companies, the SG50 logo along and bursts of confetti. It also has the iconic Merlion and caricatures of Scoot cabin crew members wishing the world "Happy 50th Birthday Singapore".
In total, twenty local company names will be featured on the balloons. These are the likes of BreadTalk, CapitaLand, Gleneagles Singapore, Metro, UOB, Mount Faber, Frasers Centrepoint, Raffles Education Group and Zalora.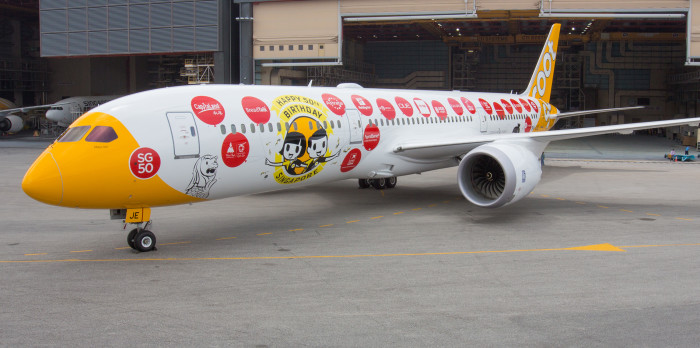 "Scoot is so very proud to call Singapore home. This young nation has achieved remarkable success in a short time through vision and hard work, and is a great inspiration to a young airline like Scoot. We are proud to join the SG50 celebrations and show that pride on an aircraft that will be seen around the world for months to come," Scoot CEO, Campbell Wilson said.
However, a quick check on the Scoot's Facebook page showed that consumers were not very forgiving towards the design. While a few have said the new design works, most of the remarks seem negative.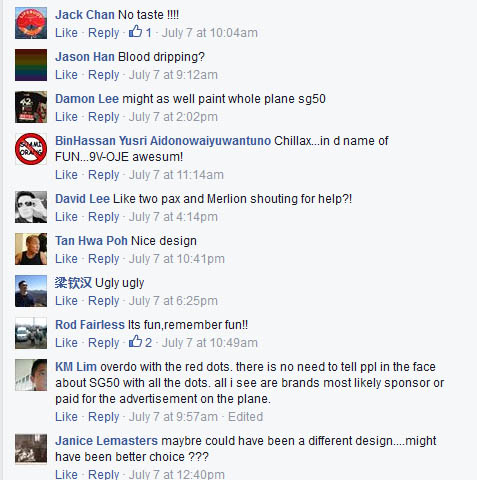 According to Katie Ewer,  strategy director of JKR, special commemorative liveries such as this one play the same role as limited edition packs in the world of FMCG – they need to strike the right balance between the fresh and the familiar.
"Coke does it exceptionally well, with each limited edition they release bringing something new to the market whilst still feeling on-brand. The biggest problem with the Scoot plane, apart from the fact that it's aesthetically offensive, is that it doesn't feel like Scoot. It feels like a plane a bad outbreak of sponsorship measles with a heavy dose of cultural clichés thrown in for good measure," Ewer said.
(Read also: Have we gone overboard with SG50 branding?)
Aside from showcasing Singapore's jubilee, Maju-lah will also host Scoot's "National Day In-Flight Party", being held in the run up to National Day. Featuring Kumar and others, members of the public can join this celebration of Singapore at 40,000 feet by winning themselves a seat through our series of Garang for Singapore challenges.