Budget carrier Scoot has taken a jab at the whole Anton Casey situation with its latest advertisement for its fare deal to Perth. The cheeky advertisement was posted on Scoot's Facebook page on 26 January following the Casey's decision to leave Singapore.
(Read also: Anton Casey calls in PR help)
"Escape Plan: Fly to Perth Cheap Cheap, Poor or not!" read the yellow ad with a sketch of Anton and his whole family.
The ad gave a 50% discount on a two-way ticket to Perth.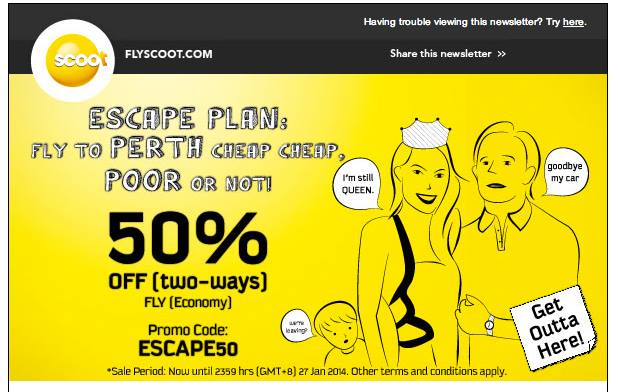 In a statement to Marketing, a spokesperson from Scoot said,
"Scoot's ticket sale to Perth over the weekend was one of our many regular promotions. We often tie these to topical news events, including the haze of 2012, Orchard Road floods and the Australian prime ministerial debates."
"Inevitably there are some who misinterpret these light-hearted pokes, but our experience is that the vast majority see the intended humour. The escape to Perth sale is no different in that respect," he added.
Scoot's marketers weren't the only quick marketers to pull off the stunt. The Tuckshop bar also put up promos making the most of the situation.