Samsung has done it again with its selfie stunts, just as the dust settles on its Ellen DeGeneres Oscars' selfie .
In its habit of getting famous brand ambassadors to drum up publicity for its phones, when its brand marketers heard about Samsung brand ambassador's David Ortiz' trip to the White House, it worked with Ortiz on how to "share images with fans", hoping that the right moment would present itself.
And it did.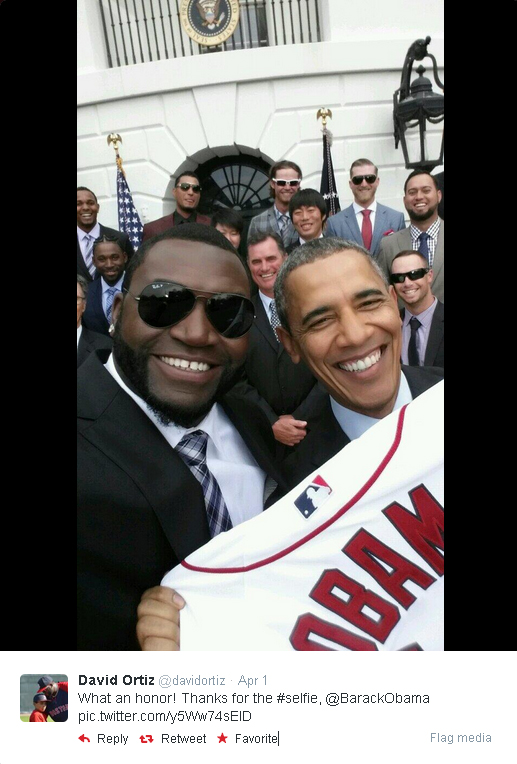 While it didn't top DeGeneres' selfie in terms of retweets (this one got 41,581 so far), it certainly did the job of getting buzz.
However, like DeGeneres' brand ambassadorship in the Oscars, the presidential selfie did not come without trip ups.
"As a rule, the White House objects to attempts to use the president's likeness for commercial purposes," White House press secretary Jay Carney said during his daily news briefing on Thursday, as reported on several global news outlets, such as the Boston Globe and ABC News. "And we certainly object in this case."
Meanwhile a Samsung spokesperson also told The Boston Globe that it was "an honor to help him capture such an incredible and genuine moment of joy and excitement."
"Similar to the selfie Ellen was able to capture during the Oscars, this was an opportunity for David to share the incredible moment with his fans."
However, The Boston Globe also added that the White House rebuke probably will have "scant practical effect, and it appears there is little legal recourse for the administration".
Samsung's celebrity strategy has not been without many snags.
For instance, it  got into a bit of embarrassment when its very own spokesperson LeBron James tweeted about his Samsung phone erasing everything in it and rebooting. Lebron tweeted, "One of the sickest feelings I've ever had in my life!!!" to his 12 million Twitter followers. While his tweet was soon deleted, some of his followers took screenshots of his moment of anguish.
"It is time to realise true brand love does not have a price tag attached and is very difficult to win over," said Ryan Lim, founder of blugrapes. "While genuine advocacy in the age of social media, is an extremely powerful tool, it's also a double-edged sword."
(Photo courtesy: Boston Globe)