Samsung recently trolled a man in the most hilarious possible. Following the release of its Samsung Galaxy S8 phone, Samsung put up a post on Twitter that urged users to showcase the first picture they clicked with their new phones.
Got your hands on the Galaxy S8? Show us the first photo you took. pic.twitter.com/HDTHWibR0A

— Samsung Mobile US (@SamsungMobileUS) April 21, 2017
The post saw many Samsung fans sharing their works of creativity. But one user named @savEdward, got really personal. Really personal. Edward decided to share a picture of his genitals. Not missing the chance to deliver a burn, Samsung responded back with an emoji of a microscope.
Here's the exchange: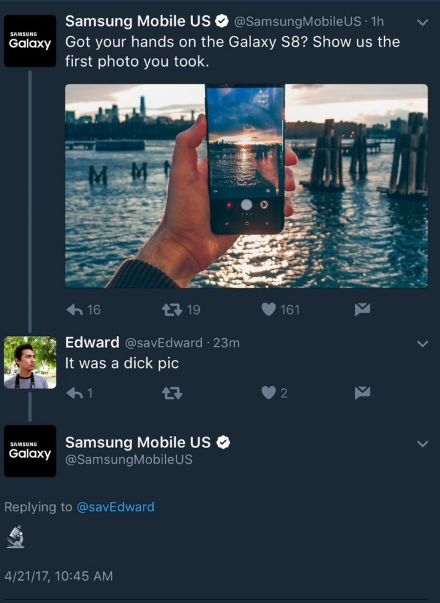 This has led to several other consumers showing their support for the brand. Here are some tweets that followed.
@SamsungMobileUS @savEdward I'm switching to samsung just because of this tweet — mistermistyeyed. (@Jemtayag) April 23, 2017
@SamsungMobileUS@savEdward Hahahahaha
@SamsungMobileUS@savEdward Im buying your phone next month
We approve of this kind of burn, Samsung.