It is well-known now that buyers now dictate the sales process. This is due to advances in technology which has given savvy consumers a wealth of information to research a purchase before making it.
A recent study by HubSpot revealed 57% of sales professionals agree buyers are less dependent on sales during the buying process compared to a few years ago.
Check out the findings here: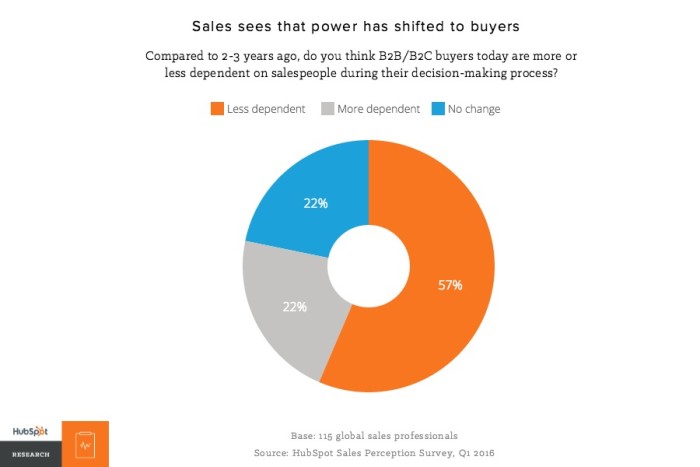 Additionally, there is a clear disconnect between buyer expectations versus what sales traditionally cover in the pitch, especially during the first point of contact.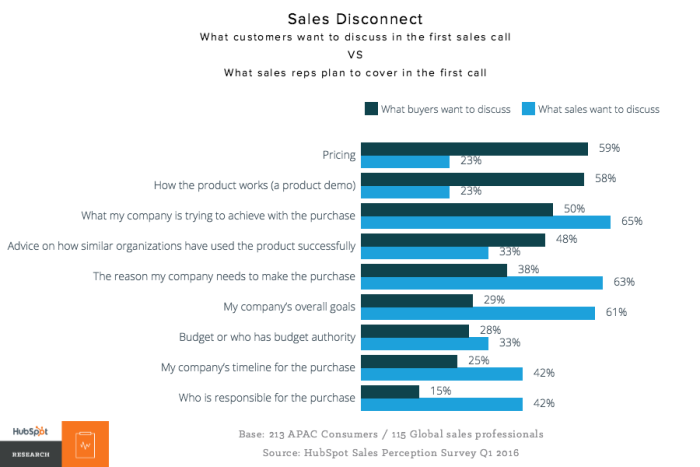 Not only does sales have to deal with disconnect, it also has to manage the prevailing stereotype about sales professionals in popular culture which is usually not flattering (see main image).
Understanding buyers and their needs
The sales process is divided into three stages, the awareness stage, the consideration stage and the decision stage.
The study explores the changes in consumer behaviour for the past two decades, with more business buyers today independently seeking out information about products.
During the awareness stage, buyers rely on search, vendor websites, and newsletters/emails as their top channels to find information.
It is only after they are ready to buy then they are willing to connect with sales representatives, as shown by the consideration stage in the diagram below: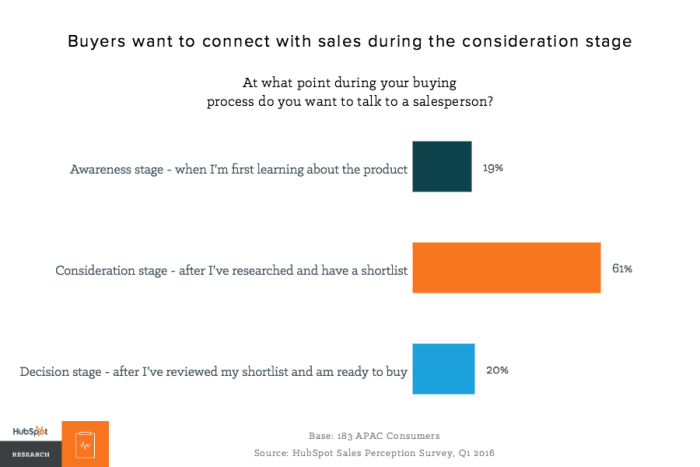 During the consideration stage, after finding out what the buyer knows, sales representatives can elaborate on their product and share advice which is new to the buyer and educates them further on the product or service.
Understanding what information buyers want is also crucial in making the sale.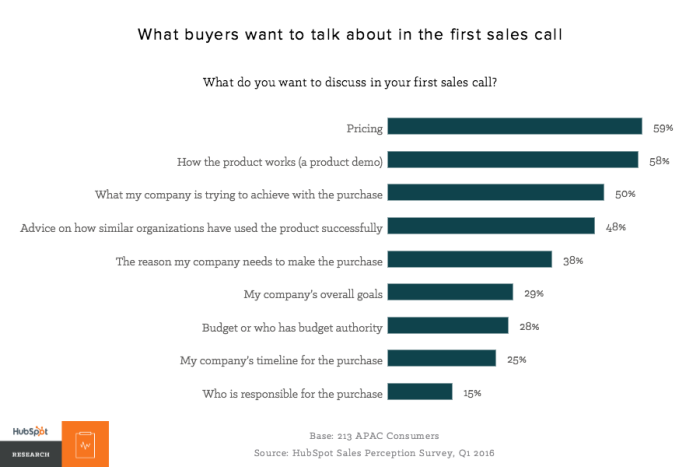 The HubSpot study has revealed that as much as a-third of buyers want an opportunity to see and test out a product in the early stage to get a more tangible understanding of what they are potentially buying.
Hence there is a demand for product demos during the awareness stage, which is ranked fifth overall for content types. Although this is not beneficial to sellers, who often need to vet a customer before offering demos, it is advised that a pre-recorded video demo accessible on the vendor's website can satisfy the buyer's content needs.
It has the potential to be a useful prospecting and qualifying tool for companies that have products that require demonstrations.
Reframing content around what is best for the customer is also useful. This can be through transparent comparison charts between your business and competitors, or links to third party review sites where buyers can see unedited reviews. Doing so can help generate goodwill since buyers are likely to find that content anyway.
Creating a positive experience is also crucial, as buyers today wish to avoid pushy sales representatives, sales representatives need to listen to their needs, provide relevant information in a timely manner and be invested in the success of the buyer's business.