This is probably the most effusive after-sales service you will ever get.
An unhappy HKTVmall customer named Lee Wing has published an angry comment on his personal Facebook page at around 1a.m in the morning, expressing his dissatisfaction with an unpleasant experience he encountered when participating in the new "HKTVmall Summer Giveaway" promotion.
According to the campaign description, customers will be entitled to receive a free gift upon purchase order with a total billed amount of HKD$400 or above. However, Lee claims on the post that after the purchase is completed, the gift, which was supposed to be a coffee machine, was replaced by a melon. He claims to have been snubbed by HKTVmall customer service.
At the end of the post, Lee even threatens to propose the bad experience to the press.
Read the post here.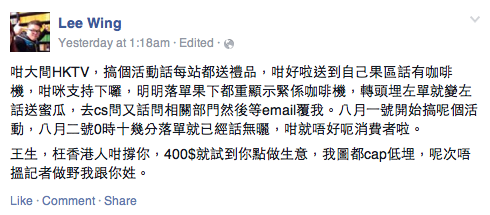 Around half an hour later, a reply from a Facebook account named Ricky Wong, CEO of HKTV, appeared, claiming his identity and asks how Lee's address was entered.
In the beginning Lee had doubts about the authenticity of the account. It was until after Wong's clarifications and detailed explanations on the issue that Lee has finally succumbed.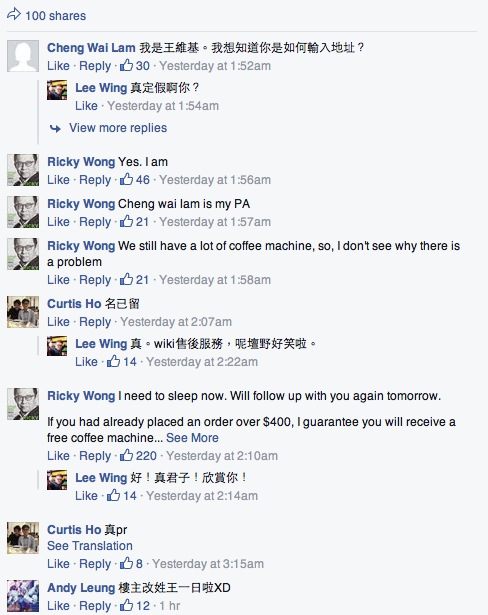 HKTV has confirmed to Marketing it was indeed the CEO personally replying.
The "HKTVmall Summer Giveaway" campaign is HKTV's latest move to drive more traffic to the e-commerce site.
To tout the promotional event, HKTV has rolled out a total of 51 outdoor ads covering 51 MTR stations across Tsuen Wan line, Kwun Tong line, Chai Wan line, Tseung Kwan O line and Tung Chung line.
Developed by Sandy Chan, founder of Anonymous, all creatives are tailored made according to the characteristics of different areas.
The campaign also spans print media including Apple Daily, Ming Pao, HKET, Sky Post, Headline Daily and am730.
Media duties is brokered by The Bread Digital.