Big data. Talked about at almost all conferences and industry events and in most boardrooms across the world. As we know, it's streams of highly complex, continuous and often unstructured data.
But the question that many corporations are grappling with is how this data can be put to good use. How is big data relevant to businesses? And can it help us make better business decisions?
With the proliferation of tablets and smartphones in the market, businesses are increasingly interested in developing context-aware services to more effectively personalise service offerings. Marketers are now paying more attention to the geo-spatial dimension, whether it is to understand the potential of a location, with its peaks and quiet times, or to glean a better understanding of what drives customer behaviour during different periods of the day and at different locations.
Sample this. More than 100 billion data points pass through the SingTel network in a year. More than 650,000 tourists roam on the SingTel network every week.
What could you, as a seasoned marketer, potentially do with this information? Or, should I say, with the insights this information can provide.
That is the question my team and I have been having a go at for the past two years. How can big data translate into actionable insights, and hence, real impact for organisations? Telcos such as SingTel are uniquely positioned to offer actionable insights to marketers by fusing mobility and communications data with location intelligence.
Who would benefit?
According to the Gartner report, "Market Trends: CSP's Leverage Opportunities in the Context-Aware Services Market, 2013", the highest interest for location-based context analytics comes from the retail industry and the public sector. Banking, real estate and advertising are other sectors where location intelligence can have significant strategic and operational impact.
At DataSpark, a recently incorporated subsidiary of SingTel, we started by asking ourselves what big data could be harnessed for and who would find it useful? Rather than first building a platform and hoping the uses would become self-evident, we stayed mindful of the importance of beginning with a clear goal in mind. Data for a purpose.

One of our goals is to help marketers make better decisions, and find innovative ways to provide better value to customers.
Targeted marketing for retail businesses
Retailers and retail mall owners and developers can leverage geo-spatial information to improve marketing effectiveness.
As tier-1 retailers such as Meijer, Macy's and Target in the US have shown, indoor positioning technologies provide useful deep insights into customers' in-store purchasing behaviour and ways to enhance the customer experience, leading to improved customer retention rates and increased revenue.
Another use of geo analytics is to discover new or untapped customers in the vicinity of retail outlets. With the right insights, a retailer is better able to pick the optimal location for a new store by looking at the number of passersby, the time of day and associated demographics.
We put this to the test in our own backyard. At DataSpark, our proprietary GeoAnalytics platform utilises anonymised and aggregated mobile network data from SingTel customers to show the number of people who have visited an area such as our SingTel Hello Shop. Other insights include the number of people visiting a location by age group, gender and inference on where they work and live. Access to such geo spatial intelligence can help us make our marketing and promotional activities more targeted, fine-tune our products and manage our store operations better.
City planning for government agencies
In the transportation sector, near real-time location data over the entire city or country can be used to help government agencies plan a better transportation network, taking into account environmental needs and the changing lifestyle patterns of the urban population.
Geo spatial analytics allows intuitive knowledge about crowd movement to become factual and quantifiable.
Sustainable urban planning, including residential, recreational and healthcare spaces, can become more focused with the infusion of geo spatial intelligence. If town planners could have access to near real-time information about the pulse of the city – people movements, time spent at various public locations, transit time from home to work – they would be much more well-equipped to plan the next-generation Singapore.

Advertising for marketers
Our in-house data scientists have been researching and developing patent-pending algorithms and technological methods to process raw cellular network location information in near real-time, transforming the unstructured data into impactful business insights. Insights geared towards helping marketers make sharper decisions on allocating their marketing spends.
One such area is that of out-of-home ad placements. We picked five of the prime OOH spots in the CBD area in Singapore to try and better understand the demographic profile that these advertisements may be exposed to. We could then look at the various brands that had used those advertising spaces. With the help of location analytics, we were able to access location data on these predetermined geo points. This provided insights about the actual number of people visiting the location at different times of day and their profile in terms of age, gender and nationality. That is near real-time information that can help marketers take the guesswork out of OOH placements. For media owners this implies an optimisation of OOH placement and, hence, revenue.
Big data and privacy
There's a common taboo associated with big data – about "surveillance" and tracking. Which is why, at DataSpark, respect for consumers' privacy ranks foremost. Needless to say, privacy laws are fully respected as all data is anonymised, aggregated and streamlined into trends and generic patterns over time.
Harnessing big data analytics meaningfully can help you augment and optimise your understanding of your target audience's behaviour, especially in the context of your competition. So that you are not only cognisant of the present, but have adequate insights to extrapolate from it to proactively plan for the future.
The "big" in big data, for me, stands for big impact. Actionable insights that lead to sharper business decisions with a measurable impact.
The writer is Ying Shao Wei, chief operating officer, DataSpark (part of the SingTel Group).
DataSpark company profile
DataSpark PTE. LTD. (DataSpark) is a newly incorporated entity owned by SingTel which leverages location analytics to derive mobility patterns and customer insights, thereby enabling smarter decision-making by businesses.
Our in-house data science team consists of more than 10 data scientists with doctorates. All the R&D and software engineering efforts are based in Singapore.
Since 2013, DataSpark has established joint research collaboration with research institutes such as A*STAR's I2R and MIT to develop advanced data analytics enabling innovative, personalised and relevant information/services to mobile users.
Images with caption: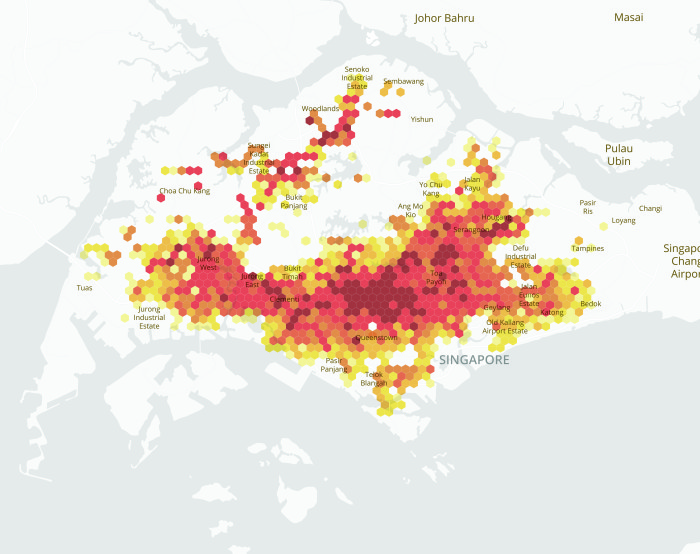 Caption: DataSpark can provide footfall intensity across locations in Singapore.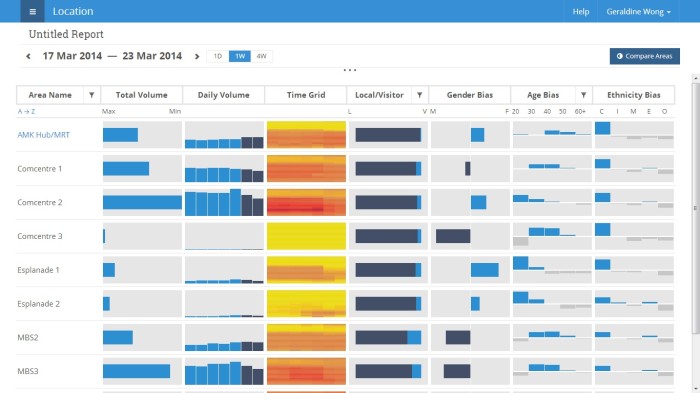 Caption: DataSpark can provide an overview of daily and hourly footfall volume and its demographic characteristics, across multiple locations.