Publicis Groupe posted a net loss of €527 million despite increasing annual revenues by 1.4% to €9.7 billion.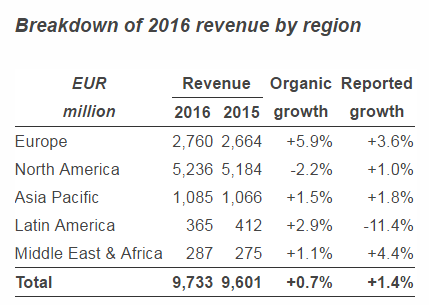 Ongoing "serious issues" at its digital agency, Razorfish, which it merged with SapientNitro late last year as part of a North American restructuring, led the the French advertising and communication company to book a €1.44 billion depreciation charge that led to a net loss of €527 million.
Publicis purchased Sapient for €$3.7 billion in 2015 to expand its digital assets. However, the digital arm posted negative growth for the first two quarters after the deal was completed.
https://youtu.be/4WkZRHYs8ac
In a briefing with reporters, Publicis chief executive Maurice Lévy said that the company had expected Sapient to post stronger organic growth than the 7% increase it posted last year.
He said Sapient wouldn't reach the "very aggressive" targets it set, and that "we had a business plan that was probably too ambitious."
Lévy and Publicis chief financial officer Jean-Michael Etienne also attributed the slow growth to issues at Razorfish, including the high turnover of executives and duplicative offerings between Razorfish and SapientNitro. Razorfish posted a 15% drop year on year.
Publicis acquired Razorfish in 2009. It then merged SapientNitro and Razorfish in November 2016 to streamline the redundant offering.
Hard hit in North America
Publicis has reported -2.5% growth for Q4 and 0.7% growth for the full year.
North America, the region that accounts more than half of Publicis' total revenue, was the weakest region, its growth rate reported to be -6.9% for the year. The loss of several media-buying accounts in 2015 and 2016, including Procter & Gamble and Walmart, had hurt sales, and lead to a third quarter of negative growth in the region, Publicis explained.
"We had a fourth quarter that was pretty bad," Lévy said. He added that reaching the company's 2018 objectives was still attainable, but would be difficult.