A recent discussion by the World Federation of Advertisers on agency remuneration trends only show procurement is increasingly in charge of managing agency remuneration. At Unilever's HQ in London, a discussion was held with 40 of its members on the marketing procurement organisational structure, challenges within agency management and agency remuneration.
The rise of procurement's influence in advertising
In 2011, 43% of respondents said procurement led the process. In 2014 that figure has risen to 51%.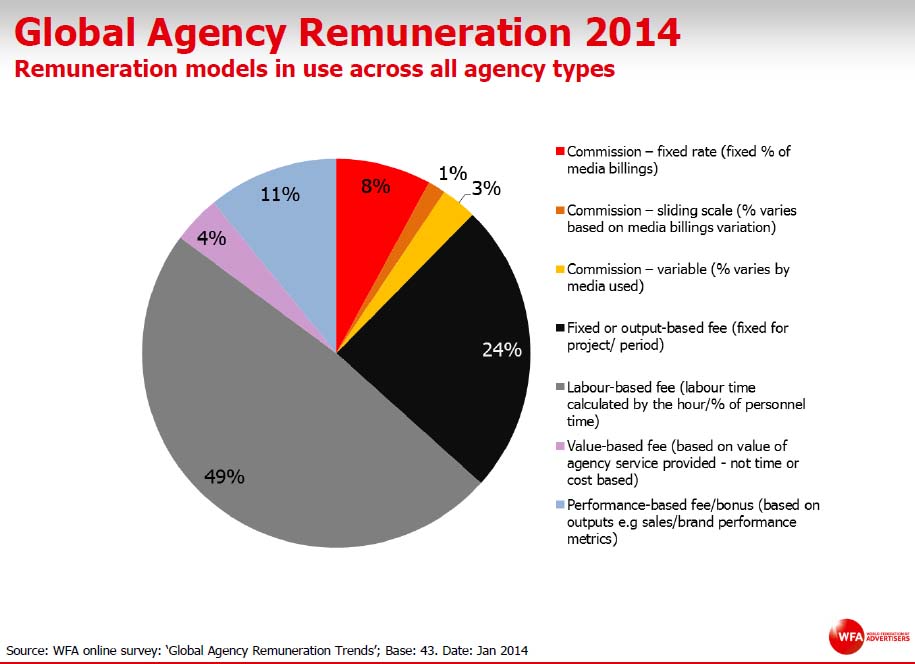 Darren Woolley, managing director of TrinityP3 said the trend is the same in Asia.
"The success of procurement is two fold. The first is they are finding and delivering short term savings (but at what longer term cost) and second, they take responsibility for the tasks that many marketers do not like or want to do such as fee negotiations, supplier termination and contract management."
However, Frank Bauer, CEO, JWT Singapore that while procurement is having a more prominent role, it will never be the only influence on agency remuneration.
"There is always a CMO, CEO, COO and their teams involved and we should please not undermine their leadership and power decisions of such kind. If agencies are not able to show their value beyond being financially interesting, you end up talking money only, with procurement," said Bauer.
On the other hand, some agencies are unperturbed by procurement's rising influence.
Stephen Mangham, founder of ManghamGaxiola said: "Personally I find it often easier to deal with procurement staff. Most see it as their job to define the value of a service and agree a fair price for that value. And they have a methodical approach to doing this, which is at least clear and tangible."
"You get the occasional idiot who sees it as their role to purely drive price down, but that has the counter productive effect of making agencies dig their heels in," added Mangham.
Agency remuneration models
Also across all agencies and in all regions worldwide, labour-based fees (labour time calculated by the hour / % of personnel time) is the most popular model, used in almost 50% of cases, said the study.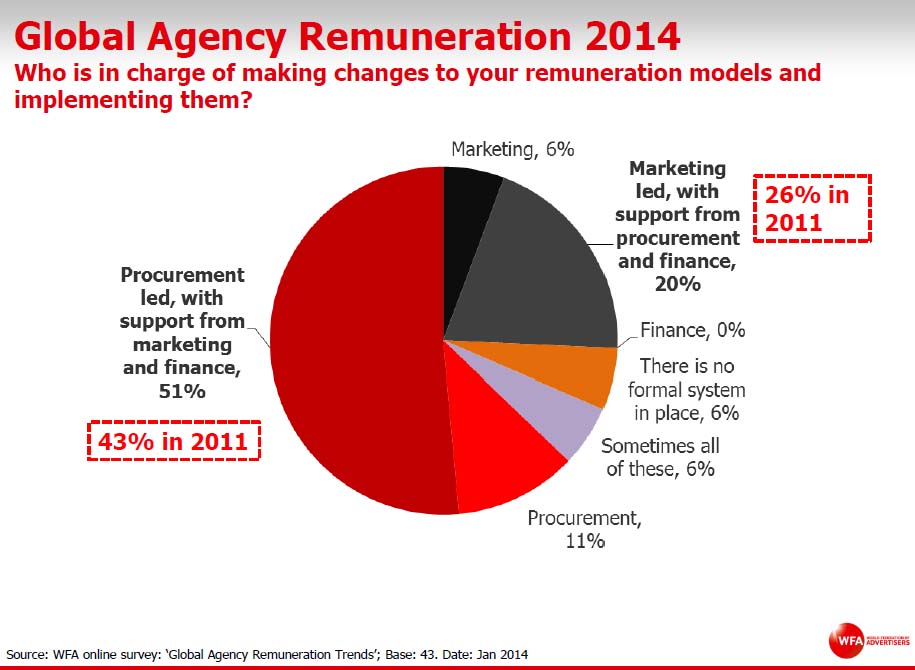 Meanwhile, performance based fees (based on outputs assessed by various metrics) are up from 15% to 24% of models in use.
Issues thrown up by the group include how clients account for adjustments to scopes of work and changes to agency resources; does it make sense to reward the agency with a bonus at the end of the year when successes and key account leaders may have shifted onto other projects? Also how could the model be simpler?