Campaigning online has become just as vital as offline in the era of social media we live in.
While campaign posters have only just started appearing on the streets of Singapore, social media has already seen a flood of communication from candidates over the past few months. Truly taking off during the last general elections in 2011, the playing field has today become far more elevated and sophisticated.
(Read also: Is a strong social media strategy humanising Singapore's political leaders?)
"Digital and social media is now used to augment traditional campaigning efforts to establish credibility, exert influence and even to swing opinions. The right combination of these will result in votes during the elections," said Ryan Lim, founder of QED Consulting.
However, while social media is coming of age in the political field, the professional use of digital-social media is still at varying stages of maturity across political candidates. This is despite social media professionals actively helping candidates to strategise online.
Not all political candidates are using social media correctly, said Lim adding that the data collated by QED Consulting in partnership with Socialbakers and Digimind show that some candidates have only recently started creating social media accounts.
Below is a list of the top political candidates' profiles on Facebook as of 21 Aug 2015.
| | | | |
| --- | --- | --- | --- |
| Candidate | Total Fans | SG Fans | % of Local Fans |
| Lee Hsien Long | 836,052 | 482,402 | 57.7% |
| K Shanmugam Sc | 74,372 | 61,166 | 82.2% |
| Tan Chuan-Jin | 54,208 | 43,973 | 81.1% |
| Chen Show Mao | 41,380 | 37,843 | 91.5% |
| Vivan Balakrishnan | 38,936 | 32,379 | 83.2% |
| Ng Eng Hen | 31,156 | 22,399 | 71.9% |
| Heng Swee Kiat | 23,708 | 21,513 | 90.7% |
| Low Thia Kiang | 22,554 | 21,346 | 94.6% |
| Teo Chee Hean | 23,098 | 20,219 | 87.5% |
| Chan Chun Sing | 19,848 | 18,172 | 91.6% |
| Tharman Shanmugaratnam | 18,295 | 16,398 | 89.6% |
| Tin Pei Ling | 18,945 | 15,996 | 84.4% |
| Josephine Teo | 16,083 | 14,059 | 87.4% |
| Khaw Boon Wan | 13,775 | 12,823 | 93.1% |
| Amy Khor | 13,913 | 12,615 | 90.7% |
| Yaacob Ibrahim | 6,933 | 5,930 | 85.5% |
"It is unrealistic for a political office holder to personally manage all the digital communications on social media. Ideally, we should expect a team of professionals to be employed than merely any layman (or worse interns). This should include facilitating the management of programs that recruit and employ digital advocates," Lim added.
Understand your audience
Agreeing with Lim, Stephen Dale, general manager of Digimind added political parties on social media are much more sophisticated now as compared to 2011 – both in terms of listening to what their audiences are saying and the messages they deliver.
"It is important for politicians to understand who their audiences are, what they're saying, and which social platforms they're most active on. This has developed greatly since 2011. There are many aspects of social media which politicians to tap into, from building relationships with the public by engaging them and answering their questions, to ascertaining sentiment towards themselves or even towards competing candidates," Dale said.
Data from Digimind shows that most of the mentions around the GE are coming from Twitter (84%). Coming in second is Facebook at 7%.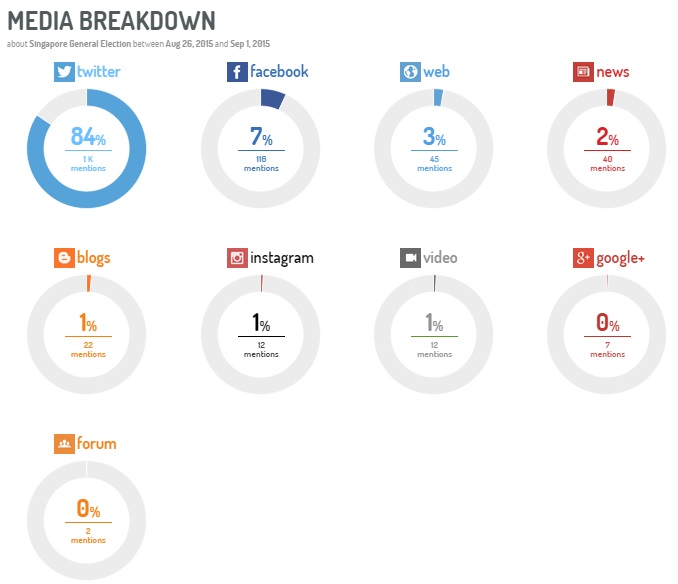 (Source: Digimind)
This is despite the audience mostly consuming information from Facebook. News sites come in at second and Twitter is third.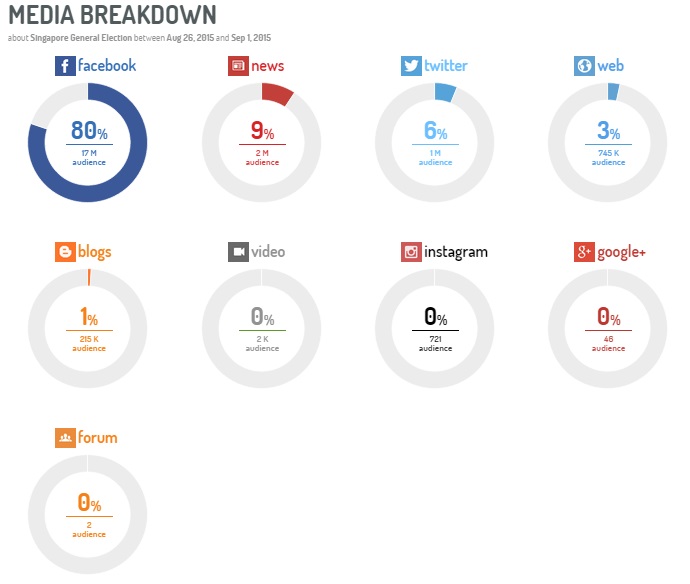 (Source: Digimind)
Moreover, Workers' Party is getting the most number of mentions on social media. However, this does not indicate the sentiments around the party.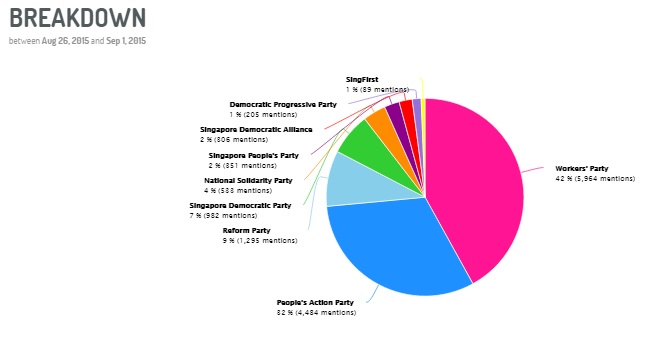 (Source: Digimind)
PAP VS WP
According to a Rainbow Cheung, JAPAC strategic account manager at Socialbakers, in the last 12 months, there has been a significant rise in the use of social media by political parties.
"As GE2015 approaches, we can see that the engagement for all the political parties has doubled, and even tripled for some of the parties between the months of July and August," Cheung said.
Comparing its data on the two of the more prominent political parties, People's Action Party (PAP) and Workers' Party (WP) , Socialbakers said the Facebook page for PAP showed fan growth of 148% versus 11.6% for WP. Also around the time of the passing of Lee Kuan Yew, there was a sharp rise in fan growth for PAP which stood at 49.8K, while WP lost fans.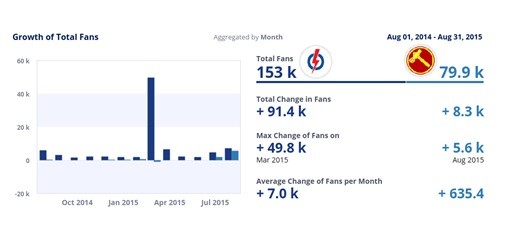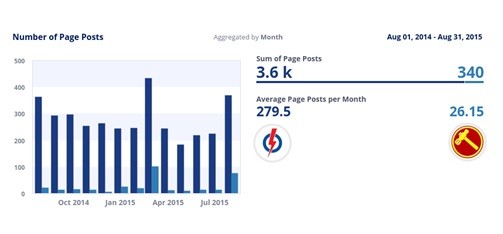 (Source: Socialbakers)
Delving deeper into the data showed while PAP only started posting a year after the GE2011, they have significantly increased their frequency of posts from an average of 37 per month in 2012 to more than 200 per month in 2015. While not active as PAP, WP has also stepped up their social media activities posting an average 26 posts per month over the past year.
"While the volume and frequency of posts on social media do not give insights into who might win, the data above is interesting to show us how each of the parties is embracing social media far more than in comparison to GE2011. We can expect to see all parties ramp up activities on social media as the final hour approaches," Cheung said.
(Photo courtesy: Shutterstock)