Pocari Sweat, the Japanese sports drink owned by Otsuka Pharmaceuticals, has kicked start its "Lunar Dream Capsule Project" in Hong Kong with a TV commercial and a slew of PR stunts in a rare mission to land children's dreams on the moon next year.
Claimed to be the first private moon-landing project, the mission to the moon, barring unforeseen circumstances, will see a space capsule carrying children's dreams in written form sent to the surface of the moon in an estimated 380,000 km journey from the earth.
The TV spot is developed by TYA (HK) Limited with media agency Media Palette.
The gathered handwritten messages, along with Pocari Sweat in powder form, will be engraved onto 120 titanium plates to be packaged in a space capsule, which is scheduled to liftoff to the moon surface in summer of 2016 from Florida, USA.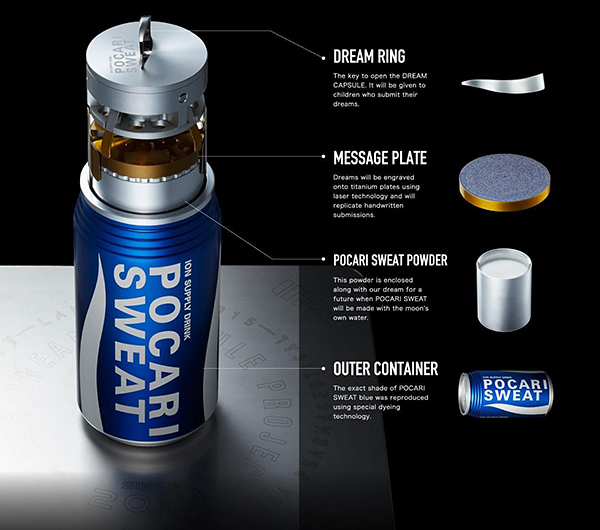 The moon-landing project is inspired by a shocking founding in 2013 when water was discovered on the moon suggesting possibility for human habitat. That sheds a light on Otsuka's mission to make Pocari Sweat a health drink for consumption in Space.
"To further enhance brand loyalty and emotional bonding among teenagers, we hope to deliver the message that Pocari Sweat is functionally a drink to replenish your body fluid, and emotionally, it acts as your companion to motivate you when you are striving for achievements," Nakajima Yasuhito, managing director of Otsuka Pharmaceutical Hong Kong, told Marketing.
"Today's children are mostly lack of dreams and often feel lost in future directions, we hope that the "Lunar Dream Capsule Project" will encourage children and young people to have dreams, as "dream is always close to our hands."
The Otsuka Pharmaceutical family, he added, believes that travelling to Space will become popular in the near future or few decades later. The brand is new embarking on a mission that, by the time when the concept of space habitat becomes reality, human being can have Pocari Sweat to drink up on the moon.
In Japan, promotional campaigns center around PR activities such as joint promotions with manga characters "Space Brothers" (宇宙兄弟) and school seminars to collect dreams from children; whereas in Hong Kong, the second place in Asia where the project launch, communication strategies focus more on the message and spirit behind the project instead of its mechanism.
To target teenager, outdoor activation spans East and West Rail, Kowloon Tong MTR stations as well as bus shelters in Mong Kok and Tsim Sha Tsui, supported by social media execution.
In the kick-off event at Metro City Plaza in Tseung Kwan O, organised by Allied Synergy Communications Ltd, the company invited teenage idols Hins Cheung (張敬軒) and Super Girls to draw public awareness; TV celebrity Helen Tam (譚玉瑛) and young entrepreneur Chan Yik Hei (陳易希) have also participated to interact with kids and share their dream chasing stories.