Boutique PR agency Plug was founded by director Lara Jefferies in 2008 when she was just 24 years old. Back then, she and another staff member managed global public relations for Esprit's Red Earth Cosmetics, its only client.
Today, the agency boasts 17 clients from the consumer lifestyle sector, such as Nespresso, TREE and Ovolo Group and doubled its revenue in the last two years, with Jack Willis, PORTS 1961 and UGG Australia representing its foray into the fashion industry.
Apple Lam caught up with Jefferies to find out how the boutique agency maintains its quality of service in the face of rapid expansion.
Why did you decide to open an independent PR agency?
My background has always been in public relations. As soon as I left university, I started working at Darwall Smith Associates in London. Three years later, in 2007, I moved to Hong Kong and got a job with Red Earth Cosmetics, an in-house role as their global PR manager. I really enjoyed it there but I missed the energy and urgency of PR agency life where you are doing six or seven things at once and you're going at a breakneck speed.
You've grown from 10 clients in 2012 to 17 clients today. Do you think PLUG is losing its boutique touch?
We have been very conservative in our growth. We don't just go out and try and take on as much as we can. In 2010, we were at six people for two years and then we started to grow from there.
One thing that really separates us is that we really care about what happens in our client's company and the people that they work with. It becomes a personal investment. They're not just another client - we would go over and above to educate ourselves about their brand and their challenges as business people. Because that's our integral approach, no matter how big we get, that won't change.
How do you plan on keeping up the quality of your services as you expand?
We make sure our account managers work on a maximum of three brands each. If you put someone across more than that, they will feel stretched and you won't be able to deliver the same level of service. It's also about hiring a certain caliber of staff.  Something that I look for in my staff is whether they really care about the work that they're doing.  If it's just a job for them, they don't tend to fit in so well here.
How do you foster creativity in your staff?
One of the keys to creativity is passion. If someone really cares about what they do, they are going to come up with cool and creative solutions. Specifically, I make sure I understand what makes my staff happy and plan downtime into our day.  We do group activities and team building events such as art and floral jamming and salsa dancing every other month.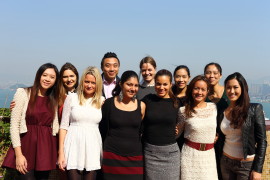 We encourage people to take their lunch breaks, go home at six o'clock so we really respect those boundaries. We also have a very good holiday policy where our staff get around 25 days of holidays every year. It's those small touches that make people want to come to work, do a great job and it gives our workplace a positive vibe.