Pepsi and Coca-Cola have always been cheekily taking jabs at each other through their ads.

What caught our attention this time was Pepsi's latest ad for its 'Pepsi Pass' loyalty programme taking a double shot at Coca-Cola's signature polar bear mascot and its Share-a-Coke campaign.

The first ad shows a lucky winner - a Pepsi drinker- standing side by side with a Coca-Cola fan. The former "stands a chance to win concert tickets of their choice" all thanks to the loyalty programme and app called Pepsi Pass that lets consumers earn points and win prizes. The "winner" then mockingly consoles his counterpart saying," You still got the polar bear."

[embed]https://youtu.be/lxpmxuj3FuI[/embed]

The second spot shows a female Pepsi drinker next to a female Coca-Cola drinker showing the former to be dismayed at her purchase of a Coke bottle named Larry, taking a jab at the Share-a-Coke campaign.

[embed]https://youtu.be/YNYDd8wV6Zw[/embed]

1. Summer Time is Pepsi Time

In this "Summer Time is Pepsi Time" commercial, Pepsi pokes fun at Coke with one of Coca-Cola's most recognisable branding icons: Santa Claus. The ad features Santa dancing at a beach bar during his "break" and ordering a Pepsi over Coca-Cola to cool off. The ad was created by TBWA/Chiat/Day.

[embed]

]

2. Halloween


The next Halloween ad was created by Belgium-based ad agency Buzz In A Box. It takes a jab at its competitor, Coke.  This simple and well-shot ad features the product as hero front and center - the Pepsi can is wearing a Coca-Cola cape spelled out as Cola-Coca.

Coke fans however, were not too thrilled with this, and came up with a response that went viral. The response leveraged on the ambiguity of the ad with a new tagline that reads, "Everybody wants to be a hero!" insinuating Pepsi's attempt at being a Coke.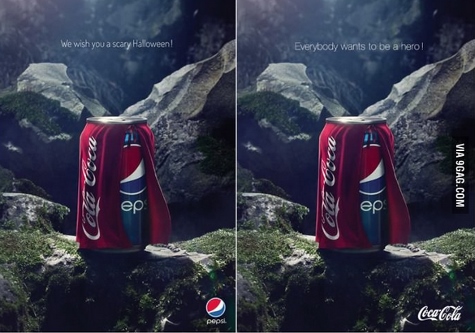 3. Stunt Chan

In "Stunt Can," created by DDB in New York, Jackie Chan co-stars with the Pepsi container in an action movie. In both spots, actor Jay Mohr acts as the Pepsi can's agent. In this 30-second spot, Mohr insists that the Diet Pepsi get a stunt double - the Coca-Cola can.

[embed]

]

4. And the time Pepsi ad got banned

This next commercial shows a little boy buying two Coke cans, only to step on them for height, to reach the Pepsi button for something he really wants - a Pepsi.

[embed]https://youtu.be/DijFob8vxgI[/embed]

There are some things you simply don't share. This teaser shows a Coke truck driver tasting a Pepsi for the first time, and refusing to share it with anyone else, especially his Pepsi counterpart.

[embed]https://youtu.be/EMo6o0BtFG8[/embed]