Southeast Asia's dating app Paktor launched an in-app fundraising campaign to raise awareness for breast cancer.
The campaign 'Paktor takes a swipe at breast cancer' is claimed by the company to be the world's first campaign that relies on the in-app swiping mechanic to raise money for a charitable cause.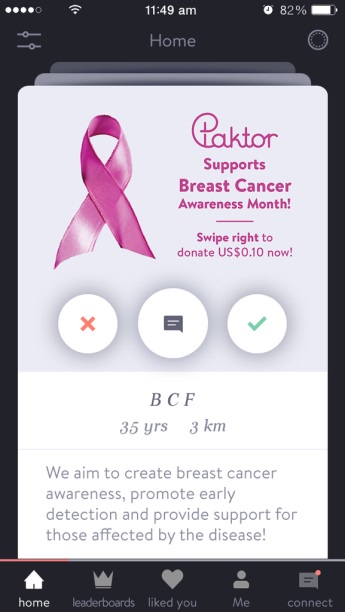 This is Paktor's first corporate social responsibility initiative and the project aimed to raise US$10,000 to help promote breast cancer awareness across the region.
For every user who swiped right from 15 to 21 October on the card, Paktor donated US$0.10 to a local breast cancer support charity in Singapore, Malaysia, Taiwan, Thailand and Vietnam. Marketing has reached out to Paktor on the amount of money it has raised as part of the campaign. 
Most recently, the start-up mobile dating app added Jose Ruano and Miguel Mangas to the senior marketing roster as it eyes global expansion.