By now, Oreo's Dunk in the Dark move during the Super Bowl 2013 has become a real-time marketing case study – of sorts.
Here is what happened during the Super Bowl 2013. There was a power blackout for a few minutes during which Twitter went ablaze with people tweeting about the outage. Oreo took advantage of this to tweet a post: "Power out? No problem, you can still dunk in the dark." (Read more about other brands' real-time marketing strategies in What's your brand's muscle memory quotient?)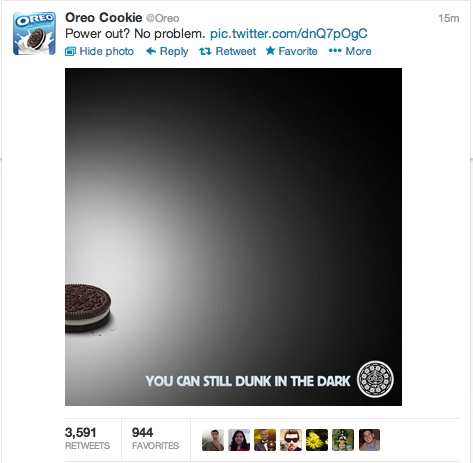 The campaign got 20,000 likes on Facebook within one hour, 15,000 re-tweets during the game and 46,000 entries into the Instagram promotion.
But according to Pete Mitchell, global media innovations director at Mondelēz International, the campaign was, in part, a failure. Why? "Because we failed to amplify it through paid media – had we incorporated elements of paid media, this piece of content would have been amplified manifold, much more than it did on organic reach." "This is one area in which we are trying to improve in," said Mitchell, speaking at Marketing magazine's recent Content 360 conference.
But this won't be achieved overnight. Mondelēz has already been working on its real-time content strategy for a while now.For example, for its 100th year campaign, the challenge was how to make the brand look young.
It came up with a 100-day plan – a daily twist to its communications based on what the team involved picked up during real-time happenings, news features, iconic birthdays and everything that was trending online. It also created a game, which had four million downloads and was the number one app in 12 countries.
Mitchell added that in-app ads were also slipped in the game, which got users to dunk Oreo cookies.
During the Sochi Winter Olympics this year, it created buzz around its brands such as Cadbury, Dentyne, Oreo and Ritz by creating teams which would work from dawn to dusk to create relevant content around memorable moments during the Olympics. For example, there were images of the Oreo or Ritz being used as "medals".
"Every day was a production day. We had the decision makers, including PR and legal, all in a room to facilitate real-time campaigns," Mitchell said. This was done in partnership with its agency partners. He added that marketing in this manner "democratises the creative process".
This is now becoming part of the marketing culture in the organisation. Mitchell also said that integrating traditional and social media was part of the strategy, adding it took "a lot of guts" to integrate and do well on both. He showed a clip from the satirical American TV show The Colbert Report, with host Stephen Colbert promoting Mondelēz' Wheat Thins and mocking them at the same time. Watch the video here: