"Consumers are getting used to mobile devices with larger screen sizes but yet do not compromise on its mobility at the same time," said Selinna Chin, managing director for Gfk Malaysia.
According to the research company, smartphones, tablets, laptops and TVs are still in high demand in Malaysia, as sales surge over USD 3.86 billion from January to October 2013.
Innovative technology has found the consumer market in constant tandem; sales declined in May due to price erosion but quickly rose back up in September and October with launches of products with bigger screens.
However, despite phablets and smartphones taking up a hefty portion of sales revenue for the year, TV screens have also reported high sales volume. Chin noted that demand for TVs in Malaysia will continue growing as consumers upgrade to larger screen sizes and more technologically advanced models.
Fifteen inch laptops have also doubled up in comparison to sales from last year, with the new lightweight models being a considerable appeal to consumers.
This research is just another slice of evidence that brands urgently need to shift into the digital and online advertising space to maintain its market value.
Millennial Media's recent Scorecard for Mobile Advertising Reach and Targeting (S.M.A.R.T.) report revealed that the top spending brand vertical to be the entertainment sector, followed by consumer goods, retail and telecommunications. The pharmaceutical industry also exploded in mobile ad spend with a 744% hike, with news, sports and consumer goods seeing a 350-530% increase.
The report also showed the effectiveness of campaign engagement methods across multiple advertising platform – with application downloads being the forerunner and watch videos (22%) applied by campaigns. The latter format was recorded to be up five percent, noting that integration of video into all types of mobile campaigns has become more familiar to advertisers.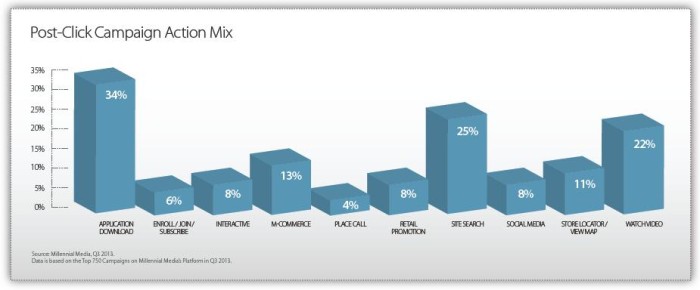 The post click results in comparison to advertisers' campaign goals still sees a heavy reliance on site search action, as a steady 25% of brands use this method to sustain its in-market presence.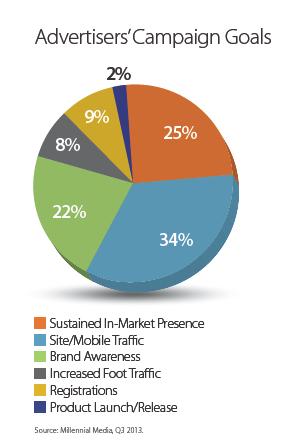 It can be seen in the chart that advertisers are now required to apply layered actions in order to achieve a campaign's objective and enhance consumer engagement.