Fans of Brad Pitt and Angelina Jolie may be heartbroken over the couple's recent split, but some brands are already seizing the opportunity to cash in on the imminent divorce.
One such brand, Norwegian Airlines, started offering discounted flights from Oslo in Norway, to Los Angeles, where Pitt is based.
Using the tag line "Brad is single," it has occupied the pages of various international newspapers.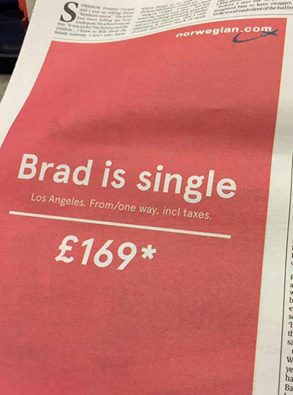 The ad has appeared online as well as on the airline's various social media pages, taking the form of a dating announcement.
London to LA from £169* one way #FlyNorwegian https://t.co/Oezj6tshj0 pic.twitter.com/vkpfzDmT9e

— Norwegian UK (@NorwegianUK) September 22, 2016
Judging by the attention the campaign has been getting on social media, it appears to be a huge success. 
Super marketing campaign by Norwegian Airlines! Brad is Single... #Brangelina pic.twitter.com/hk4oRr8dVc — anu sehgal (@anusehgal) September 24, 2016
Too soon Norwegian airlines too soon #Brangelina pic.twitter.com/BRIyFRbShy

— Owen Beers (@radioowen) September 23, 2016
Next Level Marketing. Ladies take note