In China, parents want their kids to have fun playing sports but are nervous about the possibility of them getting hurt. So this Children's Day Nike is offering a symbol of their dedication to sports in China called the Nike "Badge of Honor".
Developed by its agency Wieden & Kennedy Shanghai, the Badge of Honor is a series of specially designed bandages available free after the purchase of Nike "Young Athletes" products at selected Nike retail stores.
4 sets of 14 bandages were designed for basketball, running, football and skateboarding. They were packaged in specially designed sleeves that unfold into comic strips telling fictional stories of young athletes who played hard, fell down and then found the courage to get back up again.
On the packages, it included links to animated versions of the stories that featured Nike athlete cameos such as the nation's fastest sprinter Su Bingtian, the goalkeeper of the China Women's football team Zhao Lina, popular high jumper Zhang Guowei and veteran basketball player Yi Jianlian.
"The idea is incredibly simple: Overprotective parents are afraid to let their children play hard. Our solution is the Nike Badge of Honor. They're bandages, they're stickers, they're non-conventional storytelling devices – and ultimately they are a product kids will want," said Ian Toombs, executive creative director from W+K Shanghai.
On launch day the Badge of Honor instantly became a hot topic when Nike influencers like Wang Junkai and Li Na posted selfies with bandages on their faces. The conversation continued gaining momentum across interest groups including parents, artists, designers, athletes and more.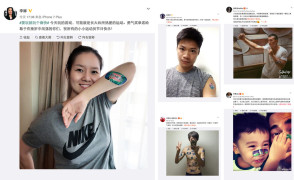 "As a father of two active kids, it's tough to see them get knocked down. But when they get back up on their own, I feel so proud. We created the Badge of Honor to remind us as parents of the important lessons sport teaches," said Terence Leong, creative director from W+K Shanghai.