Nestlé Philippines has just launched a massive advocacy with the government, private institutions, production houses and advertising agencies about the worsening state of malnutrition among Filipino kids.
The campaign is called United for Healthier Kids (U4HK) which aims not just to broaden parent's awareness on its prevalence, but also prove that healthy everyday meals is possible even on a tight budget.
U4HK will assist primarily children 4-12 years old who are most susceptible to the dire effects of undernourishment. An alarming 3 in 10 Filipino kids are afflicted, increasing their chances of getting high blood pressure, heart disease, diabetes and even obesity as they get older.
"The food and beverage industry has a major and important role to play by coming up with products that help address the nutritional requirements of children and by helping educate the public on nutrition, health and wellness so they can make more informed choices," Nestlé Philippines Chairman and CEO John Miller said during the Partners' Night at the Rockwell Tent in Makati on Thursday.
Faces of the Future
Nestlé Philippines will be working with a wealth of partners, starting with the Food & Nutrition Research Institute (FNRI) of the Department of Science and Technology that will serve as the basis for information shared in U4HK.
Meanwhile, the awareness drive spans on-ground, outdoor, digital, social and tri-media supported by Facebook, ABS-CBN Broadcasting Corp., Ogilvy, Film Pabrika, Just Add Water, Underground Logic, Hit Productions, Alphabet Soup Inc, Wildfire, Jardis Printing and Hapag-Asa. More partners are expected to sign up for U4HK in the coming months.
With the help of ABS-CBN, U4HK aired TV commercials about under nutrition and an invitation for parents to submit photos of their children as a sign of their commitment to the cause.
The awareness campaign and call for photos was also supported on Facebook, lit EDSA with a LED billboard and visited parents in 24 barangays across the Philippines via a caravan which set up photo sessions with their children.
"It takes a village to raise a child," said Sandra Puno, Nestlé Philippines Director of Communications, quoting an African proverb which best describes the collaboration needed between the government, parents and businesses to ensure children's right to be properly nourished.
"U4HK recognizes that this right – its fulfillment and the responsibility for it – is in our hands. U4HK is a partnership rooted in science, powered by creativity and united to help parents raise a healthier generation of children."
Here is a video explaining the scope of U4HK. In a span of 2 months, the campaign garnered nearly 140,000 Facebook fans while the TVCs posted on YouTube have gotten 800,000 views and growing.
VID 20141211 191027[1] from MARKETING INTERACTIVE on Vimeo.
The highlight of the whole campaign is the Faces of the Future - a digitally created image of a boy and a girl symbolizing the Filipino child made up by the 50,000 photos submitted by parents participating in U4HK.
The Faces of the Future were then depicted on two sets of commemorative coins (below) minted for U4HK by Bangko Sentral ng Pilipinas, to serve as the physical representation of the Filipino child for the upcoming phases of the advocacy in 2015.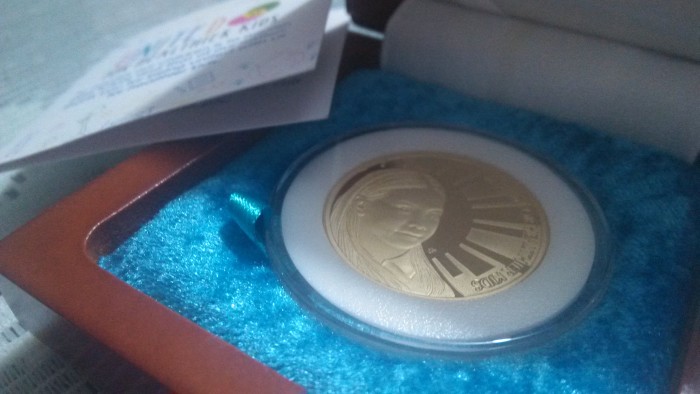 Capping it all off is an official anthem sung by pop rock icon and songwriter Yeng Constantino. The song was written by ABS-CBN Creative Communication Management Head Robert Labayen, and composed by Constantino and Mike Villegas.
Miller acknowledged that U4HK taken the first small steps on a long journey to solve under nutrition but ABS-CBN President & CEO Charo Santos-Concio said that it is a vital one.
"For us, Nestlé, the FNRI and all other partners of U4HK, there is no such thing as a small step. An eye-opening campaign such as this will undoubtedly have an effect in ensuring a healthier Philippines. We are grateful for this chance to deliver on our promise of being In the Service of Filipino people," she adds, referring to the media company's long-running tagline.