The real currency of marketing now is customer experience. And that's what marketing decision makers from McDonald's, Comedy Central and RBS stressed on at the ongoing Adobe Digital Marketing Summit, held at the Venetian addressing a crowd of over 10,000 professionals.
Digital is a reality but how brands create exceptional customer experience in the digital as well as the physical realm will be critical to their success.
Digital marketing is in its third enterprise wave, explained Brad Rencher, GM and EVP of Adobe Digital Marketing. The first wave started as early at 1960s when companies were forced to digitise their back offices. This was followed by the front office with CRM and sales.
The third phase is all about experience. "This has never been more important than now as we move into the experience economy," said Rencher adding that marketers have historically been the nurturers of the customer experience.
The need for new experiences, coupled by the hyper elevated customer expectation driven by mobile and IoT, is undoubtedly challenging for marketers. Today consumers expect to be known by organisations and be delivered an experience that is consistent, continuous and compelling.
"This wave is about bringing people together and things they love and then getting out of the way. For marketers, it is now about doing our job so well that customers don't know we exist," Rencher added.
Enterprises as a whole need to become experience obsessed. Those who fail to do so will be called out publicly and loudly.
Quoting Moore's Law, Rencher added the digital experience and enhancement doubles every 18 months, as such consumers too would now expect an exponential improvement in their interaction with brands every 18 months.
Shantanu Narayen, CEO of Adobe added all digital experiences need to be seamlessly provocative, personal and predictive in the experience era and they need to move into the physical world in industries such as retail, hospitality and automotive.
As augmented and virtual reality blur the lines between physical and digital, possibilities for brands have exploded. Design and aesthetics, therefore, have never been more important and complex than now.
While digital experiences are on everybody's mind, what is a challenge is making these imaginations into reality.
"We at adobe believe a great experience starts with a great content. Beautiful design and eye catching imagery have always had the power to move and educate and to insight people to action and to build a great brand," Narayen said.
Good content has the power to inspire. Getting content to the right person, at the right place and time needs data.
"Robots will never do great marketing and human intuition can never be replaced but we need to harness the power of computing. Man plus machine to work faster and smarter to make things happen," he added.
(Scroll below to read more from the keynote presentation)
[gallery ids="130715,130725,130724,130730,130729,130728,130727,130726,130731,130737,130739,130740,130741,130742"]
Also taking the stage was Deborah Wahl, SVP and CMO of McDonald's USA. Picking up from Rencher's statement on the expectations of consumers improving every 18 months, she added that McDonald's has been  making significant strides to improve its services.
Currently, using Adobe Experience Manager, the fast food giant decided to take a closer look at the data it found in its local stores' WiFi systems to create a more localised experience.
"It has been 18 months we started investing to mass discussion to mass personalisation. We are on a good start but we have a long way to go," she added.
Quite recent in fully embracing digital was one of the oldest English banks, RBS whose client list include the likes of The Queen of England. Giles Richardson,head of analytics at RBS explains that just a few years ago, the company would simply invest in digital without knowing how it was helping its strategic investment.
"We were terrible at digital […] and 80% of whatever you do online probably doesn't work," he admits.
"What we needed to become was 'Superstar DJs' of digital, constantly pushing out content and monitoring it to see if it was working. Being agile to be able to optimise and constantly revising content was key," he added.
Much like the Superstar DJs', who would take control of the technology in house, RBS' digital team started building capabilities in house. The first step was dividing the digital team into journey managers who mapped the customer experience from marketing, to research and application.
It then decided to tag these customers to see if they followed through with the entire journey. With all the data collected, the company decided to democratise the data and see what consumers were best responding to.
"The solution for us was to test, learn and collaborate," Richardson said.
Finally RBS had to optimise the data it had collected. For that, the brand decided to create a "producer role" and these producers were tasked to work within the Adobe marketing cloud to create the customer profiles and journeys from start to finish. At the end of the day data is the biggest disrupter within a business and marketers need to be fearless, he added.
Here are some ways data has helped the company: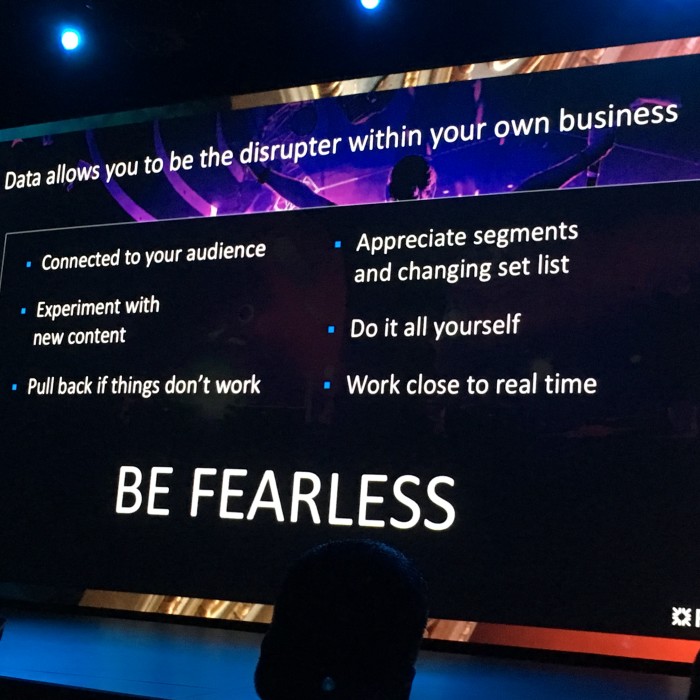 Comedy Central, was another client who found that to connect to its main target audience - 18 to 34 year olds - embracing digital was a must. With Jon Stewart also leaving the Daily Show after 15 years this February, the network found itself in need for a new identity.
Walter Levitt, CMO of Comedy Central said: "Our research showed that comedy was a way for 18-34 year old men to build their personal brand by sharing content. So after 25 years, we needed to reinvent ourselves and find out what this new era meant for us. We needed to be the social platform and wherever millennials were consuming our content.
We could no longer just be a TV network. We need to be the favourite comedy brand. As a marketer, it was the scariest and coolest opportunity.
When the announcement of Trevor Noah was made to replace Stewart, the company's data analysis showed that the public was immensely interested in  Noah not only as the new host of the Daily show, but also on his personal life and aspects not at all related to Comedy Central.
To pick up on this new buzz, the channel decided to create a series of hilarious YouTube videos starring Noah. Noah was on screen explaining personal issues such as who his girlfriend was or general facts about himself in a hilarious manner - building up anticipation of the new Daily Show.
In this way the channel was able to effectively marry its data with creativity
"Creativity is core at the core for us at Comedy Central. When our creators make their content they try to come up with the funniest stuff. From a marketing point of view, our connection and use of data has grown exponentially and we don't start campaign without data," he added.
[gallery link="file" ids="130721,130723,130720,130716,130717"]
Meanwhile Adobe also had exhibition booths by many of its partners at the Community Pavilion. Take a look at some of the exhibitions:
[gallery link="file" ids="130736,130735,130734,130733,130732"]
Adobe paid for the journalist's trip to Adobe Summit 2016, held in Las Vegas.