Highly anticipated installment Journey to the West – The Monkey King 2 is scheduled to release during Chinese New Year this year. Promotional billboards in Malaysia have started to advertise the movie's poster around the country but with the key character of the movie missing from the poster.
Modified for the Malaysia market, the original poster of the film, by a China and Hong Kong production house, showed the monk Tang Sanzang and his disciples Monkey King Sun Wukong, Sha Wujing and Zhu Bajie, according to The Coverage.
The character Zhu Bajie is half human and half pig. In promotional posters around Malaysia however, the image does not feature this character.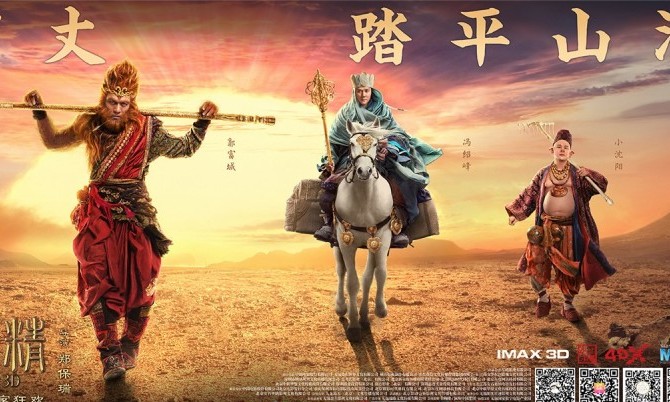 (Pic source: The Coverage)
Its movie distributor in Malaysia, Golden Screen Cinemas (GSC) confirmed that they had released the movie poster visuals for the movie in Malaysia.When asked if the character had been indeed censored from local posters,  a GSC spokesperson explained a distributor has the right to modify collateral to suit the local market.
Malaysia is home to a Muslim-majority population whose dietary restrictions include the forbidden consumption of pork.
The spokesperson told A+M: "So far, GSC Movies has only released the movie poster visuals for the movie here in Malaysia, not any other promotional materials at this point in time. As the movie distributor, they have the discretion to modify the movie posters/collateral to suit the local environment. For example,  the visual for "From Vegas to Macau 3" for the Malaysian market differs from the version used in China."
In July 2015, an ad by Australian company Servcorp featuring a wombat in traditional Malay costume, wishing Malaysian's "Selamat Hari Raya" had to be retracted after members of the public thought the wombat was a pig.
This prompted the company to release a statement on its social media site apologising for the "confusion caused due to the use of a Wombat in a recent digital advertisement in Kuala Lumpur."
[embed]https://youtu.be/LnxoMuFUoHs[/embed]