Mondelez Philippines has successfully called to arms millions of Filipinos to donate used foil packs recycled into thousands of sturdy school chairs for donation.
Dubbed Project Recyclass, it aims to help solve the country's looming waste problem and school chair shortage by giving new life to trash that would otherwise end up filling landfills and clogging water ways.
Greenpeace states that the island nation produces 5.6 million kilos of plastic waste everyday while the Department of Education reports that the country is in dire need of 13.23 million school chairs.
Under Tang Galing Club, a long-running youth CSR campaign under powdered juice brand Tang, Project Recyclass targeted schools but was later expanded to involve the community. Three million people from 50 barangays donated a whopping 11.6 million foil packs to cause, enough to produce 10,000 chairs.
The chairs were donated to 100 schools nationwide. Twenty of these schools need the new chairs more so than others after barely surviving Typhoon Yolanda last November in Tacloban, one of  the hardest hit areas of the storm. Last February, Mondelez gave 2,000 chairs to schools in the province.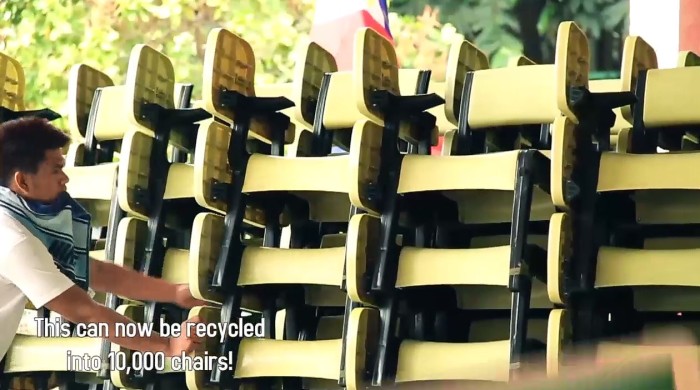 "These  may  just  be  chairs,  but  the  brand  new  hope  that  they  help  inspire  can  hopefully contribute to establishing normalcy in children's lives," Mondelez said in a statement.
"More importantly, may it inspire them and their parents alike that even big change can start with small and simple ideas. Like wanting to create a difference and like donating a used foil pack."