In Asia, the traditional 'mom-and-pop' stores draws about half of retail sales.
This research firm Nielsen reveals the oversight by marketers and brand managers, who may have dismissed the transactional potential of the more traditional trade stores.
Fast-moving consumer goods vying for market share and customer loyalty ought to look to these traditional stores when it comes to engaging the Asian shopper.
A better understanding of this fragmented yet ubiquitous traditional trade channel – which comprises more than five million outlets in Southeast Asia alone – has the potential to drive sales by putting brands in front of more consumers.
Traditional trade channels account for almost half of all grocery sales in Asia. In 2014, 47.9% of all retail sales were made through traditional trade channels, compared to 17.2% for supermarkets which accounts for the second-largest proportion of sales.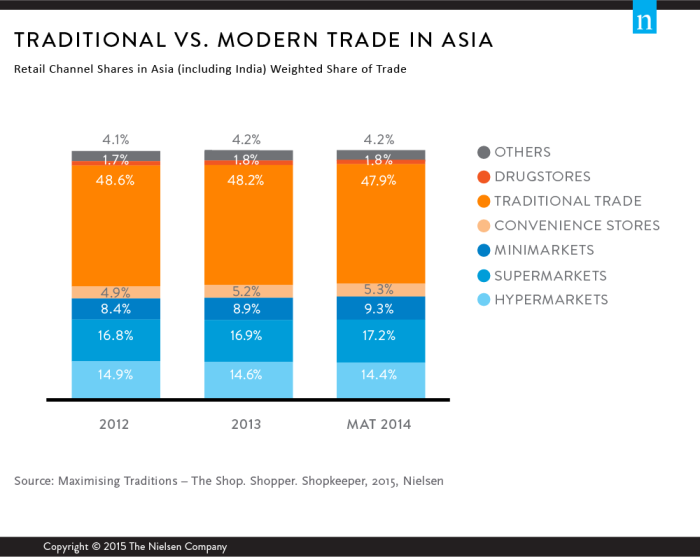 Connie Cheng, executive director of shopper solutions for Southeast Asia, North Asia and Pacific, says traditional trade accounts for up to 70% of all retail sales in key markets such as Jakarta and Ho Chi Minh City.
"While there's been a headlong rush into the hypermarket and supermarket retail formats throughout most of Southeast Asia, there are untapped loyalties between brands and consumers shopping at traditional trade stores on every street corner, in every town, village and city," said Cheng. 
The who, what and where of traditions
The research founds that the humble warung in Indonesia, the Philippine sari-sari, Malaysia's kedai runcit and Vietnam's cử a hàng tạp hóa are used by consumers in similar ways. The majority of consumers shop at traditional trade stores for daily meals, snack foods and beverages for immediate consumption, while they are less important for top-up or main shopping trips.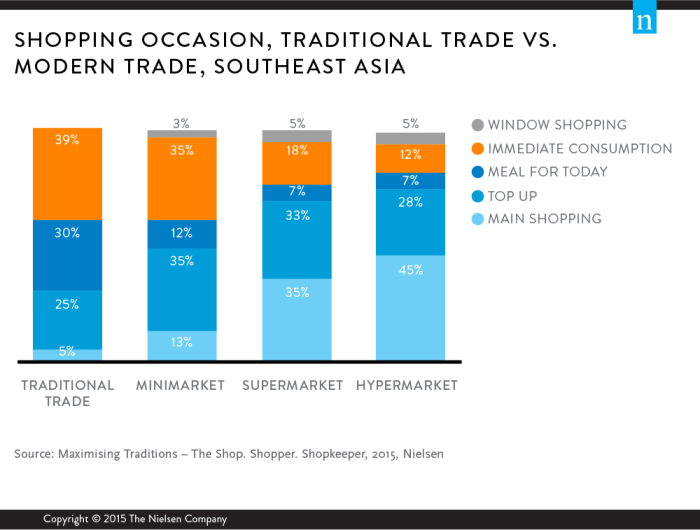 Majority of consumers plan their trips to the most conveniently located store in advance, and have a specific brand in mind.
Such behaviour highlights opportunities for brands to vary pack formats or leverage loyalty for premium lines to increase basket size.
Who are your shoppers?
When it comes to commonly purchased products, powdered coffee blends, coffee and carbonated drinks top the list in Indonesia, the Philippines and Vietnam, respectively.
While shoppers clearly tend to view the traditional trade store as an extension of their kitchen pantry, sales of homecare and personal care lines are also common purchases. Laundry items, shampoos, makeup, vitamins, baby-care lines and general household products are the most frequently purchased items at grocery stores in Indonesia, the Philippines and Vietnam.
Studying segmentation
Marketers need to undertake a more thorough segmentation analysis to maximise market share. Although traditional trade grocery outlets are plentiful in Indonesia, Malaysia, the Philippines, Thailand and Vietnam, the market is fragmented.
Cheng suggests extending segmentation and tapping shopkeepers for their intimate understanding of hyper-local consumer behaviour. "Information on demographics, psychographics and shopper behaviour can help provide actionable information for sales teams," she added.
A better understanding of grocery shoppers can also assist in brand strategy and modelling, potentially unlocking value for brands in regions with a higher average GDP. This may help overcome issues in a fragmented market.
There's a disconnect between the desires of brand managers, who may think that bigger is better, and the demands of shoppers utilising Southeast Asia's most popular channel for purchasing groceries - the traditional store format.
"Traditional format stores are as relevant now as they have ever been. By better tapping into consumer behaviour, brands can discover what most Southeast Asians already know; that bigger doesn't always equate to better," Cheng added.
(Photo courtesy: Shutterstock)