The gap between the popularity of mobile and lackluster interest among brands is slowly closing in the Philippines as half of marketers in the country are now investing in mobile advertising.
Asking 87 local marketing execs, the 2nd Philippine Advertisers Attitudes Towards Mobile Marketing study by Mobext and the Philippine Association of National Advertisers (PANA) confirmed that 54% of them now invest in the channel, up 6% from results in 2013.
[gallery link="file" ids="76652"]
While most still use the channel primarily for brand awareness (74%) and getting new customers (59%), the industry's view of what counts as mobile advertising is expanding.
[gallery link="file" ids="76647,76648,76651,76649"]
Majority (77%) still associate SMS or text messaging with mobile advertising but it's an eight point drop from the 2013 survey. Now, 76% of the respondents see mobile ads as part of their toolbox (66% last year) as well as mobile apps (from 70% last year to 72%).
In line with their previous limited view, six in ten respondents (63% each) spend most in SMS and mobile sites. But asked where they plan to invest in the next 12 months, 59% said that it will be on mobile apps, location-based campaigns (52%) and Mobile CRM (48%).
"It's a way of thinking," says Arthur Policarpio, head of Mobext Asia-Pacific. "Marketer understanding is expanding and moving beyond SMS-based executions, and this is complemented by improvements in smartphone penetration and connectivity."
We need more case studies
Concerns on return on investment (ROI) is expected from a rapidly growing medium such as mobile, with 59% saying that it is still early to determine mobile's value – a slight six point improvement from 2013.
[gallery link="file" ids="76644"]
While the industry is still relatively cautious, the study pointed out that the number of marketers satisfied with mobile ROI has doubled from 19% last year to 37%. Those who are extremely satisfied belong to the minority.
It's not just the lack of ways to measure ROI that's stopping advertisers, however. According to the study, a lack of case studies is the biggest barrier to increased mobile spending in the country, tied with the latter at 59%.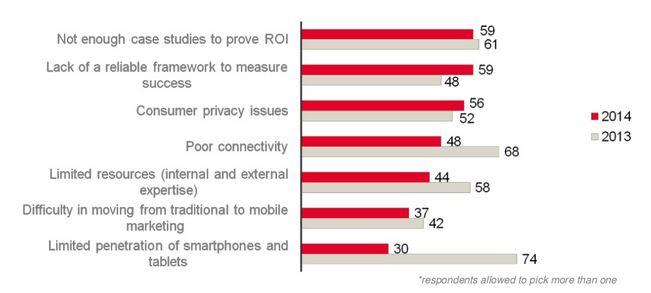 Previously, smartphone and tablet penetration was cited as the biggest reason why local advertisers limited their spending on mobile in 2013 (74%). But thanks to a steady influx of cheap phones and flexible data plans, anxieties on the topic has since drastically dropped to concern only 30% of the respondents.
[gallery link="file" ids="76643,76642,76650"]
Most respondents (45%) in 2013 said they have negligible insights when it comes to mobile behavior but it has since dramatically improved to just 19%. Majority in the 2014 stud (52%) now claim that their insights on mobile behavior are moderate, while those who have full insight improved slightly from 7% to 11%.
Regardless, 2015 will be another year proving that interest, not to mention spending, in mobile advertising can only get bigger in the Philippines, says Mobext and PANA, with 53% saying that they will shift more of their ad budgets towards mobile. Those who have yet to take the mobile leap were found to be the most keen to invest, specifically on mobile social (79%) and apps (59%).