New data from Millward Brown reveals that Filipinos spend more time on smartphones than on television but are still more receptive to TV advertisements.
The agency's 2014 AdReaction Report found that a Filipino who owns multiple screens spend a daily average of 531 minutes, of which 174 minutes are on smartphones.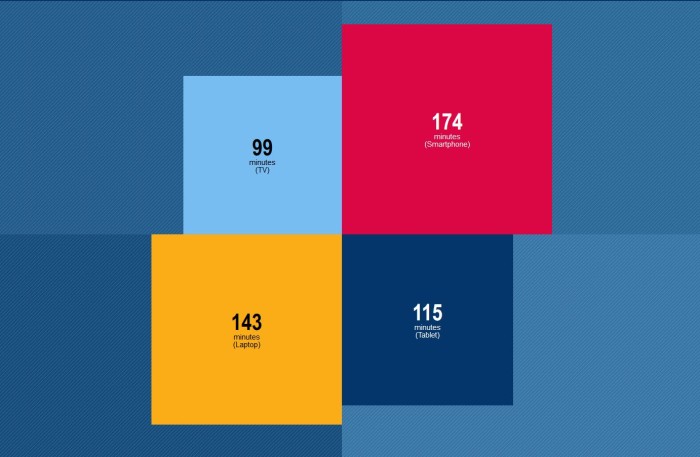 In comparison, an average user spends just 99 minutes on TV. Eyeballs are also hooked far longer on laptops at 143 minutes daily and on tablets at 115 minutes.
The country is just second to Indonesia (540 minutes) in the global poll ranking 30 countries based hours spent on multiple screens. The Global total screen time average is 417 minutes, which is trumped by Asia Pacific at 439 minutes.
Significant for local marketers, the long hours spent on smartphones and other mobile devices has yet to translate to strong relationships between brands and consumers in the Philippines.
While fewer locals spend time on the tube, 47% of them say they are most open to engage with TV add, compared to 29% who found smartphones favorable. Consumers also pay the most attention on TV (85%) compared to smartphones (75%).
[gallery link="file" ids="41490,41491"]
In terms of simultaneous use, 53% use one device at a time while 47% use it all together. Filipino respondents in the study were divided 50 -50 on meshed and stack viewing.
Around 41% of Filipinos who use TV and a second screen for related content (meshed) to look for more information about what's on TV like sports scores and character bios while 24% use it to start discussion with other people typically on social media.
[gallery link="file" ids="41493,41498"]
As for those use of a TV and second screen for unrelated content (stacking), 57% used it to burn time during ad breaks while 41% keep up with friends on social media but are not talking about the show. Only 12% say they use another screen to follow up on a TV ad.
Generally, TV was seen as an effective means for calling audiences to action but the experience is later continued to another screen. Thirty-three percent of those who see an ad on TV, for instance, typically continue the activity on smartphones while 29% and 25% turn to laptops and tablets, respectively.